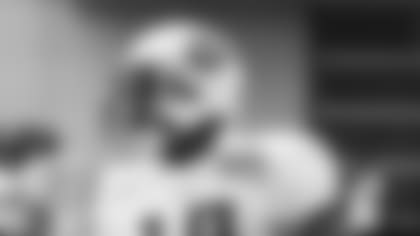 WR Kenny Britt said he had a good meeting with NFL Commissioner Roger Goodell on Tuesday.
NASHVILLE, Tenn. -Kenny Britt said he had a very good meeting with Roger Goodell and that the NFL commissioner promised him a decision on whether he'll be punished as soon as possible.

The Titans receiver met with Goodell in New York on Tuesday and was back on the field Wednesday. Britt says he's not sure if he will be punished and was hoping to know the instant he walked out of Goodell's office.

"The only thing he actually told me was he better not see my face in that office no more,'' Britt said.

Britt was summoned to Goodell's office after two arrests in New Jersey during the lockout and two arrest warrants in Tennessee for inaccurate information on his driver's license applications. Those are part of seven incidents with police since Britt became the first player from Rutgers drafted in the first round in April 2009.

Those incidents involved outstanding traffic warrants, driving without a license, failing to pay bail promised for a friend and a bar fight in which no charges were brought against Britt after a grand jury investigation.

But in April, Britt was arrested April 12 in his hometown of Bayonne, N.J., and charged with eluding an officer and hindering apprehension when police accused him of driving his Porsche 71 mph in a 50-mph zone before leaving the officer. Britt later was found walking on a side street away from his car. Charges were reduced to a misdemeanor and a fine.

A day after those charges were reduced, two plainclothes officers at a Hoboken car wash smelled marijuana and accused Britt of holding a rolled cigar they thought was the source. Britt was wrestled to the floor and handcuffed, and police believed a man with Britt may have disposed of the cigar. Britt's charges included resisting arrest, and he faces a Sept. 20 court date.

Britt said he felt Goodell genuinely listened to what he had to say.

"That's what I felt good about,'' Britt said. "He was sitting there listening to me instead of just over there saying, `You shouldn't do this, you shouldn't do that or you shouldn't do it like that.' ... He understands our life, 22 years old coming into the league, things can happen.''

Britt also said his Facebook account was hacked when a post showed up in June saying he was retiring and cursed Goodell. But Britt said he had reported the account was hacked in March and was shocked when his agent alerted him to the posting.

"This pops up, and I'm like, `OK, I'm really going down the drain.' But I wasn't too worried about it,'' Britt said.

The 6-foot-3, 215-pound Britt shows great promise on the field, and he had the best game by a receiver in 2010 on Oct. 24 when he had 225 yards receiving off seven catches for three touchdowns. But he hurt his right hamstring a week later early at San Diego running on a deep pass route and missed the next four games.

Britt still led Tennessee with 775 yards receiving and nine TD catches.

He worked with the scout team Wednesday because his right hamstring is still bothering him, and coach Mike Munchak said Tuesday night on his weekly radio show the receiver also is dealing with a quadriceps muscle issue. Britt has yet to play this preseason but is hoping to play Saturday night against Chicago.

NOTES: QB Matt Hasselbeck returned to practice Wednesday along with LB Barrett Ruud, RT David Stewart and DE Panel Egboh.