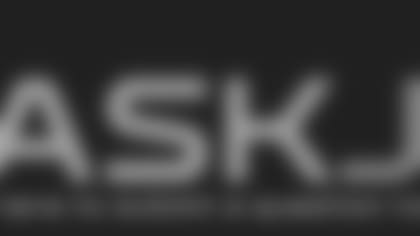 ](http://www.titansonline.com/news/ask-jim.html) Training camp is underway. Heck, the Titans open the preseason tonight against the Chargers, so time is flying by.

Let's not waste time as we get ready for kickoff.

Kicking off another Titans mailbag now…

Robbert van Giffen from Boise, ID

Question: Hey Jim, love that you do these question segments. I'm very excited for the season to start and see how the team plays. My question is, will Jack Conklin get more playing time during the preseason games than regular starters because of his rookie status or will he be subbed early like the others? Thanks!

Jim: Hey Robbert. Hope all is well. Conklin has looked good in camp. He's a competitor, and he's proven it in practices. He's going to get some work in the preseason, but I suspect he'll get around the same amount of work as the rest of the first-team linemen. Mike Mularkey said he plans to play the linemen longer than some of the other front-line guys on offense, however, so they can build chemistry.

---

* *
Alex Whalen from Seattle, WA

Question: Hi Jim! I'm a rather new Titans fan but still as passionate as anybody else. I'm also a HUGE Marcus Mariota fan. My question is not about him though, (unless you can get me anything autographed from him)...I watched the whole draft and really liked all of our picks, and I like reading about their development. A couple of them. What is your take so far about Kalan Reed, LeShaun Sims, and Aaron Wallace? And how is Kevin Dodd doing in his surgery recovery? Thanks for any information. Let's Go Blue!! TITANUP!!

Jim: Hey Alex. Welcome aboard. Reed and Sims have both been impressive. They've been getting their hands on the football in practices, and I like their tenacity. Aaron Wallace remains sidelined with a high ankle sprain, but he's now out of the boot and making good progress. Dodd, meanwhile, is also getting closer. Mularkey said he thinks he could be back on the practice field in the coming week.

---

* *
Montrell Rogers from Memphis,TN

Question: Hi Jim. My question is since the Titans are packed at RB position and CB position, how many of them should they keep with both? Also, do you think that Bishop Sankey and David Fluellen are on the hot seat also Blidi Wreh-Wilson and B.W. Webb?

Jim: Hey Montrell. Tough question on numbers. DeMarco Murray and Derrick Henry are obviously on the team, and Mularkey has all but said Dexter McCluster is going to be on the team because of his versatility. So that's three. Sounds like fullback Jalston Fowler is safe, which makes four backs. I think they'll keep one more from the group of Antonio Andrews, David Cobb, Bishop Sankey and David Fluellen. As for the DBs, I think the total number is around 10 for cornerbacks and safeties combined. So a lot of players are doing their best to play their way on, and that includes Wreh-Wilson and Webb.

---

* *
Tom Montesion from Livingston New Jersey

Question: Hey Jim. As always, thanks for the constant feed on the OTAs and camp and your coverage. Andre Johnson signing seemed out of the blue (and into the blue) so to speak so my question is this, does Mike Mularkey and/or Jon Robinson feel our WR core was still lacking or did they just feel Andre Johnson had some more in the tank?

Jim: I think they felt like Johnson could add play-making ability in addition to a veteran presence, and the younger guys should benefit. Competition helps, too. Johnson isn't going to play much in the preseason. So far, he's looked in camp and was definitely worth signing. But he's in a competition with a number of guys himself.

---


Antwon Ford from Columbia, SC

Question: Hey Jim! My question is, with all these new additions of players on top of the current players that we currently have, how many players do we have all together? How many players do we need to weed out? It's going to be a very tough cut I can tell with so much talent.

Jim: Hey Antwon. The team currently has 89 players after claiming linebacker Amarlo Herrara off waivers on Friday. On August 30 all NFL teams must trim to 75 players, and then teams have to get down to 53 players on September 3. So yes, some tough cuts on the horizon.

---

* *
Jacoby Covington from Reno,NV

Question: What's going on Jim? Hope all is well. I have a question about Tajae Sharpe. Simply put, is the kid that good? A fifth round rookie coming in to start is very surprising. Do you believe Mularkey is attempting to set a precedence by starting Sharpe or is the kid that special? I'm sure you have watched him in practice.

Jim: Hey Jacoby. Sharpe has been the real deal. He's a great route runner, catches the ball consistently, and he puts in the extra time. I don't think Mularkey is working him with the 1s to jumpstart the guys behind him, and I don't think he's trying to set a precedent. He's simply rewarding a guy who has been one of the team's top receivers since he walked in the door carrying his own football.

---

* *
Robert Baker from Amherst Va

Question: Hi Jim. I am a die-hard Titans fan I think we will have a lot more wins this season. I have a statement and a question for you. The statement is a lot of our fans talk about changing our uniforms the way I see that is these are the uniforms we got started with. I say keep them they look great teams like the Cowboys, Chiefs, Raiders, Packers, Colts just to name a few they never change their look I think that's great. I hope we keep them for years that's just my opinion. The question is Have you heard any talk about changing them in the future? I hope not.

Jim: Hey Robert. Appreciate the email. If it happens, it won't be for a few years. Controlling Amy Adams Strunk has said she'll look at different uniform options moving forward, but she's not there yet.

---

* *
Kenny Gore from Horse Cave, KY

Question: Hey Jim. Looking forward to more Ask Jim. Believe it or not I am recovering again. The grill blew up on me Saturday leaving me with 2nd & 3rd degree burns on all my fingers and right hand. Typing is a challenge left handed, so please forgive grammar & punctuation errors. Looking at 3-6 weeks off work. Hoping to make it to a training camp session. I have never been able to make it to one. Praying to be able to get an autograph. As long as I have been a fan, I have never actually got to meet a player. Fingers (On my left hand) crossed!! Hopefully Delanie Walker, Marcus, Casey, or Rak will feel sorry for the old guy with the Q-tip hand and sign!! LOL
My question: WR is still a position that could use some help IMO. I know we have addressed the position, but I still wonder if we will get the production we should. Roddy White has been amazing for the Falcons for years. Last year he was not utilized as much. However, he still looked great on game days IMO. Is there any shot the Titans bring him in for a work out? Maybe a 1 year deal??? Veteran leadership, knowledge, & production all seem to be things he would offer over a guy like Andrew Turzilli (sure I spelled that wrong) who will serve a 4 game suspension. Not that the youth he offers has no value, but White has been special for years.

Jim: Hey Kenny. Hate to hear about your news, and hope you are recovering well. I knew something was wrong from the get-go – you left an 'n" out of Kenny and typed Keny. I fixed it, though. :) And the front office fixed the issue you addressed when you typed this right before camp. Andre Johnson, of course, was the veteran addition -- instead of Roddy White. He's a real pro, and so far he's looked good. And there's no doubt the young receivers are learning from him. Get well soon!
* *
Thanks for all the questions. Enjoy the game!