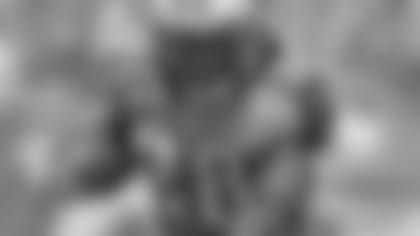 Chris Johnson is expected to be among the top five running backs taken off most draft boards.
NASHVILLE, Tenn. --** It's an addiction, one that satisfies the human need for competition. It empowers fans to play the role of general manager, with bragging rights the ultimate prize.

Yes, it's that time of year. With the 2009 NFL regular season only a week away, fans across the world are beginning to indulge in their fantasy drafts, hoping this season could be the year they win the coveted championship.

Fans are eager to discover their drafting order, have their sleeper picks ready to go, and be on alert to snatch the star player that suddenly falls to them.

For the Tennessee Titans, only a handful of players are expected to be drafted early, with several others targeted in the mid to late rounds. Chris Johnson, who rushed for 1,228 yards and scored nine touchdowns during his rookie season, figures to be among the top five running backs taken off most draft boards this year.

"It's a good deal to be one of the top running backs, but my goal would be to be ranked number one," said Johnson, one of the top steals in most fantasy drafts last season. "I'm going to try and prove I'm the number one running back and the number one Madden player this year."

Another Titan expected to be one of the top players selected at his position is kicker Rob Bironas, an All-Pro performer in 2007 and Pro Bowl alternate last year.

"It's nice to be ranked that high, but I would rather we score touchdowns and kick more extra points than field goals," Bironas said. "But either way, I'll be ready when called upon. Hopefully we will score a lot of points this season."

While Johnson and Bironas appear to be the two highest-ranked Titans at their respective positions, other players figure to be drafted in the latter rounds, including LenDale White, Nate Washington, Justin Gage and Bo Scaife.

White lost 30 pounds during the off-season and Washington moved from the third wide receiver in Pittsburgh into a starting role in Tennessee. White is ranked as the 24th best running back, while Washington is ranked as the 37th best receiver on the CBS Sportsline pre-ranked draft board.

While, who rushed for 773 yards and 15 touchdowns last season, clearly isn't happy with his pre-draft ranking.

"I just need somebody to go look at what I did last year as far as fantasy points are concerned and see where I ranked last year," White said. "Once that happens, come back and ask me that question."

Washington is also poised to make a big jump in the rankings, fully confident in how he will play this season.

"Where they rate me is where they rate me. Where I believe I'm at, that's a different story," said Washington, who is currently rehabbing from a hamstring injury. "I still have a lot to learn, but I'm definitely not 37th, I'll tell you that much. If the fantasy people are listening, I would advise them to pick me higher than 37th."

Defensively, one of the biggest questions from media critics is how the team will stack up with the loss of All-Pro defensive tackle Albert Haynesworth. According to most fantasy rankings, the Titans will be just fine without him as they are ranked around fourth overall. Last year the Titans defense also placed fourth by forcing 31 turnovers and allowing fewer than 100 yards rushing and 200 yards passing yards per game.

Veteran safety Chris Hope said that this Titans defense is somewhat different than the top ranked defenses of the Baltimore Ravens and Pittsburgh Steelers, but in its own way effective.

"Since I've been here, we've had the mentality to capitalize on mistakes by the other team's offense and use our athleticism and quickness to make plays," Hope said. "There are different types of defenses, but I think we're right up at the top."