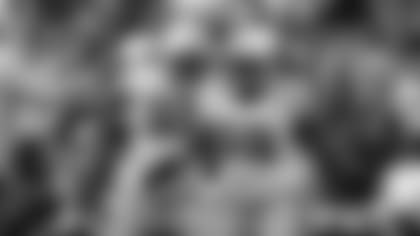 The Titans won their last two games to finish 9-7 in Mike Munchak's first season as head coach.
HOUSTON -- The Tennessee Titans' regular-season finale came down to a 2-point conversion. Their playoff hopes officially ended a few hours later.
Matt Hasselbeck threw two touchdown passes, and Tennessee staved off Houston's last-minute rally in a 23-22 victory Sunday.
Tennessee (9-7) earned its first winning record since 2008 in Mike Munchak's first season, but its postseason fate depended on the outcome of later games in Cincinnati, Oakland and Denver.
When the Broncos lost to Kansas City, the Titans were knocked out of playoff contention.
"We knew that was the situation we were in and we could only do what we could do," Hasselbeck said. "We were focused on taking care of business and handling the things that we could control. Finishing 9-7 is something we can be proud about whether we get the help or we don't."
The Titans had to sweat out the final two minutes when Ahmard Hall fumbled, and Jake Delhomme drove Houston for a touchdown with 14 seconds left.
The Texans (10-6) were locked into the No. 3 seed in the AFC playoffs before the game began. They will play Cincinnati (9-7) next weekend in the franchise's first postseason game. Houston beat the Bengals 20-19 on Dec. 11.
With their position secured and nothing to lose but more players to injury, coach Gary Kubiak called for a 2-point conversion to avoid overtime and win the game in regulation.
"You would never go for 2 there in any other situation," Kubiak said. "But where we were physically, at the end of the game, I had a tight end (Garrett Graham) playing linebacker. Our team, I had to get them to next week."
But tight end Joel Dreessen was flagged for illegal motion, and then backup center Thomas Austin flipped the snap over Delhomme's head and the game was over.
The victory turned out to mean nothing for the Titans.
Tennessee needed the Bengals to lose to Baltimore and victories by Oakland and Denver to earn a playoff berth. And that would've landed the Titans right back in Houston next week to play the Texans.
But a 27-13 loss in Indianapolis two weeks ago proved costly, and the Titans will sit out the playoffs for the third straight season.
"We knew that after we lost to the Colts, which was kind of a low point for us, at that point we were 7-7," Hasselbeck said. "Coach Munchak came and said: 'Hey, there's a lot of things this season that could have gone better, that we could have done better, but we didn't. That's in the past and there's nothing we can do about that."
The Texans, meanwhile, will head into the franchise's first postseason on a three-game losing streak and new concerns about their quarterback.
Rookie starter T.J. Yates left the game after one series and was replaced by the 36-year-old Delhomme. Kubiak said Yates had a bruised left shoulder but could've returned if necessary.
"Obviously, I didn't want him to go back in the game," Kubiak said. "We'll know better where we're at (Monday), at this point."
Delhomme, signed Nov. 29 in the wake of season-ending injuries to starter Matt Schaub and backup Matt Leinart, completed 18 of 28 passes in his first action since December 2010.
Johnson ran for 61 yards to go over 1,000 for the fourth consecutive season, and Rob Bironas kicked three field goals for Tennessee.
NOTES: Hall and Titans LT Mike Otto left with "probable" concussions, Munchak said. WR Damian Williams has a rib injury, Munchak said, and would be re-evaluated Monday. ... Chris Johnson is the third player in Titans history to reach 1,000 yards rushing in at least four straight seasons, joining Eddie George (1996-2000) and Earl Campbell (1978-81). ... Bironas extended his own NFL record by kicking a field goal of at least 40 yards in his 10th consecutive game. ... The Texans dropped to 5-1 in season finales under Kubiak. ... Defensive coordinator Wade Phillips worked from the press box after missing two games following kidney and gall bladder surgery.