**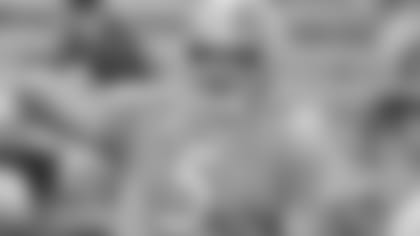 Veteran QB Kerry Collins will be counted on to lead the offense this season.
Training Camp Central
NASHVILLE, Tenn. --** Some see age when looking at Kerry Collins. Others, like his Tennessee teammates, see valuable experience.
Sure, Collins turns 37 a few days before the final game of this season. The Titans are happy having a quarterback who has seen everything possible during his 14 NFL seasons. Collins? Well, he's enjoying himself and comfortable knowing he's the starter on a team that went 13-3 in 2008 and now seeks a third straight playoff berth.
"I feel great," Collins said. "Physically, I feel great. Mentally, I feel great. I'm excited to be the quarterback of this team. You know it's a great opportunity for me at this point in my career to be on a team like this and to be starting. I'm excited and trying to get better every day."
Collins has been secure as the Titans' starter since signing a two-year, $15 million deal on the opening day of free agency in February. He wanted to return as the starting quarterback, coach Jeff Fisher agreed, and Collins spent the offseason taking even stronger control of this team. After all, a year ago he was backing up Vince Young.
"Without question, I think as I've gotten older I realize I am more aware of myself in a leadership role. Even from last year to this year, I think I'll be more vocal," Collins said.
Questions about Collins' age cannot be ignored. He does turn 37 on Dec. 30, just before the regular-season finale Jan. 3 at Seattle. But the quarterback with his fifth NFL team is 83-88 overall in his career. He has the benefit of having appeared in only four games in 2006 for Tennessee and six in 2007, throwing a combined 172 passes.
"He doesn't have any physical issues," coach Jeff Fisher said. "He's in great shape, arm strength is good, arm's not fatiguing and his legs are good."
The Titans brought back Collins for his 15th season, seeing the veteran as their best chance to chase a third straight playoff berth and the team's first trip to a Super Bowl since the 1999 season. Collins went 12-3 as a starter after replacing Young in the opener last season and earned just his second Pro Bowl trip.
Those 12 wins tied the franchise record set by the late Steve McNair in 2000 and Collins' own personal best that same season when he led the New York Giants to a Super Bowl berth. His passer rating of 80.2 was the third best of his career, and he threw for 2,676 yards with 12 touchdowns and seven interceptions.
Only Peyton Manning has thrown more passes for more yards and touchdowns than Collins among active NFL quarterbacks. Collins needs 2,607 yards passing to become only the 12th quarterback in NFL history with 40,000 yards in his career and surpass the likes of Boomer Esiason and Dave Krieg.
Receiver Justin Gage sees Collins focused in meetings and practices, trying to build the confidence of his receivers.
"He plays like a guy that's a veteran in the NFL, and he knows how the game's played. He's very smart. He's very educated, so he knows how to manage the game, and he plays safe and keeps us in position to win games," Gage said.
Nate Washington, the Titans' biggest free agency acquisition, said Collins has been working to help him understand what he wants and learn a new offense. It has been an adjustment for Washington coming from Pittsburgh, where receivers run until Ben Roethlisberger can see them, to Tennessee where quarterbacks throw to a spot expecting the ball to be caught.
Washington sees Collins as a great pocket passer.
"Kerry sits back there and he makes great plays with his arm. He has a strong arm, instinctive. He knows where he wants to go with the ball," Washington said.
Now Collins has enjoyed a full offseason with offensive coordinator Mike Heimerdinger. The Titans also used their top draft pick on Rutgers receiver Kenny Britt and swapped a pick in 2010 to grab tight end Jared Cook as extra weapons for Collins.
Fisher sees the difference in the quarterback.
"He has a real good understanding of what we're doing," Fisher said. "He has a right to expect everybody to be in the right place. He'd probably tell you he's a little bit more critical of himself. He's that much further in the offense."