PHOENIX – LenDale White had reached a low point.
After a memorable playing career in college and the NFL, the former Titans running back found himself unemployed, and depressed.
White's phone wasn't ringing, and his days of living life in the fast lane had suddenly come to an end.
White fell into a dark, lonely place.
"There were thoughts of suicide, I can't lie," White said. "There were thoughts of taking sleeping pills, and never waking up. I was very low. The depression, the stress, all of that had kicked in. The finances got low. When you think you're never going to get your head above water again, there's all kinds of things that run through your mind.
"I was messed up – popping pills, smoking weed, drinking Lean. I just kept going into a deeper hole."
This was White's mindset roughly 10-12 years ago. It was after he'd been cut by his hometown team, the Denver Broncos, and he realized he'd played his last snap of football. After starring in college at USC, White's best NFL years came from 2006-2009 with the Titans, before he was traded to the Seahawks.
But now, he was missing football, and the life that came with it.
About that same time, a friend – former Titans teammate Chris Johnson – called White over and over and over again to come visit him in Nashville. This went on for months and months.
White provided excuses, but Johnson didn't give up.
When White finally agreed to make the trip, Johnson gave him the boost he needed, even if he didn't realize it at the time. Johnson offered White money, and his car. He ended up giving him a pep talk that resonated, and kept him focused on the positives of his life. He kept pouring positivity on him.
Looking back, White credits Johnson for giving him hope, and setting him on a path that's led him to better days.
"He saved my life," White said of Johnson. "Hell yeah, he saved my life. I can honestly say that, because I was messed up. I was in my mom's basement, and I didn't come out for damn near nothing. I didn't care about anything.
"Thinking about all this, it makes me get teary-eyed. Because where I was back then, it was so black for me. C.J. brought me back in, and it meant the world to me. I am so thankful for (C.J.), because I don't know where I'd be without him. No one knows where I was when he brought me out of that black hole. I'll forever be thankful for him. He's like a knight in shining armor for sure."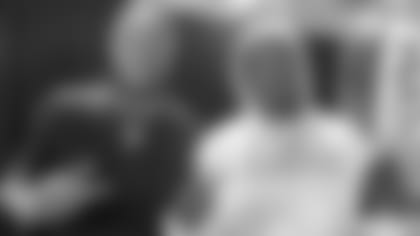 Johnson said he'd do anything for White.
He admits he didn't find out the magnitude of White's stress until later.
"At the time, I didn't know he was going through all that," Johnson said. "I was still playing, and I didn't know what it was like to get cut and have no teams call you. I was calling him then because he was a friend, and I missed seeing him. We used to hang out all the time, and now he wasn't around. It wasn't until later when I realized what he was going through.
"Back then, I didn't know that he was depressed. We were just hanging out. And when I left (Tennessee) and went to play in New York (with the Jets one season), I was by myself and LenDale came up there and we hung out. That's what brothers do."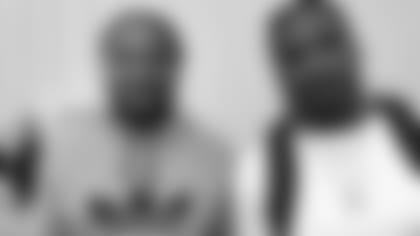 Johnson and White continue to hang out, thanks in part to their podcast.
Johnson made the rounds on Radio Row here this week leading up to Super Bowl LVII.
Known as Smash & Dash during their playing days, the two started a podcast – Smash & Dash – that's helped keep them busy, and together.
"Me and LenDale, we go back together on so many topics, different things," Johnson said. "We're friends, so it's cool to hang out. And the podcast thing, it keeps us together, and gives us something to do."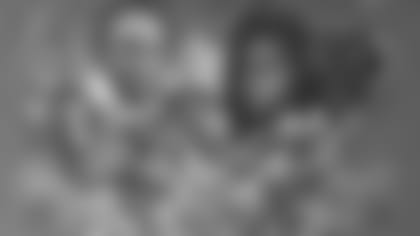 The story for these two started in Nashville, back in 2008.
Johnson arrived in Music City that year after being drafted in the first round of the NFL Draft. He joined a team that already included White, part of the 2006 NFL Draft class that also included quarterback Vince Young.
The running backs immediately hit it off.
They found out quickly they had common interests, from their love of rapper Lil Wayne to their taste in clothing, and Jordan Air Force 1 shoes. They both talked about taking care of their mother. Their brothers became friends. White and Johnson spent countless hours together at the practice facility, on road trips, or after practice.
White lived in the Green Hills area in Nashville at the time, so Johnson regularly stopped by on his way home to Brentwood, just south of Nashville. They spent Thanksgiving and Christmas together.
"It was kind of like we were family," Johnson said. "We instantly felt like we were brothers, and it's still like that today."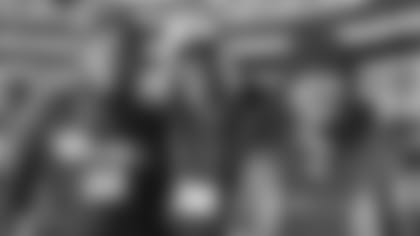 On the football field, they had a blast, Johnson as the electrifying home run hitter who ran for 2,006 yards in 2009, White the bruising back who rushed for 15 touchdowns in Johnson's first season with the team, a year after he tallied 1,110 yards.
Over the years, their bond has grown stronger.
Johnson, even with three children now, made sure of that, even as his career continued through 2017, when he played his last year with the Arizona Cardinals.
The podcast gives them a reason to meet up now, but they'd be involved in one another's lives regardless, they say. White said he feels like he's a part of Johnson's family, involved the lives of his kids, and it makes him happy. White, who lives in Denver, said he probably spends three months out of the year with Johnson, who makes his home in Orlando. White said he talks to Johnson's kids on a regular basis like they're his own nephews.
The former teammates say they'll be friends forever.
"I have (bad) days still – I don't want to act like there's not bad days, because depression is real," White said. "But I want people to know it is OK to find help. You are going to have your good days, and you are going to have your bad days. But just knowing, for me, there's somebody like (C.J.) in your corner, it definitely does something for you for sure.
"I don't want to let C.J. down, and I don't want to let myself down no more. You just have to figure it out. There's going to be bad days, but when you know there's people out there that love you, it's a lot better and you know you can get over that hump. C.J., he is my guy for life. I don't know where I'd be without him."