**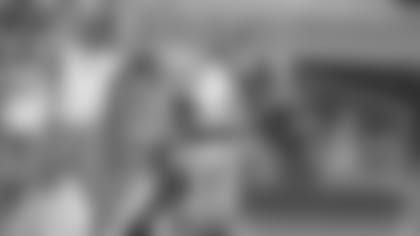 Second-year receiver Kenny Britt proved to be one of the team's most valuable players in 2010.
NASHVILLE, Tenn. --** Players plan to rest and recover while Titans coaches and executives evaluate performances from the 2010 season and plan ahead for 2011.
It's a yearly process, Titans coach Jeff Fisher recently said, but this time is more complex than most because owners and the NFL Players Union have not worked out a labor deal and because the team endured multiple injuries this past season.
Tennessee led the AFC South after starting 5-2, but lost eight of its final nine games to finish fourth in the division. The consolation for the skid is Tennessee having the eighth pick in the 2011 NFL Draft.
"We have a process that we go through as it would relate to evaluating the players, ranking the players with the staff, working with (general manager) Mike (Reinfeldt's) people upstairs with the pro personnel department and so on and so forth," Fisher said Jan. 3 during a season-ending press conference. 
Titans founder and owner K.S. "Bud" Adams, Jr. has decided that Fisher will return for his 17th full season as head coach and that starting quarterback Vince Young will not be back for the final year of his contract next season.
Fisher said during the final press conference that the team must return to what it was doing well in the first seven games this season.
"I think our record reflected where we were at the bye week, and then I think we couldn't overcome some of the injury situations," Fisher said. "I don't ever refer to a team as one that underachieved. This is a team that, I think, lost more games than I thought it should have. I think we had a chance to win a couple more games, realistically speaking. I think the condition of our defense and I think the injury situation, at times, became prohibitive for us."
Injuries led Tennessee to start three players at quarterback this season, and Fisher said the Titans must restore "stability and continuity" at the position. The Titans will likely look for Young's replacement either through the draft, a trade or free agency.
Young suffered knee and ankle sprains at Jacksonville on Oct. 18. Kerry Collins relieved Young in that game and finished the win despite tearing a tendon in the middle finger of his throwing hand. Collins played through the injury the following week for a win over Philadelphia but aggravated an old thumb injury in that game.
Young returned to the lineup Oct. 31 but aggravated the ankle injury, and Collins relieved him in a loss at San Diego that began a six-game losing streak. Collins started at Miami Nov. 14 but injured his calf and was relieved by Young in a loss.
Young started Nov. 21 against Washington but suffered a torn tendon in his thumb that was determined to be a season-ending injury. Rookie Rusty Smith relieved Young in that game to no avail, and Young left the locker room after a verbal confrontation while Fisher was addressing the team.
Smith started at Houston on Nov. 28 in the only game this season in which the Titans did not score.
Collins returned Dec. 5 against Jacksonville, but Tennessee's offense didn't regain rhythm until the second half of a Dec. 9 game against Indianapolis. Collins finished the season 160-for-278 (57.6 percent) for 1,823 yards. He threw 14 touchdowns and eight interceptions and finished with a quarterback rating of 82.2, which was two points higher than the 2008 season when the Titans went 13-3 and won the AFC South.
Collins finished the season by going 28-for-39 for 300 yards (his highest passing yardage as a Titan) with two touchdowns and no interceptions, but the Titans lost the ball late on a fumbled snap from rookie center Kevin Matthews to Collins.
Collins, 38, became the 12th player in NFL history with more than 40,000 passing yards and said he wants to keep playing in Nashville or with another team. Fisher said Collins still has some football in him, but possibly not in a starting role.
Young went 93-for-156 (59.6 percent) for 1,255 yards and threw 10 touchdowns against three interceptions. He finished his fifth season with the Titans with a career-high rating of 98.6 but he had six fumbles in nine games, including a lost fumble in the red zone early against Washington.
Smith went 20-for-40 (50 percent) for 200 yards and threw four interceptions for a passer rating of 25. After Young was ruled out for the season, the Titans brought in veteran Chris Simms, but Simms did not play this season.
Chris Johnson finished his third pro season with 1,364 yards on 316 attempts (4.3 yards per carry) and 11 rushing touchdowns but did not garner a third straight Pro Bowl selection. Johnson's yardage was fourth best in the NFL and placed him with the fourth highest total (4,598 yards) in any player's first three seasons.
Johnson, who became the sixth player in NFL history to rush for more than 2,000 yards in 2009 and projected in the offseason that his 2010 goal would be 2,500 yards, said this season was frustrating at times.
Johnson had eight games this season with more than 100 yards but seven games with less than 60 yards. Tennessee went 5-3 when Johnson had more than 100 rushing yards and 1-7 when he did not.
"We've just got to work harder in this offseason and execute when it's time to execute. You've just got to step up and make plays," Johnson said. "I just want to come in and be a leader and have everybody work hard, go to the playoffs and win the Super Bowl. We've got a good team. We've got a good offense. We've just got to be more consistent."
Johnson had the most receptions of any Titan for the second straight season. He caught 44 passes for 245 yards and one touchdown.
Second-year pro Javon Ringer finished the season with 239 yards on 51 attempts (4.7 per carry) with two touchdowns. Ringer caught seven passes for 44 yards.
Fullback Ahmard Hall, whose primary responsibility is blocking, had one yard on one carry and caught 15 passes for 100 yards.
Despite missing all of four games and most of another with a hamstring injury, Kenny Britt emerged as one of the NFL's top receivers in 2010. The second-year pro had 42 receptions for the second consecutive season and recorded career highs of yards (775) and touchdowns (nine).
His big game came in Tennessee's come-from-behind victory over Philadelphia when he registered a career-high seven receptions for 225 yards (5th-highest total in franchise history) and three touchdowns.
Britt also missed significant time in the final game of the season with a groin injury. The Titans did not win any of the six games in which Britt dealt with injury.
The Titans claimed 13-year NFL veteran Randy Moss off waivers from Minnesota on Nov. 3, but were unable to involve him and yield substantial results from the future Hall of Famer. Moss joined the Titans Nov. 14 at Miami, and injuries forced the Titans to use three different starting quarterbacks in his first three games. Moss finished with six receptions for 80 yards.
Nate Washington had another productive season, his third straight with at least 40 catches. Washington, who completed his sixth NFL season, caught 42 passes for a career-high 687 yards and matched his career high of six touchdowns from 2009.
Eight-year pro Justin Gage added 20 catches for 266 yards and one touchdown, despite missing time with a hamstring. Gage was inactive the final game of the season as the Titans turned to younger players.
Rookie Damian Williams caught 16 passes for 219 yards, including three for 24 yards in the final game of the season. Lavelle Hawkins added five catches for 61 yards in limited opportunities.
Bo Scaife finished his sixth season with the Titans with 36 catches for 318 yards and a career-high four touchdowns. Scaife, who was inactive late in the season while Titans coaches gave second-year pro Jared Cook more playing time, said he does not expect to be back with the Titans next season.
"One thing that's certain is uncertainty so I'm just taking it one day at a time," Scaife said as Titans cleaned out their lockers on Jan. 3. "If this is my last time here, I enjoyed everything and I've got a lot of great memories. I've developed a whole bunch of lifelong relationships with some of my teammates and a lot of things that can I take from it that make me happy."
Cook, who started the season primarily in a special teams role, emerged as a threat in the passing game with 29 catches for 361 yards and one touchdown. Cook had a career high 96 receiving yards against Kansas City on Dec. 26 and a career high seven catches against Indianapolis on Jan. 2.
Third-year pro Craig Stevens, who his primarily used in run-block schemes, added career highs of 11 catches for 122 yards and two touchdowns.
Left tackle Michael Roos, right guard Jake Scott and right tackle David Stewart continued their durability, starting and finishing all 16 games this season but the Titans started three different players at center because of injuries.
Eugene Amano moved from left guard to center this season after the departure of Kevin Mawae, and the Titans promoted Leroy Harris to left guard. Amano started 13 games before he suffered a season-ending injury. Fernando Velasco replaced Amano in Week 14 but later suffered an injury, and Matthews made his first career start Jan. 2 at Indianapolis.
Seven-year pro defensive end Jason Babin recorded a career-high 12.5 sacks and earned his first selection to the Pro Bowl in his first season as a Titan. Babin added 18 quarterback pressures. The former first-round pick recorded the most sacks by a Titans player since Kyle Vanden Bosch (12.5) in 2005.
Six-year pro Dave Ball also posted a career-high seven sacks in his first season as a starter. Ball started all 11 games he played, recording 10 quarterback pressures, but missed games late in the season with a concussion. Jacob Ford replaced Ball late in the season and had three sacks.
More injuries made their mark on the defensive line. Rookie and 2010 first-round draft pick Derrick Morgan had 1.5 sacks in his first four games before suffering a season-ending ACL injury against Denver, and third-year defensive end William Hayes also missed time because of injury but added 1.5 sacks.
Sixth-year pro defensive tackle Tony Brown missed significant time with knee problems and was rarely 100 percent, third-year defensive tackle Jason Jones missed action with a knee injury and second-year defensive tackle Sen'Derrick Marks missed time with an ankle injury.
Jones led the Titans' interior linemen with 3.5 sacks and forced a key fumble that ignited a comeback win against Philadelphia.
"Obviously, we've got to address our defense," Fisher said. "I think we became a little deficient on defense this year from a personnel standpoint, from an injury standpoint."
Stephen Tulloch completed his first season as a defensive captain and led the Titans with 160 tackles (according to press box statistics), which was the second-highest press box tally in the NFL this season.
"I think we did underachieve," said Tulloch, who is set to become a free agent in 2011. "I think we had a lot going at the beginning of the season. Training camp and our first seven games, we were really moving strong. Then all of a sudden, something happened and we never got a chance to bounce back from it."
Nine-year veteran Will Witherspoon joined the Titans in the offseason, adding a stabilizing presence to the unit. He contributed on blitzes and in pass coverage. Witherspoon led Titans linebackers with three sacks and two interceptions.
Second-year pro Gerald McRath added 58 tackles and 1.5 sacks in 12 starts in his second pro season. McRath, who missed the first four games while serving an NFL suspension, is confident that he and his teammates will work hard to improve for 2011.
"You have to work for everything you get, and I think that's what this locker room plans on doing this offseason," McRath said. "You never want to give up somebody that you've been with. A lot of these guys taught me the ropes. You've got to take things from what they teach you."
Safety Michael Griffin looked more like the player that went to the Pro Bowl in 2008, leading the Titans with four interceptions and recording 108 tackles (according to the press box tally). Griffin also forced two fumbles and recovered two fumbles. Safety Chris Hope added 101 tackles and one interception.
Fifth-year cornerback Cortland Finnegan had 100 tackles and two interceptions, continuing to draw the opponents' top wide receivers each week.  Rookie cornerback Alterraun Verner proved to be one of the team's top surprises with three interceptions and 101 tackles. Verner made the most of his opportunity to start following an injury to second-year cornerback Jason McCourty Sept. 26 against the New York Giants. McCourty was solid upon his return, playing in 12 games and recording 47 tackles and two interceptions.
Rookie Marc Mariani broke the franchise record for total kick return yards and returned a kickoff 98 yards for a touchdown and a punt 87 yards for a score in earning a selection to the Pro Bowl.
Mariani led the NFL with 1,859 return yards on kicks this season. He had 1,530 yards on 60 kickoff returns and led the league with 42 kickoff returns of more than 20 yards. Mariani added 329 yards on 27 punt returns and broke four of those for more than 20 yards. 
"I always wanted to be the best that I could be," said Mariani, who broke Derrick Mason's combined return record set in 2000. "I was so competitive. I just wanted to be at the top. I've definitely got a lot of work to do, but to have this success this year is a pretty crazy ride."
Sixth-year kicker Rob Bironas had a Pro Bowl-caliber season, scoring more than 100 points for the fourth straight season and tying the Oilers/Titans franchise record of 20 straight field goals without a miss.
Bironas was 24 of 26 on field goals this season for a career best 92.3 percent and kicked accurately on all 38 points after touchdowns for 110 points. Bironas equaled the consecutive field goals streak that Al Del Greco set in 1998-99 and Bironas matched in 2007-08 before it ended during a 61-yard attempt just before halftime at Indianapolis on Jan. 2.
Punter Brett Kern completed his second season (first full year) with the Titans and finished tied for sixth in the NFL in net punt average (39.1 yards). Kern averaged 42.9 yards on 77 punts, pinned opponents inside their 20-yard line 24 times and forced 16 fair catches.