**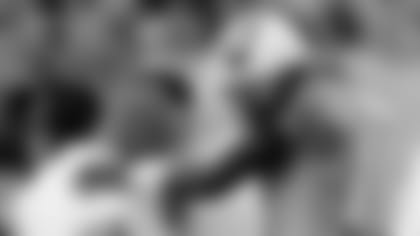 Vince Young will have season-ending surgery on his throwing hand, head coach Jeff Fisher said Monday.
NASHVILLE, Tenn. --** Tennessee coach Jeff Fisher said Vince Young needs season-ending surgery on his throwing hand. Not that being healthy would have kept the quarterback in the Titans' starting lineup.
The team is placing Young on injured reserve within the next few days, but after his latest meltdown - throwing his pads into the stands - Fisher said Young wouldn't have started Sunday against Houston anyway.
Young saw a hand specialist Monday, and Fisher said team doctors recommended the surgery to repair Young's torn flexor tendon in his right thumb. Young was injured late in the third quarter of Sunday's 19-16 overtime loss to Washington.
Fisher said he didn't know if Young will get an outside opinion.
"He may want to get a second opinion. He may want to get two dozen opinions. Our doctor said for his position, it needs to be fixed,'' Fisher said.
Rusty Smith, No. 2 on the depth chart on Sunday, replaced Young in the game and Fisher said the rookie will start against Houston. Smith is a sixth-round pick out of Florida Atlantic, and the Titans are bringing in Chris Simms to back up Smith. Kerry Collins is the No. 3 quarterback for now, but is expected to start once his strained left calf heals enough for him to play.
After tossing his pads, Young had a heated exchange with Fisher in the locker room following the loss, then bolted the stadium.
Asked Monday if he was tempted to release Young, Fisher said no.
"He's got an injury. We put him on injured reserve,'' Fisher said.
The Tennessean reported Monday that owner Bud Adams had talked to Fisher and Young and told them to "get this thing settled'' and work together. Adams said Young told him he wanted to return to the game, and the 87-year-old owner isn't going to release the No. 3 overall pick in the 2006 draft.
"Oh, God, yeah. He is under contract. I wouldn't want to let him go. We are going to pay him a lot of money,'' Adams told the paper. Young is due to receive $8.5 million in 2011.
Fisher, whose contract also runs through 2011, said team officials discussed Young's injury and the need for surgery in a conference call with Adams. But Fisher hasn't talked to Young since he stormed out of the stadium. He informed Young's agent, Tom Condon, that the quarterback was being put on injured reserve.
"My focus is on this football team. He's not going to play anymore games for us this year because of the injury. We can deal with all that when the season is over,'' Fisher said, referring to trying to repair the relationship with Young.
Young has tweeted and told others, including Adams, that he simply wanted to stay in the game and play against the Redskins. Fisher said Young didn't tell him, the offensive coordinator or the quarterbacks coach that he could play with the injury and sounds.
Randy Moss was open a few times against the Redskins, and Fisher said Young had some incorrect reads - rare public criticism of a player by the coach. Once injured, Fisher noted Young sailed one pass into the kicking net as he tried to test his heavily taped thumb.
"If I thought Vince could go out and give us the best chance to win, then he would've gone back on the field,'' Fisher said. "I was not going to put him on the field, knowing ahead of time he had an injury that would prohibit him from throwing accurately.''
Fisher said he isn't worried that being challenged by Young after the game will have any impact on his control of the locker room. Even with three straight losses, Tennessee is only a game back of Jacksonville (6-4) and Indianapolis (6-4) in the AFC South with five divisional games down the stretch.
"That issue's over with. I discussed it with the team,'' Fisher said. "We're coming back ready to work on Wednesday.''
Asked if frustration had been building with Young, Fisher said no.
"All I've done here since Vince has walked through the door is try to help him be to the best player he can be and stood behind him and defended him from the get-go, so there's no frustration,'' Fisher said.
Fisher, in his 16th season, is the longest tenured coach in the NFL and has a no-nonsense reputation. But Young is the player Adams essentially watched grow up in Houston, where the owner stayed when his team relocated to Nashville. Adams declared after grabbing Young in the 2006 draft that "VY is my guy.''