**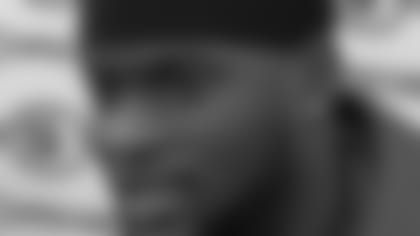 Vince Young addresses reporters Wednesday at Baptist Sports Park.
NASHVILLE, Tenn. --** Vince Young wants to play Sunday against the
Miami Dolphins
. Whether the Tennessee quarterback's right hamstring is healthy enough to let him remains to be seen.
Young didn't practice Wednesday, instead watching with the hood of his sweat shirt over his head most of the time. A quick healer, Young said he feels much better than when he strained the back of his right leg in last weekend's 47-7 win over St. Louis, and Sunday is a crucial game for the Titans (6-7) to keep their faint playoff hopes alive for another week.
"I was hurt last week with a bum knee, I was still out there moving around,'' Young said. "Football is football man. It's the love of the game man, and right now we need a couple of wins to do what we need to do. I'm just taking my time and be safe on the safe side. At the same time, I'll be out there. Hopefully, I'll be out there.''
Young is 6-1 as a starter since returning to the lineup and is part of the Titans' rebound from their 0-6 start. The fourth-year quarterback is 4-0 at home this season where he has completed 69.1 percent of his passes for 854 yards with four touchdowns and only one interception for a 107.3 passer rating.
He didn't practice last Friday after aggravating his right knee the day before and played very well before he pulled up at the end of a 44-yard run that was the longest of his career. Young left with the Titans leading 14-0, having completed 6-of-8 for 132 yards with one touchdown pass.
"I want to play. I definitely want to play,'' Young said. "At the same time, it's day to day. All I can do is treat it and take care of it.''
Young said this injury is much milder than in 2007 when he strained his right quadriceps muscle, an injury that kept him out of the team's next game in his hometown of Houston. He said whether he's able to practice at all Thursday will depend on how his leg feels and what the trainers say.
Coach Jeff Fisher had hoped Young could practice Wednesday and now is optimistic about the quarterback being available Thursday. But Fisher also has said Young knows the offense well enough that he could play without practicing. Backup Kerry Collins, who threw for 154 yards last week in relief of Young, took the work in practice.
"The bottom line is he's got a big future, long future ahead of him and he knows what's best for the team to make good decisions on this injury. If he can go, then he'll go,'' Fisher said of Young.
Chris Johnson benefits from having the more mobile Young on the field in his pursuit of a 2,000-yard rushing season and is optimistic Young will be ready to play against Miami (7-6).
"He told me he's going to play, so I expect him to be out there,'' Johnson said.
The Dolphins, who are a game behind New England in the AFC East, are wasting no time worried about which quarterback to prepare for in this game. Miami coach Tony Sparano said it's December, so they prepare for the starter.
"We're expecting to see Vince, were preparing for Vince and if Kerry plays, then so be it. I think at this time of year you have to prepare for the starter to play.''
NOTES: Young was among nine Titans who did not practice Wednesday, including starting linebacker David Thornton. Fisher said they still are conducting tests on Thornton's shoulder, an injury that knocked him out of last week's win over St. Louis. ... Center Kevin Mawae (back), defensive tackle Tony Brown (knee), defensive end Eric Bakhtiari (concussion), linebacker Keith Bulluck (rest) and tight end Craig Stevens (concussion). Receiver Nate Washington (ankle) was limited.