**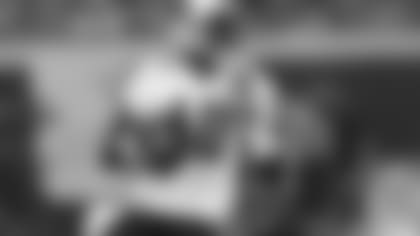 Vince Young watched during Wednesday's walk-through practice. His status remains day-to-day with a sprained knee and ankle.
NASHVILLE, Tenn. -** Vince Young is walking with a limp and Tennessee coach Jeff Fisher says whether his quarterback plays against Philadelphia depends on whether he's able to run around in the pocket.
The Titans only went through an hour-long walkthrough Wednesday - with Young watching. Fisher said Young would not have worked if they had practiced. As for Thursday, the Titans are in a wait and see mode.
"I'm not going to get into whether he needs to practice or not,'' Fisher said. "He's paying attention, he's in the meetings, it will be day-to-day with it. He's come a long way. There is always a potential for him to play without practicing, and of course there is always the potential he may not play this week. We just don't know.''
Young was hurt on the second series of Monday night's 30-3 win at Jacksonville. He fumbled a snap, recovered the ball and had his left leg twisted underneath him. The quarterback, who did not speak with reporters Wednesday, initially thought he was hurt badly enough that his season was over.
Tests have shown a mild sprain in his knee, and he also has a sprained ankle.
Young's not the only Titans quarterback on the injury report.
Kerry Collins, who finished up in Jacksonville, also did not practice. He banged the middle finger of his right, throwing hand on a helmet or hand in the third quarter. But the veteran said he'll be ready to start if Young cannot play and recalled he jammed a finger in the opener one season in Oakland and played with it the entire season.
The biggest challenge for Collins is preparing as if he will start, but not knowing if he will. If Young gets the nod, he will make his seventh start this season and 17th straight dating back to last season when he replaced Collins after the Titans' 0-6 start.
"I've been through it now several times and so it's not tough really for me,'' Collins said. "If I get reps and don't play, it's actually better because I actually get some reps during the week as before I wasn't getting any. We've been in the situation before where Vince has been day to day and just kind of wait and see how the week shows out.''
Young got the win Monday night as the starter, and he combined with Collins to throw for 171 yards with two touchdowns and no interceptions and a 123.3 passer rating.
If Collins starts Sunday against Philadelphia (4-2), it would be his first start since Oct. 18, 2009, when the Titans lost 59-0 in a snowy beatdown in New England. Collins also replaced Young in Week 2 against Pittsburgh after Young's third turnover. Just knowing he might start and play is exciting.
"But I also temper that with there's a lot of work to do between now and then and have to wait and see how things go with Vince up until that point,'' Collins said. "I'll just take advantage of the opportunity to get some reps this week. If my number gets called on Sunday, I'll be ready to roll.''
Nate Washington said he had no idea on Young's health, but the receivers aren't worrying about who will start at quarterback.
"Either way, a job has to get done. We're confident in all three of our quarterbacks,'' Washington said. "Whoever has to be in there, we're not too much worried about it.''
NOTES: The Titans issued a practice report even though it was a walkthrough. DT Tony Brown (right knee) and DT Jason Jones (shoulder) and TE Bo Scaife (groin) did not practice. WR Justin Gage (left hamstring) did practice fully. RB Chris Johnson (thigh) was limited.