**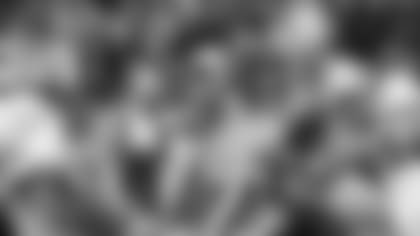 Vince Young registered his ninth consecutive regular season victory on Sunday.
NASHVILLE, Tenn. --** On rubbery legs, Titans coach Jeff Fisher summed up what everyone just saw.
"You guys don't mind if I sit down and do this do you? OK. WOW! What a great finish!" Fisher said as he slumped behind the podium. "We've had some finishes around here, but I can't remember one like that. Just a tremendous finish."
Vince Young outdueled Matt Leinart again with yet another spectacular winning drive. He hit a leaping Kenny Britt for a 10-yard touchdown as time expired, and the Tennessee Titans rallied to beat the Arizona Cardinals 20-17 Sunday for their fifth straight victory.
Arizona coach Ken Whisenhunt compared the disappointment to losing the Super Bowl in February.
"It's as close to that as possible because we knew today that it would be difficult against this team, and our team rallied and pulled together. When you're six seconds away from winning it, it makes it even tougher," Whisenhunt said.
"There's not a lot you can do when he extends the play like that," Whisenhunt added of Young.
Young won his ninth straight start and improved to 23-11 in his career by driving the Titans 99 yards on 18 plays in the final 2:37. He converted three fourth downs on the drive, two to Britt. He threw for a career-high 387 yards in beating Leinart in their first meeting as professionals and first overall since the BCS national championship in January 2006.
Asked if this felt like that BCS game, Young said it did a -- a little.
"We're in the NFL now. ... As the Tennessee Titans, I feel we fought to the finish," Young said.
The Titans (5-6) have not lost since Young replaced Kerry Collins as the starter. They are the first team to win five in a row after starting 0-6.
Arizona (7-4) snapped a three-game winning streak. Leinart made his first start since Oct. 7, 2007 as the Cardinals sat Kurt Warner with what Whisenhunt called sensitivity in the quarterback's eyes. Arizona also has an NFC matchup with Minnesota next week.
Leinart threw for 220 yards, LaRod Stephens-Howling returned a kickoff 99 yards for a touchdown and Tim Hightower also ran for a TD for Arizona. But the Cardinals lost for the first time this season away from home with Warner watching from the sideline wearing sweats.
Just as Young had the ball last in that memorable Rose Bowl game for Texas over Southern California, he won this one in style. Arizona receiver Steve Breaston, who lost to Young while at Michigan, walked over to Leinart on the sideline early in the drive and called it deja vu.
"I thought Vince played great," Leinart said. "He made plays in that last series, so hats off to him. I thought our defense played phenomenally, he just made some plays."
Young found Britt on fourth-and-4 from the Titans 7 for a 10-yard completion, and he hit Lavelle Hawkins on fourth-and-4 at the Arizona 44 with a 13-yarder.
Young connected with rookie Jared Cook for 17 yards on third-and-5 to the Arizona 9 before needing all four plays to get into the end zone.
"Once you see Vince scramble around, you never know if he's going to run it or throw it," Britt said. "You just have to stay alive, and that's what I did."
Titans fullback Ahmard Hall played with Young in that national title game and told coaches on the sideline his friend would deliver again.
"He just has a knack for the spotlight," Hall said.
The Titans outgained Arizona 532-292, a season high for Tennessee. Darnell Dockett had three of Arizona's four sacks of Young.
The winning drive almost overshadowed the record-setting performance by Titans running back Chris Johnson.
He matched the NFL mark held by Earl Campbell (1980) and Eric Dickerson (1984) by running for at least 125 yards in his sixth straight game. Johnson topped 125 yards Sunday with an 85-yard touchdown gallop late in the third quarter, and he also turned in the most yards rushing in November, a mark previously held by Barry Sanders (1997).
Johnson finished with 18 carries for 154 yards, though he didn't touch the ball on the final drive. He didn't mind.
Britt's touchdown catch helped make up for his turnover with 4:38 left. Young had just hit the rookie for a 51-yard completion to the Arizona 30 when Dominique Rodgers-Cromartie, who played on this field in college at Tennessee State, poked the ball free. Bryant McFadden recovered.
The Titans forced Leinart and the Cardinals to punt. Stephens-Howling downed the ball at the 1, setting up Young's latest heroics.
Tennessee was up 6-3 at halftime before two huge plays in the third quarter.
Only one defender got an arm on Johnson as he broke through the line and ran 85 yards for a 13-3 lead with 3:37 left. Stephens-Howling took the ensuing kickoff 99 yards for a touchdown -- the first allowed by the Titans since Dec. 26, 1999.
Leinart guided Arizona to its first lead of the game, driving the Cardinals 80 yards in nine plays. Hightower scored on a 6-yard run for a 17-13 edge with 12:20 left. It looked like it would be enough as Stephens-Howling downed two punts inside the Tennessee 2 in the final six minutes.
NOTES: Fitzgerald became the second-fastest receiver to 500 career receptions with his first catch of the second half -- his 87th career game. The fastest? Teammate Anquan Boldin did it in 80 games. ... Stephens-Howling's TD return was the first by a Cardinals rookie since Roy Green's 106-yard return at Dallas on Oct. 21, 1979. ... Dockett now has a sack in four straight games. ... The last kickoff returned for a TD allowed by Tennessee was to Alvis Whitted of Jacksonville. ... The Titans are 28-3 against teams making their first visit to LP Field. Arizona was the last. They also won their seventh straight against the NFC.