**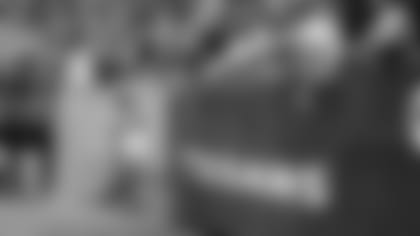 Texans fans erupt after Young scores on a 39-yard run in overtime to beat the Texans in 2006.
NASHVILLE, Tenn. -** In his last start at Reliant Stadium, Vince Young left the field blowing kisses to cheering fans after running for the winning score in overtime. It was a triumphant return to the city where he grew up against the team that passed on drafting him.
"It was a fairy tale,'' he said. "It was like a dream come true.''
Since that win as a rookie in 2006, Young has gone through his share of ups and downs. On Monday night he'll return to Houston with the Titans and a three-game winning streak to face a Texans team trying to stay in the playoff hunt.
Young said he knew the reaction to his winning touchdown in the 26-20 victory was big, but he didn't remember much else about the fans' response.
"Being a Houstonian, being a hometown kid, there's a lot of Longhorn fans out there and it's a lot of fans just period that's pretty much been following my career ever since I was in high school all the way up to now,'' he said Thursday while wearing a Houston Oilers cap. "So it's just a lot of love. No disrespect to the Texans.''
Young said that game ranks second in his career highlights to the 2006 Rose Bowl, when he scored the winning touchdown to give Texas the national championship.
The Texans have far less fond recollections of that game.
"What I'll always remember about that run was the way the crowd erupted like it was a home game for him or something,'' said DeMeco Ryans, who was the NFL Defensive Rookie of the Year in 2006 when Young won the offensive award. "That kind of always ticked me off that they were cheering like that for him. Our fans cheering for him really made me mad.''
Ryans said he probably won't be thinking about that play Monday night, but he will be focused on making sure Young doesn't beat them with his feet.
"As defensive players we have to do something about that,'' Ryans said. "We've got to stop him and it wouldn't be like that. We're just going to go out and try to dominate and win the game.''
Young's teammate Ahmard Hall, who played with him at Texas, said Young is trying to contain his excitement about playing in his hometown for the first time since his rookie year.
"Vince is the mayor of Houston, everybody loves him down there,'' Hall said. "Everybody's excited to see him play, and Vince thrives in big games and I think he'll have a special night on Monday night.''
Young has been steady in his first three starts since losing his job early last season, throwing two touchdowns and just one interception. But Tennessee's success has been due in large part to the virtually unstoppable Chris Johnson. The NFL's leading rusher has 495 yards and six touchdowns on the ground in those three games.
The second-year player said Young has brought a new attitude to a team that was reeling after losing its first six games with Kerry Collins at the helm.
"We're just out there having fun basically,'' Johnson said. "We get in the huddle and Vince says: 'Don't worry about anything, let's just have fun' and we just have fun, and if we have fun we're going to win.''
Fisher has been impressed with Young's progress and thinks his benching helped him grow.
"His completion percentage, everything statistically out on the field, but more importantly than that, just the way he's been preparing,'' Fisher said. "He's having fun. The experience for him, even though it was difficult, it was positive and a tremendous learning experience, and it's paying dividends now.''
Houston knows the Titans are a different team with Young at quarterback than in the first meeting this season with Collins playing. The Texans won 34-31 despite Johnson running for 197 yards, with 87 yards receiving and three touchdowns of longer than 50 yards.
Regardless of who's playing quarterback, the Texans must make slowing Johnson a priority.
"The guy has it all,'' cornerback Dunta Robinson said. "He's breaking tackles. He's outrunning people. He's just a great running back. If you want any chance to beat this football team, you've got to contain him. He's taking two and three yard gains and taking them 80 and 90 yards.''
The Texans believe their defense is much improved since that game, especially when it comes to stopping the run. Houston allowed an NFL-worst 205 yards rushing through the first three games, but has given up just more than 60 yards rushing in the last six.
"I think we're a lot better,'' defensive end Antonio Smith. "I think we've proven that we can stop the run and we can do better against big plays.''
Young's return to Houston is certainly intriguing, but the better matchup Monday night might be Matt Schaub and Houston's high-powered passing attack against Tennessee's 31st-ranked pass defense.
The Texans have the third-most potent passing game in the NFL and Andre Johnson has had more than 140 yards receiving in each of the last two meetings against the Titans, including a franchise-record 207 in the last game in Houston.
Johnson was low-key when asked about his recent success against Tennessee.
"I think that it's just us being able to run the ball and it opens up our play-pass,'' Johnson said. "When we're able to do that, we're able to have some big passes against them.''
He scored twice in the Week 2 win over the Titans, with one score coming on a 72-yard reception. Fisher doesn't want to see that happen again.
"We can't shut Andre out, you just don't do that,'' Fisher said. "They're going to get him the football. What we can't do is give up the big plays deep down the field.''