**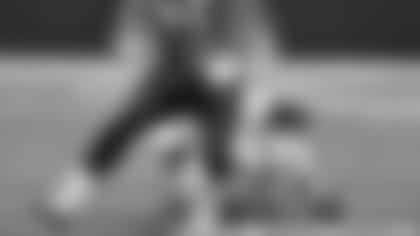 Second-year pro Javon Ringer figures to see plenty of reps during the preseason behind starter Chris Johnson.
NASHVILLE, Tenn. -** The Tennessee Titans' rushing attack looks simple: Hand the ball to Chris Johnson a lot and let Vince Young run a bit.
That sure worked down the stretch last season as Johnson finished with 2,006 yards. Looking at the running backs the Titans have in training camp competing to back Johnson up, it's easy to think nothing's changed.
Javon Ringer was an All-American at Michigan State and is going into his second season with a grand total of eight carries in the NFL. Four-year veteran Alvin Pearman is back after touching the ball only on special teams last season. The Titans also brought in two undrafted rookies: LeGarrette Blount from Oregon, and Stafon Johnson from Southern California.
But Chris Johnson remains the preferred option when running the ball because Titans coach Jeff Fisher wants to win games and isn't worried about wearing him down.
"If you're a good running back and you're going down in history being in the top 25, odds are in your favor you're going to play 10, 12 years. That's the approach we're taking with him,'' Fisher said of Johnson. "When he's tired, we'll back him down. When he can go, we're going to feed it to him.''
That means not a lot of carries will be left over. In 2009, Johnson had 358 of the team's 499 rushes. LenDale White, the second-leading rusher last season, was traded to Seattle in April and now is in Denver after he was released by the Seahawks.
Ringer has had the offseason to study up on Mike Heimerdinger's offense and work in the gym. He's nearly 20 pounds heavier than the 191-pound Johnson and brings a nice combination of speed and power to the job. Ringer hopes to ease some of CJ's workload.
"I'd like to say so. Realistically, CJ's the man right now. He's proven he is a really tremendous back,'' Ringer said. "A lot of those carries, that kind of wears and tears on the body where I'll hopefully get the ones he doesn't want to kind of keep him healthy and show I can produce.''
Blount could take over for White on short yardage and goal-line plays. White ran for 15 touchdowns in 2008.
The 6-foot, 247-pound Blount didn't hear his name called during the draft, possibly due to concerns about the punch he threw after the Oregon-Boise State game last year.
Fisher said Blount has been working hard and is happy. And powerful.
"He runs low. He runs behind his pads. He pushes piles and that's why he's here,'' Fisher said.
Blount is so big his shoulder pads look like they perch on top of his body. He quickly had defenders taking bad angles to avoid crashing into him. Fisher can't wait to see how Blount performs in the preseason, which starts Saturday night in Seattle.
Stafon Johnson may be best known for losing last season when a weightlifting accident crushed his neck and throat last September. He also has an edge in an offense where some of the language and concepts were installed by one-time USC coordinator Norm Chow during his three-year stint with the Titans. Ringer said Johnson learned the offense quicker than he did.
Fullback Ahmard Hall likes what he sees behind CJ.
"As a collective group, I think we have a really good chance to be good this year,'' he said.
NOTES: DE William Hayes hurt his right leg during practice and walked off with a trainer and doctor. Fisher had no immediate update. DB Vincent Fuller also hurt a knee. ... CB Cortland Finnegan missed a second straight practice because of a hip flexor, and Fisher said he is a few days away from returning. DE Jacob Ford also has a hip flexor injury and missed a third straight practice.