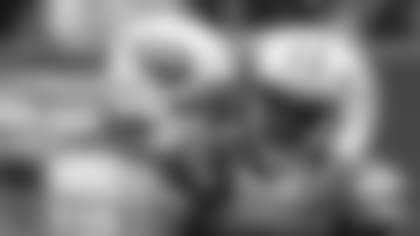 WR Damian Williams (right) has scored touchdowns in back-to-back games for the Titans.
NASHVILLE, Tenn. — Damian Williams is in his second NFL season with a new offensive coordinator and no offseason due to the lockout. He's also the receiver who has the task of replacing Kenny Britt at wide receiver for the Tennessee Titans.
Nothing like a little pressure.
"In the beginning, it was a lot of pressure just because you're replacing a player the type of Kenny ... and you've got to think about that when you're the guy replacing him,'' Williams said Wednesday with a laugh. "As we've gone along the past couple weeks, I feel comfortable. They feel comfortable, and I think there's no pressure anymore.''
A third-round pick out of Southern California, the 6-foot-1, 199-pound Williams has caught a touchdown pass in each of his past two games. He already has nine catches for 94 yards and is on target to easily top the 16 catches for 219 yards from his rookie season.
Offensive coordinator Chris Palmer wasn't happy with Williams when the receiver told him he could beat a defender in a 38-17 loss at Pittsburgh on Oct. 9, then seemingly went on cruise control. But Williams had a talk with Williams and feels the young receiver got his message on the need to go full out when on the field or head to the sideline if needing a breather.
"He's only a second-year player. He's got a bright future ahead of him,'' Palmer said.
Williams will be making his third straight start Sunday when Tennessee (3-2) hosts Houston (3-3). The receiver did have the advantage of extra work in the preseason while the Titans tried to ease Britt back from a strained right hamstring, and Williams played at each of the three receiver spots.
But Williams worked mostly with rookie Jake Locker, so he's still adjusting to veteran quarterback Matt Hasselbeck.
"We just have to get that rapport and get that timing and I think we're getting a lot closer,'' Williams said.
The Titans know they can't replace Britt, who tore his right ACL and MCL on Sept. 25 against Denver. He's what receivers coach Dave Ragone calls his own special type of player.
Williams has had some success in his own career.
He played and won a state title with now-Auburn offensive coordinator Gus Malzahn at Springdale High School in Arkansas before playing a year for Arkansas in college and being named to the freshman All-Southeastern Conference team. Williams transferred to USC for two seasons after sitting out a year and declared for the 2010 draft.
Ragone said Williams is very smart and understands what defenses are trying to do to him. He has some speed too.
"He can be physical with defensive backs, and he's got that kind of pedigree. Great high school player, great college player and knows he can make plays. It's about going out there each game and getting more comfortable for him,'' Ragone said.
Hasselbeck has made it clear that he will throw to the open receiver, and the Titans are giving Williams the chance to show what he can do right now. The trade deadline passed Tuesday without the Titans making a move for receiver Brandon Lloyd, who was sent to St. Louis.
They did sign Donnie Avery the same day they placed Britt on injured reserve Sept. 28, and the Titans are working to catch Avery up on their offense so he can help more in the offense.
The Titans have been mentioned as a possible landing spot for Terrell Owens, whose agent announced Wednesday on Twitter that the veteran is healthy now after his own torn ACL. Munchak said he didn't know Owens' status and that the Titans will continue to work out players weekly.
But the team that claimed Randy Moss off waivers last November doesn't seem interested in T.O.
"There's nothing going on at all with us,'' Munchak said.
Williams has been in the NFL long enough to know that no job.
"You kind of take it as a compliment and a confidence booster. In the end, nobody's safe. Well, except maybe for Chris'' Johnson, Williams said of the Titans' running back.
NOTES: TE Craig Stevens (ribs) did not practice Wednesday, but he ran on the side. LB Colin McCarthy (hamstring) also did not practice along with S Chris Hope (left forearm).