ATLANTA – After drafts in New York City, Chicago, Philadelphia and Dallas, Nashville is up next for the 2019 NFL Draft.
And now we know much more about what the NFL and the city have planned.
The main NFL Draft stage will be on First and Broadway. Draft picks on the main stage will take place the evenings of April 25 (Thursday) and April 26 (Friday) and during the afternoon of April 27 (Saturday).
Schermerhorn Symphony Center will be host to Selection Square, which features the team tables where representatives from each club will make their draft selections.
The NFL Draft Experience, a three-day football festival, will be held in the parking lots and areas surrounding Nissan Stadium.
The NFL Draft Red Carpet will take place on April 25 (Thursday) at The Green at Riverfront Park.
Concerts with "high level talent" are being planned for on the main stage on Broadway all three days, and on another stage across the Cumberland River. The performers will be announced at a later date.
Admission is free. There will be limited seating areas (and some VIP areas), but the idea is most fans can stand, and walk.
The NFL and the city are expecting crowds approaching 300,000 for the weekend in an area organizers are calling the largest festival footprint ever for an NFL Draft.
"I think every year we have raised the bar, and I am incredibly confident that in Nashville, we'll raise it again," said Matt Shapiro, Vice President, Event Strategy & Integration at the National Football League. "Just how special that downtown area is, and the energy that comes on every single day of the week, it is a really exciting prospect to think about bringing the energy and excitement of our draft to an area that on its own has that level of energy and excitement. I think it has that multiplier effect that puts the draft at a level we've never seen before."
Butch Spyridon, President/CEO Nashville Convention & Visitors Corp, can hardly wait.
Spyridon is scheduled to be in Atlanta today at a booth in the Super Bowl LIII Media Center, where he'll join a team working to publicize the upcoming draft, and Nashville.
"I am extremely excited," Spyridon said. "It will be interactive, immersive, entertaining and free. With free being the buzzword. This is that icing on the cake that says: Nashville can do this as well as anybody. That is what motivates me as much as anything – that the city can shine at the highest level.
"The campus is going to be user friendly. There's going to be world class entertainment, 1,000 media and three networks carrying this thing. It has everything we've all worked for to put Nashville on the biggest stage we can up to this point.
"Come to Nashville, and join in the party."
Some other details about draft weekend in Nashville:
The NFL Draft Experience presented by Oikos Triple Zero will invite families and fans of all ages to enjoy a free admission, three-day football festival held surrounding Nissan Stadium. Fans can participate in interactive exhibits, immersive games, virtual reality experiences, free player autograph sessions and more.
The Draft Experience will include:
Autograph Stage with current NFL players and NFL Legends.
Interactive games, Play Football clinics, and PLAY 60 Zone for the smallest NFL fans.
Photo with the Vince Lombardi Trophy.
NFL Shop at Draft with exclusive NFL merchandise.
Taste of Tailgate with Nashville restaurants and Bud Light Bars.
NFL Draft Experience stage with TBD artists.
The hours of operation for the NFL Draft Experience are as follows:
April 25 (Thursday): 12 p.m. – 10 p.m.
April 26 (Friday): 12 p.m. – 10 p.m.
April 27 (Saturday): 9 p.m. – 6 p.m.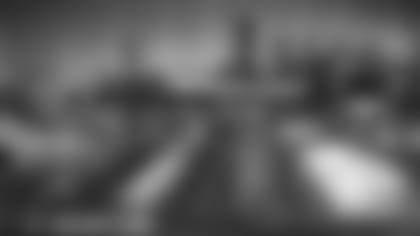 Shapiro said officials from the NFL have made over a half-dozen visits to Nashville in recent months in the planning stages. Back in May, when Nashville was awarded the draft, the NFL vowed to incorporate iconic city landmarks across the Music City stretching from Lower Broadway to Nissan Stadium.
After considering several venues for the main draft stage, including Nissan Stadium and Ascend Amphitheatre, the NFL decided on a stage on Broadway and First Avenue, based in part by the success of the Titans uniform unveiling last year, Shapiro said. Fans will be able to line the streets of Broadway to watch as picks are announced.
"We saw the energy of lower Broadway (at the Titans uniform event), and thought if we could build on that momentum and do a little bit more," Shapiro said. "We decided the most iconic way to do it was to do it at the end of lower Broadway.
"We wanted to do the city justice and make sure it's highlighted in the best way possible. Our feeling was there's no better way to do it that to put that stage on lower Broadway."
The stage will be massive, Spyridon said. While there will be some ticketing for VIPs – a limited number of Titans season tickets holders will also be selected to sit in the "Inner Circle" – "generally speaking, this is a very free, open, flowing event," Shapiro said.
The Nashville Convention & Visitors Corp, in partnership with the Titans, led the bid process for the NFL Draft on behalf of the city. The NFL announced Nashville would be the home for the draft last May.
"The NFL Draft will be one of the biggest sports events in the history of Tennessee – another great opportunity for Nashville to welcome the world and show fans, players and media what we're all about," Nashville Mayor David Briley said. "We're looking forward to showing off our city and our unrivaled live music scene to all who attend. Events like this generate important revenues that allow us to make long-term investments that benefit all of Nashville. I'm glad the NFL agrees that our great city, which the Titans have called home for 20 years, is the perfect location to kick off its 100th season."
ESPN, ABC and NFL Network will all be set up with broadcast booths on Broadway, Spyridon said. Large viewing screens will also be arranged along lower Broadway.
In addition to the draft, the NFL is planning on a concert on the main stage on Thursday before the first round of the draft, with more shows following the draft on Friday night and Saturday. There will also be music on a stage in the parking lots of Nissan Stadium.
"Whenever we go to a city, we want to embrace what makes that city unique and special," Shapiro said. "And there was no doubt in our minds as we started to go down this path we wanted to make sure music was a central part of what we're doing. Music will be weaved throughout."
Spyridon said the performers, and more information, will be made available in the coming months.
He's already praying for good weather. He reminded the city has put on 14 celebrations on July 4th, and 10 New Year's Eve celebrations, and not canceled any.
Shapiro said Selection Square at Symphony Hall was scheduled for inside so there would be no delays, no matter the weather. Spyridon said there will be viewing of the main hall during draft weekend, but not the entire building.
The NFL Draft returns to primetime with Round 1 on Thursday, April 25. Rounds 2 and 3 will follow on Friday, April 26, and Rounds 4-7 will conclude the event on Saturday, April 27.
"We are incredibly excited about the 2019 NFL Draft in Nashville," Shapiro said. "It was a long process to determine the ideal host city and we think we found that in Nashville, and we feel even better about that as we dig into some of the plans and lay out what the draft is going to look like.
"It will probably be the most energetic draft environment that we've had in terms of the energy that downtown Nashville already brings every day of the week. The thought of how the draft will help amplify that is incredibly exciting."
As for fans who've never attended an NFL Draft, Shapiro said there's something for everyone.
The NFL Draft has grown into one of the biggest sporting events of the year. The 2018 event set a record as the highest-rated and most-watched draft ever, eclipsing the previous record set in 2014.
With big crowds expected, parking information, ride-share dropoff locations and other details will be announced in the coming weeks, the Convention and Visitors Corp. said.
"They should expect to have a great time," he said. "And what's good about the draft is no matter what type of fan you are, whether you are a fan of the Titans, the Chiefs, the Jets, or the Seahawks -- and whether you are an incredibly avid fan who wants to know who the Titans take in the sixth round, or you're a casual fan who just wants to spend the day outside enjoying music and food and free games and activity and just follow along with the draft -- there's something for you.
"So this will be a fantastic event in a fantastic city. The draft is really all about hope for the future, so no matter where your team finished this year, the draft is Nashville is going to give you an opportunity to get right back into it."