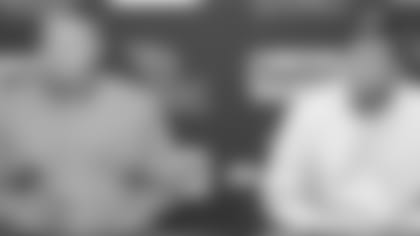 Head coach Mike Munchak (left) and GM Ruston Webster (right) field questions from reporters during Tuesday's pre-draft press conference at Baptist Sports Park.
NASHVILLE, Tenn. -- The Titans aren't on the clock yet, but general manager Ruston Webster and head coach Mike Munchak said Tuesday that they are "ready to roll."
The 2012 NFL Draft begins at 7 p.m. (CT) Thursday with the first round from Radio City Music Hall in New York. It continues at 6 p.m. Friday with the second and third rounds and concludes Saturday with rounds four through seven.
The event has blossomed into a major event that warrants prime time coverage and significant media attention, but is the product of hours of film study, tedious analysis and forthright discussions among Titans executives and scouts that occur with much less bravado.
"First of all, I want to start by saying how happy I am with the way the process has worked," Webster said during Tuesday's pre-draft press conference at Baptist Sports Park. "For about the last week-and-a-half, we've been in with our scouts and coaches and just solidifying the draft board. We're in pretty good shape there now. We went through every position with every coach and every scout. Our coaches did an outstanding job of doing their work, and our scouts are very prepared. I think at this point in time, we're ready to roll."
The Titans have a total of seven selections, including the 20th overall pick on Thursday. Webster, who was promoted in January from his position as vice president of player personnel, said the Titans usually project 21 to 25 players as first-round selections.
The amount of time teams have to make a selection after "going on the clock" is different for different rounds, but Webster said the Titans have a system that allows for conditions that change when a preceding team selects a player that the Tennessee scouts had in mind.
"We'll have a group of six players kind of lined up there the way we would take them," Webster said. "When one of them gets taken, someone else will come on that list and we'll just keep moving up that way. That way, there's no panic in the room and probably not even too much discussion."
Webster participated in his first NFL Draft in 1988 as a regional scout with Tampa Bay and has been involved in each since, including 2010 and 2011 with Tennessee. He said he has found six players to be a good working number to allow some flexibility, but maintain efficient decision making.
"Experience tells you one of those guys will be there," Webster said. "I guess the point for us is to have a pool of players and when somebody drops off that list to have somebody else to come on it. We'll just keep working the list."
Munchak, a longtime assistant coach, said he has been looking forward to his second draft as head coach. He said this year has been different because he was able to spend more time at the pre-draft combine in Indianapolis in February. In 2011, Munchak was still building his coaching staff at the time of the combine.
"Last year, I was hired during that time and was hiring coaches, so I wasn't involved at all in the first run-through of seeing possible college draft picks," Munchak said. "This year was nice because I was able to spend a week to 10 days with the scouts, start getting a feel for the strengths of the draft and getting to know some of these guys."
Munchak said he also gained additional evaluative experience in the past year to help consider players at other positions than just offensive line, which was his specialty as an assistant.
Thursday will mark the second time in Titans/Oilers franchise history to select from the 20th overall spot. In 1987, when the franchise was still the Houston Oilers, the team selected wide receiver Haywood Jeffires from N.C. State. Jeffires made 515 catches in his career, which is second best in franchise history.
The Titans drafted quarterback Jake Locker out of Washington in the first round last year with the eighth overall pick. Tennessee then drafted defensive players with four of their next five selections, including second-rounder Akeem Ayers who started all 16 games in 2011 and produced results at linebacker. The Titans were happily surprised that Ayers was still available at the 39th overall slot.
Webster said the Titans will focus more on their plans than the actions of other teams, but will be prepared for all scenarios.
"You try never to fall in love with one guy," Webster said. "Jake was somebody we targeted last year, but even in that case, you have to be ready just in case that player is not there. We had a pool of players at that point in time as well. We'll do the same thing (this year)."