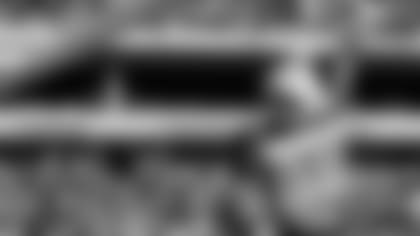 Wide receiver Nate Washington has been one of the Titans' top offensive threats in 2011.
NASHVILLE, Tenn. - Tennessee receiver Nate Washington is proof of how much a little confidence boost can mean to an NFL player.
Even with Kenny Britt out since September, the seventh-year veteran is having his best season yet in the NFL and is just four catches shy of having the most catches by a receiver on this team since 2004. Washington also has stepped up as a much-needed leader for the Titans in Mike Munchak's first season as head coach.
Washington credits former quarterback turned receivers coach Dave Ragone, hired by Munchak earlier this year, with boosting his confidence since the lockout ended.
"This is a game of confidence, a game of mentality that if you can believe in yourself to go out there and be the best you are going to be,'' Washington said. "I'm not going to lie. I had a lot of questions about myself early in my career here. I had a lot of doubts. But at the same time, when you have a guy constantly in your ear telling you you can be one of the greatest to play this game, it made me believe. It made me work harder and really try to step up my game.''
Washington should doubt no more.
The receiver who was undrafted coming out of Tiffin University when he signed with Pittsburgh in 2005 is in his third season with Tennessee since signing as an unrestricted free agent in March 2009, and this easily is his best. With two games remaining, Washington has career highs with 66 catches for 860 yards and has matched his career-best with six touchdown receptions. He also leads the AFC with the most catches on third down, and his 27 receptions rank second only to Roddy White of Atlanta in the NFL.
Munchak said he hired Ragone intrigued by the assistant's ability to explain to receivers what a quarterback wants out of them. The result also includes Damian Williams (35) and Lavelle Hawkins (42) also having career years in catches.
"There's nothing better than being in a room and ... for a receiver to know why a quarterback's not throwing the ball to him,'' Munchak said.
The Titans (7-7) host Jacksonville (4-10) on Saturday in their home finale, and Washington has a chance to do something not seen here since 2004 when Derrick Mason caught 96 passes and Drew Bennett 80. The 6-foot-1, 185-pound Washington also ranks pretty highly among undrafted receivers. Only Antonio Gates (7,637) and Wes Welker (7,037) have more career yards receiving than Washington (3,821).
Matt Hasselbeck said Thursday that everyone wanted to talk about Britt when he arrived in Tennessee with Washington almost an afterthought.
"With Kenny being out, Nate has had to shoulder that load and be that guy and also be more vocal and be somebody in tough situations that we turn to, we go to,'' Hasselbeck said. "He's really polished as a receiver. He's been around, been in different systems and offenses. It's showing up. Critical situations, no matter who's in at quarterback, you're looking for him and he's making plays.''
All four of rookie Jake Locker's touchdown passes have gone to Washington.
Washington had a career-high nine catches in a loss at Atlanta on Nov. 20. He hurt his left ankle in a win Dec. 4 at Buffalo and showed his toughness by returning to the field to catch a 12-yard pass on third-and-8 in the fourth quarter to help seal that victory. He didn't practice all the next week, yet started against New Orleans and set a career-high with 130 yards receiving on a team-high six catches. Munchak has been bragging plenty on Washington for his toughness.
"He's been inspirational too,'' Munchak said. "He's played in games we didn't think he would play in ... He's been a real, real big plus for us. He's turned into a good leader on the team and has come a long way in one year.''
NOTES: Hasselbeck practiced fully Tuesday and Wednesday and was not listed on the injury report with his left calf. RB Chris Johnson did not practiced for a second straight day with a sore right ankle. LB Gerald McRath (left ankle/knee) also did not practice. DE William Hayes (groin) practiced after missing last week's game due to the injury, while LB Patrick Bailey (hamstring) was limited. ... DE Dave Ball missed practice, but Munchak said Ball was with his wife, who was in labor at the hospital.