**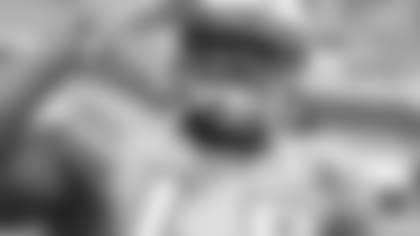 Hall was a U.S. Marine for four years prior to playing football at the University of Texas.
NASHVILLE, Tenn. --** The "Big Marine" is big on the military…and what it did for him.
Tennessee Titans fullback Ahmard Hall, a U.S. Marine for four years before "walking on" to the University of Texas football team, says the Marines taught him discipline, molded him into a leader, enabled him to achieve his goals in life.
Heck, they even got him his wife! 
Indeed, when it comes to unusual life stories in the National Football League -- and there are many -- Ahmard Hall's certainly sticks out.
Growing up in Angleton, Texas, Hall was an all-district running back in high school, but was not recruited by any colleges.  So…he enlisted in the Marines.
"It was a good experience," says the 29-year-old Hall of his Marine tenure.  "It taught me a lot.  It put a lot of discipline in my life.  It led to my being a success in the NFL"
And it taught him how to mete out discipline.
Hall eventually became a sergeant in charge of 73 soldiers of the 3rd Battalion, 8th Marines out of Camp Lejeune in North Carolina -- home of the "Expeditionary Forces in Readiness." 
At Lejeune, he continued to play football, leading his team to victory in the camp's annual "Turkey Bowl" -- "the greatest football moment of my life at that point," he remembers.  "I was just grateful for the chance to keep playing."  
From stateside, it was on to Kosovo in 1999 and to Afghanistan in 2002.  In the latter, Hall  spent most of his time patrolling the simmering streets of Kabul.
"All that helped me with leadership," says the 5-11, 242-pound Hall, who rarely carries the ball for the Titans but is known for his devastating lead blocking.  "I've been in charge of guys and I've been in charge of their lives.  Being able to lead in real-world situations allows me to be able to help guys on the Titans with anything they might encounter."              
After he processed out in 2003, Hall was ready for the next step in his eventful life -- college football.
And he chose one of the biggest stages in the game -- the University of Texas, going there on the GI Bill and simply "walking on" to the Longhorn football team at the ripe age of 23.  Nicknamed the "Big Marine" by Texas quarterback (and now Titans teammate) Vince Young and starting out as a scout-team nobody, before he knew it, the guy who was on patrol in the dangerous alleys of Kabul became a valued starter in Texas' high-powered offense, led the team out of the tunnel waving the American flag on the third anniversary of September 11 in a game against Arkansas, and started in the Longhorns' victorious 2006 national championship game at the Rose Bowl against USC.
"It was truly an honor for me to run out with the American flag," says Hall.  "Arkansas was an old Southwest Conference rival and it was a really, really big deal.  Coach (Mack) Brown came to me and asked me to do it.  I thought it was a great honor.  It was 9/11, a real special day for the United States, and to carry out a flag for the country I served, it was a special feeling for me."
A month after the championship game, Hall experienced another special feeling.  The Longhorns were saluted for their title by President George W. Bush at the White House.  The president cited Hall as being symbolic of the moral and patriotic fiber of the country.
"A lot of distinguished people were there and to be singled out by the president of the United States was one of the best things that has happened to me," says Hall.  "I couldn't believe what was happening.  It totally caught me by surprise.  I didn't know he was going to do that."  
That summer, the "walk-on" was not picked in the NFL Supplemental Draft and was thereupon signed as a 26-year-old free agent by the Titans.  Again he was a nobody.  But not for long.
The fourth-year fullback has opened holes for 1,000-yard rushers every year for the team (Travis Henry in 2006; LenDale White, 2007; and Chris Johnson, 2008).  Tough New York Jets linebacker Bart Scott says Hall is one of the fullbacks he respects most in the league.
In his rookie year, the Titans had Hall reprise his flag run by racing out with the Stars and Stripes in honor of Veterans' Day.
The "Big Marine" has taken it from there.  In college, Hall helped lead a "Momma Bear Cares" drive on Veterans' Day to collect gifts for Marines serving in Iraq.  With the Titans, he has specialized in Veterans' Day functions.
Hall has established a Titans Veterans' Day tradition of taking players and cheerleaders to Nashville's Veterans' Administration hospital to bring gifts and greetings to older military veterans and injured soldiers from the Iraq and Afghanistan wars. 
"It means a lot because it helps let the guys know that just because I'm doing something big like playing football, that I haven't forgotten them," says Hall.  "It's good to go back.  I have to pay my respects and let people know I haven't forgotten where I came from."
And, oh, Ahmard's wife Joanna?  They knew each other in high school and entered the Marine Corps separately.  Their relationship flourished once they spent more time together as Marines.
That sort of "courtship" certainly keeps the dinner conversation going!
"We talk about the Corps all the time, because we had a lot of fun in it," says Hall, who has two young sons with Joanna.  "We went through it together and we always reminisce about the times we had.  We talk about what we did on the base and old friends.  We always talk about it."
Come to think of it, Ahmard Hall has a lot about his life to talk about.
NOTES: Hall on the USO:  "The USO is a great thing.  You come into a new city that you know nothing about and you always have the USO to go to.  You are going to encounter USO guys who have been in the military, vets that you can ask for advice and they'll help you out.  You also have guys that are in a similar situation, new guys coming to a base where they don't know anybody.  You can go to the USO center and they will feed you and you can hang out and there are a lot of things to do.  You can meet all kinds of people and they treat you well.  The USO does a great service to young Marines coming in."