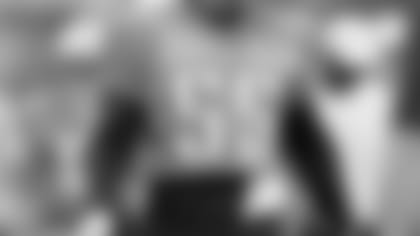 Linebacker Barrett Ruud, shown here early in training camp, returned to practice on Wednesday and is expected to play Saturday night vs. Chicago at LP Field.
NASHVILLE, Tenn. -- Barrett Ruud has been in the NFL long enough to know that the third preseason game is the one in which veteran players are in for the most snaps.
With that in mind, the seven-year pro and offseason addition to the Titans is timing his return from a shoulder injury quite well. Ruud was back in a helmet and shoulder pads Wednesday and is expected to play Saturday at LP Field when Tennessee (1-1 in preseason) hosts the Chicago Bears (1-1).
"You just want to fine tune everything," Ruud said. "It's kind of bad to say, but you want (to defend) a long drive because you want to get used to playing when you're tired, tackling when you're tired, so I always enjoy the third preseason game."
Ruud, who started and played at middle linebacker in all but one game for Tampa Bay in the past four seasons, signed as a free agent with the Titans in the shortened offseason. Ruud tallied 713 tackles over the past four seasons, leading the Buccaneers' defense each time.
A shoulder injury, however, kept Ruud out of uniform last Saturday when the Titans visited St. Louis. Ruud said he took a lot of mental reps while he was sidelined, focusing on the terminology of the Titans' defense under new coordinator Jerry Gray.
"You miss a week of training camp, it's like you miss a month," Ruud said. "It feels like you're out forever. It was good to be back. It felt good running around. I haven't lost any conditioning; it was just exciting to get back into it.
Titans coach Mike Munchak said he liked the progress Ruud showed during Wednesday's practice.
"He had the shoulder pads on, so he didn't have to take a lot of hits on the shoulder, but I think he's getting comfortable," Munchak said. "Hopefully, he's kind of over the hump, and hopefully he'll get (Thursday) behind him and it will be good to have him out there Saturday."
Middle linebackers often serve as the nerve centers of the defense. The ability to understand communication from coaches and relay it to teammates is important at the position. Ruud said his years in the league have helped with that foundation.
"I've played enough defense where I know what concepts are — it's just a matter of staying into the meetings and making sure you've got the right words you're saying to communicate with the other guys the right way," Ruud said. "It's been easy to pick up the defense. Jerry's simplified it."
Ruud said joining the Titans' linebackers was "easy from day one."
"They're all 'want-to' guys," Ruud said. "If you've got a bunch of 'want-to' guys, chemistry is easy at the end. Everybody wants to work; everybody wants to get better. … You never know when you walk into a new situation how you're going to be accepted. I was accepted right away. It's going to be a good situation."
Will Witherspoon played middle linebacker, and Gerald McRath played weak-side linebacker against St. Louis. Witherspoon, a 10-year NFL veteran who joined the Titans last season, said Ruud has made a great first impression with the defense.
"He's a guy that's a true vet," Witherspoon said. "He studies his detail, makes sure he's on top of his game and does what he needs to do."
Munchak said Witherspoon and McRath played well in Ruud's absence, but he is looking forward to seeing how the three play together against Chicago.
"They rose to the occasion for the switch we made, so now it will be nice to see Barrett out there with them to play and see where he's at," Munchak said. "He's got to get to know these guys, too. The heat of the battle is the best time to bond. I know he's excited about doing that."