**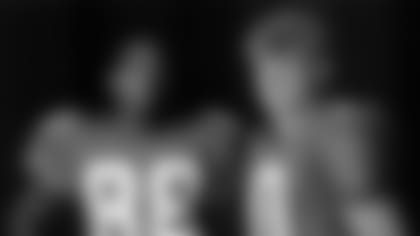 In two seasons at Marshall (1996-97), Moss (left) caught 168 passes for 3,467 yards and 53 touchdowns. Moss will reunite with his college QB, Chad Pennington (right) Sunday in Miami.
MIAMI -** Chad Pennington takes over on Sunday, while Randy Moss merely tries to fit in.
The former college teammates will be newcomers in the lineup when the Miami Dolphins face the Tennessee Titans. Pennington replaces Chad Henne as Miami's quarterback, and Moss plays his first game with the Titans - his third team this year.
It's an unexpected alumni reunion for Pennington and Moss, who formed a potent passing combination at Marshall in 1997.
"We played ball together, we bled together, we cried together,'' Pennington says. "We did a lot of things together in college.''
Thirteen years later, the two NFL veterans are eager to show they can still help a team win.
Their success or failure will have an impact on the AFC race. Tennessee (5-3) is tied with Indianapolis atop the South standings, while Miami (4-4) chases the Jets and Patriots in the East.
Both teams reached midseason needing an offensive spark. Henne began the year regarded as the Dolphins' long-term solution at quarterback, but coach Tony Sparano decided this week to bench him in favor of Pennington, who hasn't taken a snap since a shoulder injury ended his 2009 season in Game 3.
Moss' stormy reunion with the Vikings lasted only four games after they acquired him in a trade with New England, and the Titans claimed him off waivers during their bye week. The saga raised anew questions about Moss' character, and Pennington watched from afar feeling badly for his friend.
"I hate that it happened. I'm sure he hates that it happened,'' Pennington says. "I just hope he's able to turn things around these last eight games and play really well - except for Sunday.''
Pennington says he speaks with Moss infrequently, but they've taken part together in offseason foundation events, and a bond remains. Pennington likes to tell stories about his ex-teammate's athletic ability, such as the time Moss won a race at a high school track meet wearing sandals.
"He's a good diver too,'' Pennington says. "I've seen him do gainers off the springboard. Things come to him easy.''
As for Moss' past admissions that he doesn't always give a full effort, Pennington chuckles and says he could accept that.
"We threw 25 touchdowns together, so I could accept anything,'' Pennington says. "I'm sure Randy is like all of us - we all have moments in our careers that we would like to take back. When he has been at places where they have given him the right support and he has been involved, he has been tremendous.''
The Titans believe they can provide Moss the right support. And they're confident he upgrades an offense ranked only 24th in the NFL in yards per game.
"We're the kind of team that likes to take shots,'' quarterback Kerry Collins says. "With Randy, I think we're going to try and find ways to get those big chunks. It's fun to get a little creative with it and kind of do some things with him.''
Starting quarterback Vince Young is expected to play for Tennessee despite a sprained left ankle, while Pennington rejoins the Dolphins' lineup. Their offense has scored only 11 touchdowns, which tied for second-worst in the league, and neither Ronnie Brown nor Ricky Williams has a 100-yard rushing game this season.
Red zone offense has been a glaring problem, with the Dolphins settling for a field-goal attempt 22 times. They have yet to score more than two touchdowns in a game.
"Sometimes we get in our own way,'' Pennington says. "We've got to find a way to create sparks during games, and when there's a chance to stick a dagger in a team and take their heart out, we've got to do it.''
Doubts persist about the strength of Pennington's shoulder, which has been surgically repaired three times. He'll need enough oomph to get the ball to Brandon Marshall, who has 52 catches but only one touchdown. Defenses have successfully schemed to contain the Pro Bowl pass-catcher.
"People are saying, `We can't let him beat us,''' Titans coach Jeff Fisher says. "But his time is coming. When it's all said and done this year, he'll have a real productive season.''
Moss' productivity has been up and down, which helps account for the frequent changes of address. The Patriots traded him after he was shut out in early October by Miami cornerback Vontae Davis.
"I guess he's on a revenge tour,'' Davis says with a laugh. "He found a team Miami has to play. He's looking for me.''
Moss caught only one pass against New England in his most recent game, which further soured his relationship with the Vikings. But he has five touchdown catches this year, increasing his career total to 153, which ranks second only to Jerry Rice.
Ten of those scores came against the Dolphins.
"The guy's probably going to be in the Hall of Fame,'' Sparano says. "They've had a week off, they were able to get him going, and I'm sure he'll pose a tremendous problem. As long as he's in a uniform he does.''
Whatever uniform it may be.