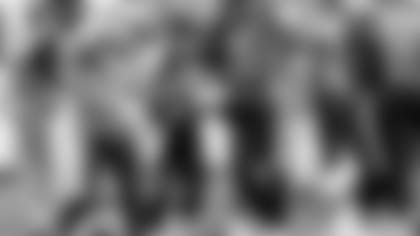 Rookie cornerback Alterraun Verner (20) is congratulated by teammates after recovering a fumble during Sunday's win vs. Philadelphia. The Titans are plus-eight in turnover ratio over the last three games.
NASHVILLE, Tenn. --** To the surprise of Jason Jones, Philadelphia's center and a guard went the other direction. Tennessee's defensive tackle surged through the opening unscathed and met Philadelphia quarterback Kevin Kolb four yards behind the line of scrimmage.

Jones disrupted the handoff attempt by Kolb, forcing a fumble that Titans rookie cornerback Alterraun Verner recovered at the Tennessee three-yard-line. The turnover shifted momentum, helping Tennessee erase a nine-point deficit and defeat the Eagles 37-19 Sunday.

"(The center) went away, and the guard went away, so it really just opened up for me," Jones recalled Wednesday. "I really just wanted to get to Kolb as fast as I could. I just took advantage of what they did. I tackled Kolb, which I guess messed up the handoff, and Verner ended up with the recovery."

It was the third straight game in which the Titans (5-2) have forced more turnovers than they have given up and their third consecutive win.

Tennessee visits the San Diego Chargers at 3:05 p.m. Sunday in a game that will mark the midpoint of both teams' schedules. The difference between the 5-2 record of the Titans and the 2-5 mark of the Chargers is largely the disparity in the teams' giveaway/takeaway ratios.

The Titans have had positive turnover ratios in five of their seven games and won each time Tennessee has taken the ball from opponents more than it has given the ball away. The Chargers have had negative turnover ratios in five of their seven games and lost each time San Diego has given the ball to opponents more than it has taken the ball away.

Both teams started 2-2, but Tennessee enters with a three-game winning streak and San Diego is trying to stop a three-game losing streak. The Titans are plus-eight in turnover margin in their past three games, and the Chargers are minus-eight in their past three games.

Tennessee has forced and recovered three fumbles and recorded eight interceptions in the past three weeks. Safety Michael Griffin has recorded an interception in each of the past four weeks and is within one game of tying the Oilers/Titans franchise record of five consecutive weeks with an interception that Pete Jaquess set in 1964.

Tennessee players said the forced turnovers are the result of a synergy between the defensive line, linebackers and defensive backs. Jones credited William Hayes for pressuring Kolb on the pass attempt that Griffin intercepted Sunday.

The Titans have sacked quarterbacks 25 times this season, but dropped Kolb just once. Defensive end Dave Ball, who had the lone sack on Kolb and is tied with Jason Babin for the team lead of six sacks on the season, said disrupting a quarterback can enable defensive teammates to make a big play.

"We got a lot of pressure on (Kolb)," Ball said. "I think he told Babin after the game it was their game plan to not let us get any sacks. It was hard. It was kind of like going through a gauntlet to get to him, with chippers, and they were in your face."

San Diego has lost 12 of its 15 fumbles this season, and quarterback Phillip Rivers has thrown six interceptions. Overall, San Diego is minus-seven in turnover margin, which is tied for 30th out of 32 NFL teams.

"Speaking from an offensive standpoint, we've turned the football over," Rivers said this week during a conference call with Nashville reporters. "I think it's as simple as that.  We've turned it over inside the red zone numerous times, we've turned it over in the middle of drives when we had things going, we just haven't protected the ball.  In the bulk of these games we've executed at a high level, but the lack of ball security has hindered us."

The turnovers have undermined San Diego's league-leading offense (422.7 yards per game), passing offense (317.4 yards per game), defense (244.3 yards per game) and passing defense (158.6 yards per game).

Titans nickel back Vincent Fuller said the Chargers have explosive playmakers on both sides of the football, but their downfall has been the failure to protect the pigskin.

"I think the biggest thing you see on them is the amount of fumbles they've had," Fuller said. "Just like you do in any game, you're going to try to go out there and get the ball out of the other team's hands. You force turnovers with pressure and making people make bad decisions. That's something that we've done in the past couple of games."