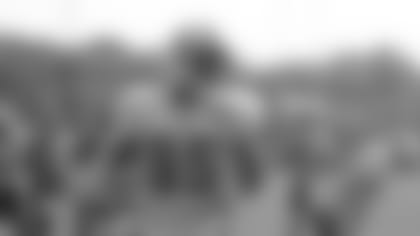 WR Nate Washington has been one of the best stories so far of the 2009 Titans training camp.
NASHVILLE, Tenn. --** The Tennessee Titans continued working towards Saturday's preseason home opener vs. Tampa Bay, a game that head coach Jeff Fisher described as difficult to game-plan for with a new Buccaneers coaching staff in place.
"It's going to be a little unique in that I heard they started preparing for us yesterday, but we have nothing to base our preparation on," Fisher said. "It's a new coaching staff, so we can't necessarily game plan, per say. We'll be on our toes and we'll have to adjust."
With new coach Raheem Morris now calling the shots for Tampa, the Titans will simply put their best foot forward, while trying to improve in every phase of the game.
"We're just going to go out and play our defense, just execute whatever is called and hopefully make some plays," rookie cornerback Ryan Mouton said.
Fisher said quarterback Kerry Collins  and the rest of the starters will most likely play one more series than last week, and backup Vince Young will play for about a half. Fisher said he would like to give each running back enough carries to get a gauge of their performance and get them into the rhythm of the game.
WASHINGTON CONTINUES TO IMPRESS:  One of the most pleasant surprises in camp so far has been the play of wide receiver Nate Washington, whose blazing speed and quickness has not gone unnoticed. The Titans knew they were getting a player with speed when they signed the former Steeler, but they didn't realize his total impact until they saw him on the practice field.
"He really has become a very talented route runner," Fisher said. "When you have that kind of speed and can get in and out of those cuts, it creates problems for defenses."
The timing is coming along between Collins and Washington. Yesterday, Collins hit Washington on a deep touchdown pass, and Washington made a great leaping catch during seven-on-seven drills today.
"Nate's going to be a big help to us this year," Collins said. "He brings speed, he brings run after catch and that deep threat that all offenses need. He's going to do a lot for us. People are going to have to respect his speed and I think that's going to open things up for other guys, too."
MAWAE WORKING TOWARDS RETURN: Seven-time Pro Bowl center Kevin Mawae is still working on strength and conditioning during training camp while the rest of his teammates are out on the practice field as he recovers from a triceps injury.
Mawae said his goal is to be ready for the season opener at Pittsburgh Sept. 10.
"I know the system, I know what it takes to play in this league," Mawae said. "I don't need five preseason games to get ready to play. I'm working hard and I'm conditioning and that's just precaution."
Despite the fact that he's not getting the physical reps with his teammates, Mawae said that he knows what his body needs at this point in his career, and understands that just because he is missing time now doesn't mean he won't be ready in four weeks.
 "I'm encouraged with where I am at," he said. "The goal is to be ready for the regular season and be healthy throughout the regular season."
INJURY UPDATE: Defensive tackle Jason Jones did not practice, still nursing a foot injury. Wide receiver Chris Davis has been ruled out of Saturday's game with a sore hamstring, but everyone else who is injured and has missed practice, aside from Mawae, still has a chance of playing against Tampa Bay, Fisher said. This list includes, Vincent Fuller, Josh Stamer, Stephen Tulloch, Colin Allred, Casey Cramer, Mark Jones and Jacob Ford.