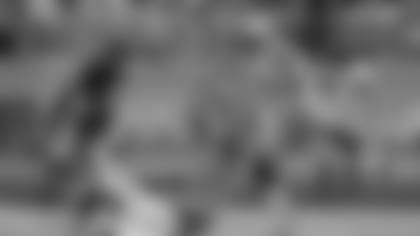 Wide receiver Kenny britt injured his right knee on this play. His return was listed as questionable.
NASHVILLE, Tenn. -Tennessee wide receiver Kenny Britt limped out of the stadium Sunday wearing a brace over his right knee. Coach Mike Munchak will not speculate on the seriousness of the injury.
"Obviously, it didn't look good when he got hurt,'' coach Mike Munchak said after a 17-14 win over the Broncos. "We will have to wait until tomorrow to see the extent of that.''
Britt had even less to say as he walked out of the locker room past reporters.
"My status is limping,'' Britt said.
Britt came into Sunday's game leading the AFC with 271 yards receiving. He was hurt just after catching his third pass, his knee buckling as Britt tried to turn upfield. Munchak said Britt will have tests either Sunday night or Monday to determine the extent of the damage.
Britt was also among eight players on a list of names confirmed to The Associated Press on Sunday who were subject to being suspended under the league's conduct policy for incidents during the lockout.
Britt met with Commissioner Roger Goodell and was told he would not be suspended after he was arrested twice in New Jersey, with two warrants issued for falsifying information on driver's license applications in Tennessee. A municipal court date in New Jersey for three disorderly person charges from a June arrest was postponed. He previously pleaded guilty to a speeding arrest in his hometown of Bayonne.
The third-year receiver laid on the ground for a few minutes before being helped to the sideline. He limped heavily, barely able to touch his right foot to the ground. He then was carted off the sideline to the locker room and didn't return.
Injuries have been Britt's biggest challenge. He strained his right hamstring last season a week after having 225 yards receiving, which was the best single-game performance by a receiver in 2010. Britt missed four games along with a bye week. He strained the same hamstring in mid-July, which kept him out of most of the preseason as the Titans tried to help him avoid any setbacks.