**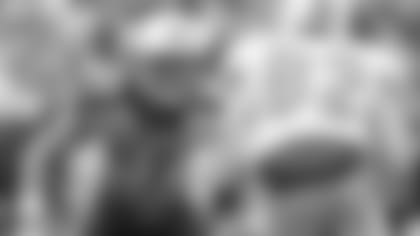 Moving to left cornerback gives Cortland Finnegan the versatility to cover the league's top receivers each week.
NASHVILLE, Tenn. --** Moving from right to left sounds simple enough, unless you're an NFL cornerback switching sides of the field.
Welcome to Cortland Finnegan's world.
Both Finnegan and the Titans want the option of matching the right cornerback up against an opponent's best receiver -- no matter where the wideout lines up.
So everything becomes opposite for Finnegan on the left side of the field.
He has to change how he breaks on receivers, which hand he sticks out to gauge where his man is and even how much space he leaves between them.
The challenge: Learning it so well the moves become instinct rather than thought.
"That's what training camp is for," Finnegan said. "It feels like I'm improving in some areas. Some areas I still need some major work. If I continue to work on the little things, by the first game I'll be ready for it."
Finnegan has been locked in at right cornerback the past three seasons, including in 2008 when he went to the Pro Bowl and also was named an All Pro.
The 5-foot-10, 188-pound Finnegan with 47 starts in his career definitely has improved in the first week of camp. He picked off a Vince Young pass near the goal line during a passing drill in what would have been an interception returned for a touchdown.
But he was beaten by Kenny Britt down the sideline when the receiver exploded past him to haul in a catch Wednesday night. Finnegan recovered quickly enough to put a hand up near the ball but couldn't break it up.
Coach Jeff Fisher said Finnegan's probably a couple weeks away from locating the ball.
"He's doing well out there," Fisher said.
Why flip your starting cornerback? Well, the Titans play in the AFC South against the likes of Indianapolis' Reggie Wayne and Andre Johnson of Houston. Offenses like to move receivers around and look for mismatches, and the Titans want the chance to counter with Finnegan.
Previously, Tennessee locked cornerbacks into the left or right cornerback job. That approach really hurt last season when Finnegan, Nick Harper and nickelback Vincent Fuller all suffered injuries. So while Finnegan is working on learning the left side of the field, the rest of the Titans' defensive backs are multitasking as well in practicing on the right and left cornerback slots.
"So, having the familiarity and being comfortable on both sides, you can move them around and match up if you choose to do so week-to-week and guys can step in and play," Fisher said.
Finnegan missed three games last season with an injured hamstring, including that 59-0 rout at New England. He wound up intercepting five passes and returned one for a touchdown just as he did in 2008, but it was lost in a season where the Titans struggled defensively and finished next to last against the pass.
"I'm trying to take on the necessary steps to stay on the field," Finnegan said. "Last year was disappointing to be injured and have to watch people play. At the same time, I don't think it's a step back. You learn from everything. Now this year I'm going to try to stay on the field and take all the right steps for my hamstring."
Finnegan said in June he planned to work in Phoenix with Jets cornerback Darrelle Revis. Asked in camp what he might have learned, Finnegan declined to discuss anything but the Titans.
"I'm just thankful for the opportunity," Finnegan said. "They moved me over there. It's more action, and it's more fun now. You get a chance to showcase what it's all about playing in the NFL."