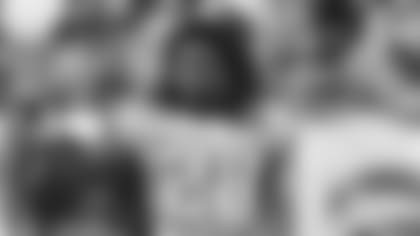 The Titans are willing to discuss a new contract for Chris Johnson, but want the three-time Pro Bowl running back to report to training camp first.
NASHVILLE, Tenn. -The Tennessee Titans are willing to talk with three-time Pro Bowl running back Chris Johnson about his contract.
Johnson just has to show up at training camp first to start the conversation.
"He's under contact,'' general manager Mike Reinfeldt said. "He should be here. Everybody else is. It's the right way to do it.''
The Titans opened camp Friday with 80 players reporting and Johnson the lone holdout. Reinfeldt said they previously had told Johnson that they would be willing to sit down and talk about his contract this year after reworking his deal a year ago to get him more money. Johnson currently is due $800,000 this season.
"We've told Chris and his agent we're willing to sit down and talk about a contract, but he needs to be in camp before we do that,'' Reinfeldt said.
Johnson, a Florida native, said in 2010 he wanted a new deal with $30 million guaranteed. The Titans revised his contract by pushing some money from the final year into 2010 to convince the running back to report. Johnson said on Twitter on Friday that "Imma just leave it in god hands.''
New coach Mike Munchak said he spoke with Johnson for about 30 minutes by phone Thursday. Munchak called it a good conversation about the addition of veteran quarterback Matt Hasselbeck and how important Johnson remains to the offense.
"We all know that,'' Munchak said. "That's a no brainer.''
The Titans' first practice of training camp will be Saturday. Johnson can be fined $30,000 for each day of camp missed, but he wants to be rewarded for his production over his first three seasons. He became only the sixth man in NFL history to run for at least 2,000 yards when he ran for 2,006 yards in 2009 and the first to rack up 2,500 yards with 500 yards receiving.
He followed that up by running for 1,364 yards in 2010 despite finishing the season with a bruised thigh and has started 46 of the 47 games he has played in since being drafted 24th overall in 2008 out of East Carolina. Johnson has 4,598 career yards averaging 5 yards per carry and also has 1,008 yards receiving.
DeAngelo Williams got a new deal from Carolina earlier this week worth $21 million in guaranteed money. He played only six games last season and ran for 361 yards while dealing with injuries.
Reinfeldt wouldn't discuss specifics when asked about Johnson and the possibility of $30 million guaranteed compared to Williams' deal. Reinfeldt also is looking to add depth at tight end, offensive line and safety while dealing with right guard Leroy Harris and middle linebacker Stephen Tulloch who are among their own free agents on the market.
"We've got a lot of work to do,'' Reinfeldt said.
Reinfeldt said the Titans are about $15 million under the salary cap and want to leave at least $5 million to work with during the season. Since the players and the NFL reached agreement on a labor deal Monday, Reinfeldt said the Titans have been working their way first through undrafted free agents, signing their nine draft picks, which they completed Friday with deals for Jake Locker and linebacker Akeem Ayers.
The Titans' lone dip into the veteran free agent pool came Wednesday morning when they agreed to terms with Hasselbeck to mentor Locker. They added defensive tackle Shaun Smith on Friday, too.
Hasselbeck arrived in Nashville on Friday and immediately went through physicals and other testing. Under the labor deal, he can't take the field with his teammates until Aug. 4 and will have to work out on his own until then.
But he spoke to reporters Friday night and said it had been a wild and emotional couple of days. He thanked the fans in Seattle and said he's ready to get to work in Tennessee. He'll be trying on his helmet and shoulder pads Saturday morning.
"As a 13-year NFL vet, it's exciting,'' Hasselbeck said. "It's a little like the first day of school walking in a locker room where you don't know everybody. The guys came in just having run their conditioning tests. Myself and Shaun are basically coming from the airport. I'm looking forward to it, but I can tell there's quality people here.''
Munchak also had a talk with receiver Kenny Britt, who had several incidents with police during the lockout. Britt was limited in the team's conditioning tests Friday to guard against injury since the receiver had a hamstring injury that limited him much of last season. Munchak said if something happens from now on, Britt will face "consequences.''
NOTES: Friday was the last day on the job for Steve Underwood, the team's senior executive vice president. He announced in February he would be retiring by August. Elza Bullock will be relocating from Houston to Nashville to help with the workload, but owner Bud Adams said in a statement that Underwood's role will not be filled. Adams called Underwood 'invaluable'' during the team's relocation to Tennessee and during the lockout.