**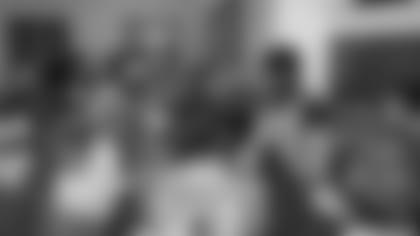 Vince Young was the center of attraction following Thursday's practice at Baptist Sports Park.
NASHVILLE, Tenn. --** Talk about irony. Vince Young is back as Tennessee's starting quarterback, trying to halt the winless Titans' skid.
And his first opponent is Jacksonville, the same team that helped him lose that job at the start of the 2008 season.
"To me, God works in mysterious ways, man," Young said. "To go out on Jacksonville and to come back on Jacksonville is definitely big, big."
Welcome to the reeling Titans (0-6), who have gone back to the future at quarterback trying to win their first game of 2009 and satisfy owner Bud Adams' desire to see if the 2006 Offensive Rookie of the Year will be worth keeping around past this season. Now it's up to Young, not Kerry Collins, to avoid being swept by their AFC South rival for the first time since 2005.
Coach Jeff Fisher tried to camouflage the anticipated switch until Thursday. But with the Titans coming off a bye following a 59-0 loss to New England that matched the worst loss since the NFL-AFL merger in 1970, the Jaguars (3-3) weren't fooled because they prepared for both.
"If the head man is saying it, more than likely (Vince's) going to be out there a little bit," Jaguars linebacker Justin Durant said.
Jaguars coach Jack Del Rio added: "We're never a team that's going to sit around and chase ghosts."
These teams meet Sunday just 28 days after Jacksonville routed the Titans 37-17. It's the last time Tennessee scored a touchdown, a drought now at eight quarters, and part of a three-game string where the Titans have been outscored 127-26.
A Jaguars win would put them at 3-1 in the AFC South, something they have never done under Del Rio. But the question is which Jacksonville team shows up at LP Field? The team that routed Tennessee in Jacksonville, was shut out 41-0 in Seattle or needed overtime to beat the winless St. Louis Rams 23-20 on Oct. 18?
The Jaguars are taking motivation from being the underdogs in this game to a winless team.
"We're 0-0 right now, everybody's fighting for a win and it's going to be the team that wants it more," Jaguars running back Maurice Jones-Drew said.
Linebacker Keith Bulluck doesn't think it matters who the Titans play right now.
"We just need to get out there and play. The only remedy for a loss on Sunday is to go out the next Sunday and get a win. We've had six cracks at it, and we haven't gotten one yet. We're still looking for that remedy," Bulluck said.
And maybe no one is looking for it more than Young.
The last time he started against Jacksonville was that 2008 season opener. Young had just led the Titans to a wild-card berth and a 10-6 record the year before when he was picked off twice, prompting fans to boo. Young sprained his knee a few plays later, Collins replaced him and rallied Tennessee to a 17-10 win.
Collins remained the starter through a 10-0 start and 13-3 record. Young's only playing time was the meaningless regular season finale at Indianapolis -- a loss.
Fisher said he thinks Young is mentally prepared and has a better understanding of the offense in coordinator Mike Heimerdinger's second season. Young has not completed a pass this season in five attempts, though he has been intercepted once in two relief appearances.
Tennessee is last in the NFL in offensive time of possession, and Young in the same backfield with Chris Johnson, who is second in the NFL with 120.3 yards from scrimmage, could help keep the defense on the sideline. Fisher said it's a mere coincidence that Young will be playing Jacksonville again.
"I think it will be a great challenge for Vince. He's focused, he's excited," Fisher said.
What might help Young is if Rashean Mathis, the Jaguars' career interception leader, isn't able to play with his broken left index finger. Jacksonville also ranks ahead of only Tennessee in most yards passing allowed this season.
David Garrard survived his own quarterback battle in Jacksonville, winning the job from Byron Leftwich. He thinks Young's teammates understand the quarterback had his growing pains.
"It won't be as hard as some people are thinking for him, but it really all comes down to getting on the field and making plays. If you do that, everybody loves you," Garrard said.
Young sounds as if he has learned that lesson.
"If we win, it's going to be good," Young said. "If we lose, it's all going to be Vince Young's fault."