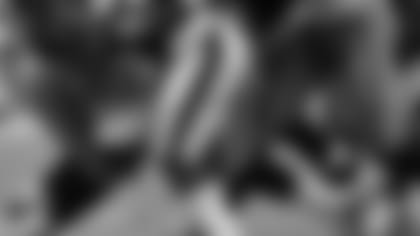 The Titans will look to limit the production of Texans RB Arian Foster, who was named to his second consecutive Pro Bowl this week.
NASHVILLE, Tenn. -- The Tennessee Titans enter their season finale needing a victory and plenty of help to reach the postseason.
The AFC South champion Houston Texans hope they won't be backing into the franchise's first playoff appearance.
Tennessee visits slumping Houston on Sunday hoping to set up a rematch in the wild-card round the following week.
The Titans (8-7) ended a two-game losing skid with a 23-17 victory over Jacksonville on Saturday, staying in the hunt for their first trip to the playoffs since 2008.
In order for that to happen, though, plenty more than a Tennessee victory needs to take place Sunday, with the Titans also requiring Baltimore to defeat Cincinnati. Then a victory by the New York Jets coupled with a loss by either Oakland or Denver, or a loss by the Jets paired with victories by Oakland and Denver would give Tennessee the last wild card.
If any of those scenarios occur, Tennessee would return for a matchup with Houston, which has locked up the AFC's No. 3 seed.
''We hope that we have that problem, that we have to reorganize for that one,'' coach Mike Munchak said. ''We'll take that gladly. So we're going to do everything it takes to win.''
One thing helping the Titans is that the Texans seem to be only a shell of the team that routed Tennessee 41-7 on Oct. 23.
Houston got 234 total yards and three touchdowns in that contest from running back Arian Foster, who was named to his second straight Pro Bowl on Tuesday.
That victory began a club-record seven-game winning streak for the Texans (10-5), though they've lost two straight since clinching the franchise's first division title with a 20-19 win at Cincinnati on Dec. 18.
Houston allowed a touchdown pass with 19 seconds remaining in a 19-16 loss Dec. 22 to lowly Indianapolis despite 158 yards and a touchdown rushing from Foster.
Coach Gary Kubiak stopped short of saying his team is simply happy to coast into the playoffs, but he made clear the Texans will need to step up its game in order to keep from heading into the playoffs on a three-game losing streak.
''I just think somebody's got to make that play. It's almost like responsibility and that's the way I talked to the team,'' Kubiak said. ''Defensively, you need one interception, one sack, one strip. Somebody's got to take the responsibility, step up and make that play. We just got to look at ourselves and be willing to step and do those things that would've got you out of there with a win.''
Houston received good news that star wide receiver Andre Johnson and defensive coordinator Wade Phillips may return Sunday.
Johnson will be monitored in practice in order to determine if his nagging hamstring injury will allow him to play. Injuries to both hamstrings have limited him to six games this season.
Whether or not Johnson plays may help determine if he's healthy enough for the postseason.
"From Andre's standpoint, I'm just worried about getting him back ready to play for a couple weeks from now," Kubiak said. "I think that's why he needs to come back and play this week just to get on the field and get some reps. But I'll have to watch what's going on because we definitely want him two weeks from now. I'm just concerned with him playing. I'm not concerned with anything else."
Phillips, who underwent kidney surgery Dec. 15, has been the architect of Houston's second-ranked defense that allows 280.7 yards per game.
Tennessee, though, compiled 407 yards in the win over Jacksonville, good for its second-highest total of the season. Matt Hasselbeck threw for 350 yards, including a 55-yard touchdown pass to Jared Cook in the first quarter.
However, that is Hasselbeck's only scoring pass compared to four interceptions over his last two games. He completed only 46.7 percent of his passes for 104 yards, one touchdown and two interceptions in the first meeting with the Texans.
Houston is tied for second in the league allowing only 184.0 passing yards per game.
Chris Johnson ran for 56 yards against Jacksonville, leaving him 14 short of his fourth consecutive 1,000-yard season. He was held to 18 yards on 10 carries in the first meeting.
The Texans have won four of six between the teams but have not swept the season series since 2004.