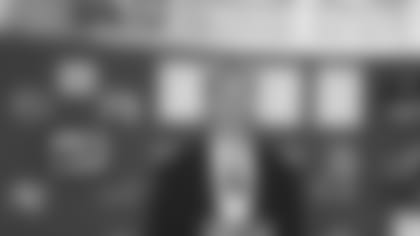 Tennessee Titans Assistant Athletic Trainer Don Moseley
NASHVILLE, Tenn. -- The Tennessee Athletic Trainers' Society (TATS) presented Titans assistant athletic trainer Don Moseley with the Joe Worden/Professional Athletic Trainer of the Year Award.  The award was presented to him at the TATS Annual Awards Banquet on January, 15 in Nashville at Baptist Hospital.
Joe Worden, former head athletic trainer at Vanderbilt University has been described as the consummate athletic trainer.  His regard for each athlete in his care provided a level of compassion and professionalism that was demonstrated both on and off the field.  This award is given to the individual who best exemplifies the qualities that Joe Worden demonstrated in his illustrious and unselfish career.
About the Tennessee Athletic Trainers' Society: TATS, the state organization of the National Athletic Trainers's Association, is a non-profit organization comprised of over 650 athletic trainers across Tennessee.  Each member is a nationally and state licensed health care provider regulated by the state of Tennessee Board of Medical Examiners.  For more information online, visit www.tnata.org or www.nata.org