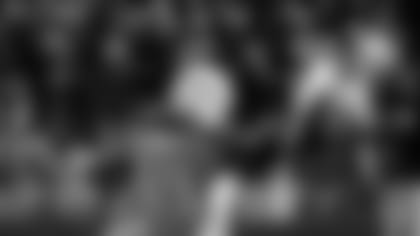 Jared Cook caught eight passes for a career-high 169 yards, breaking a 31-year old franchise record for most receiving yards by a tight end in a single game.
NASHVILLE, Tenn. --Mike Munchak told his Tennessee Titans to forget their embarrassing loss in Indianapolis, which cost them control of their playoff fate. The first-year coach insisted they focus only on their final two games and just see what happens.
Well, Matt Hasselbeck threw for 350 yards and a touchdown, and Jared Cook had 169 yards receiving to help the Titans beat the Jacksonville Jaguars 27-13 Saturday in their final home game. That keeps the Titans alive in the AFC wild-card playoff chase, which few outside of Tennessee might have predicted in Munchak's first season.
Hasselbeck said Munchak told them they could be proud if they finish 9-7.
"We'll take it because we knew what it took to do it regrouping after that loss, winning today and hopefully winning next week," Hasselbeck said. "But we're in the hunt. But again ... it's important for us to focus on the stuff that we can control and all we can control is how we play and hopefully getting a win next week."
The Titans (8-7) at least snapped a two-game skid and finished this season 5-3 at home under Munchak. They head to Houston for the finale with a chance at their first winning record since 2008. Cincinnati (9-6), a winner over Arizona, holds the final wild-card spot with the Titans tied with Denver, Oakland and the Jets at 8-7.
"We don't control anything else but beating Houston in Houston, and that's not an easy task in itself," Munchak said.
Cook had a 55-yard TD catch and finished with 169 yards receiving, a franchise high for a tight end. Rob Bironas kicked three field goals, including a pair of 51-yarders, and rookie Jamie Harper ran for his first career touchdown.
Maurice Jones-Drew, the NFL's rushing leader with 1,334 yards coming into the game, ran for 103 yards and a touchdown for the Jaguars (4-11). He has a career-high 1,437 yards this season, not that Jones-Drew wanted to talk about his personal achievements with only four wins this year.
"It hurts, and it's past frustrating," Jones-Drew said. "I don't know how many times we've been in the game and not (won). That hurts more than frustrates you."
The Jaguars now have lost five of six in this injury-riddled season. Jacksonville had a sack and forced three turnovers the Jaguars turned into 10 points.
They forced two of those in the fourth quarter and missed a big chance when Morgan Trent picked off a ball tipped by Drew Coleman and ran it back to the Tennessee 18. The Titans stopped Jones-Drew on third-and-3 when he carried a direct snap a yard short. Blaine Gabbert then tried to throw into the end zone on fourth-and-1, only to have the ball tipped by Titans cornerback Jason McCourty to safety Michael Griffin for an interception.
"The bottom line is we've got to play better in all phases of the game," Gabbert said. "On offense, it starts with me."
Dawan Landry recovered a fumble by Harper with 5:38 left at the Tennessee 35. Greg Jones capped the drive with a 1-yard TD run with 3:41 left.
The Titans ran out the clock out from there.
"At the end of the day, we didn't execute well enough on our side of the ball," Jacksonville interim head coach Mel Tucker said.
Chris Johnson finished with 56 yards on 15 carries and remains 14 yards shy of his fourth 1,000-yard season. He had just 10 yards in the first half, and he said he wasn't sure if he would be able to play with a sore right ankle until he got treatment and warmed up before kickoff.
He did have a 13-yard run staying inbounds to take the clock to 2 minutes, allowing the Titans to kneel down for the victory.
"To still be alive and still have another game that we need to go and win, it feels good," Johnson said.
The Titans came out throwing behind Hasselbeck. Offensive coordinator Chris Palmer unveiled a game plan Saturday featuring lots of throwing against a secondary that had cornerback Ashton Youboty hurt his hamstring in the second half.
The 13-year veteran looked fully recovered from the strained left calf that hobbled him a week ago in a loss at Indianapolis. He threw three times to Cook in the first quarter alone, including the TD as the tight end outran Jaguars linebacker Paul Posluszny before jumping into the end zone for a 10-0 lead. Cook's fourth catch gave him a career-high 113 yards early in the second quarter.
"You can't run with Cookie down the middle like that," Hasselbeck said.
For Cook, it was the kind of performance expected from him since the Titans swapped a future second-round draft pick to trade up and grab him in 2009.
"We have a lot of offensive weapons," Cook said. "I mean they're not always going to be able to use one person all the time or call one person's number all the time. I'm happy for the opportunity to finally be able to showcase a little bit more than I have been."
Hasselbeck had one lone mistake in the first half when defensive end Jeremy Mincey dropped into coverage and picked off a pass. Josh Scobee kicked a 39-yard field goal to pull Jacksonville within 17-10 at halftime. Still, Hasselbeck had his second-best passing day this season.
"He is a savvy veteran," Mincey said of Hasselbeck. "He steps up. He was letting it go."
Gabbert looked as sharp as the 10th pick overall has during his rookie season when he drove the Jaguars 82 yards. He completed all five passes for 68 yards before Jones-Drew capped the 82-yard drive with his 10-yard run.
But Titans rookie Karl Klug sacked Gabbert to end the Jaguars' first drive of the third quarter, and they did a much better job pressuring him the rest of the game.
NOTES: Cook's 55-yard TD catch was the second longest of his career. ... Hasselbeck topped 3,000 yards for the season with the 55-yard TD pass to Cook. He topped 300 yards for the day, the 24th such game of his career, with a 48-yard toss to Williams. ... Titans receiver Damian Williams had a career-high eight catches. ... With his second field goal, Bironas set a career high with six field goals of 50 yards or longer this season. ... For Jones-Drew, it was his fifth 100-yard game this season. He had 177 and 186 yards in his last two trips to Nashville.