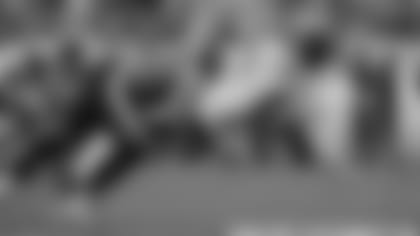 The Titans defeated former Vanderbilt QB Jay Cutler and the Chicago Bears, 14-13, improving to 2-1 in the preseason Saturday night at LP Field.
NASHVILLE, Tenn. -The Tennessee Titans have given new coach Mike Munchak a great teaching point that what matters most is how a team finishes.
Seventh-round draft pick Tommie Campbell returned an interception 90 yards for a touchdown, and the Titans rallied to beat the Chicago Bears 14-13 on Saturday night after what Munchak called a pretty flat start.
The Titans (2-1) had trouble stopping Chicago (1-2) as the Bears outgained Tennessee 416-220, but came up with two interceptions.
Campbell, the cornerback from Division II California (Pa.), picked off Caleb Hanie's pass late in the third quarter and ran up the left sideline untouched to put Tennessee ahead to stay.
''They executed better than we did at parts of that game than we did,'' Munchak said. ''We eventually made enough plays to win the game.''
The Titans had dominated the stats a week ago only to lose to St. Louis on a last-second field goal. This time, Campbell came up with the interception, though he didn't know how to celebrate.
''I knew I had to do something,'' Campbell said. ''It was all just fun and games. I was just hyped. I probably smacked 50 people in the end zone.'
Chicago protected its quarterbacks well, allowing a lone sack when Hanie was taken down inside the final minute in a mark of improvement for the team that reached the NFC championship game last season.
Bears coach Lovie Smith called the game an improvement over Monday night's 41-13 loss to the New York Giants. He liked how the offense moved the ball but not the turnovers or the inability to finish drives.
''It's one thing to get yards, but they don't determine the winner based on yards,'' Smith said. ''It's about points and we have to get points.''
Chicago's Jay Cutler played one series into the third quarter and was 13 of 21 for 170 yards with his one interception coming on the opening drive. Matt Forte ran 17 times for 74 yards and a touchdown, but Marion Barber hurt his calf early and did not return. Tight end Desmond Clark was carted off the field in the fourth quarter with a knee injury after being hit by Anthony Smith.
The Titans played with receiver Kenny Britt scratched for a third straight game as he recovers from a sore right hamstring, and Chris Johnson still holding out for a new contract. His backup, Javon Ringer, missed his second consecutive game because of a sore hip, and those absences really showed in the offense this time.
Munchak even was booed for the first time when he chose to punt facing fourth-and-1 at his own 34 in the third quarter and trailing 14-10.
''We just weren't playing smart, making some bad decisions,'' Munchak said.
Matt Hasselbeck had been nearly perfect since signing with Tennessee, completing 12 of his first 15 passes over the first two exhibitions. Against the Bears, he was 12 of 22 for 134 yards as he played one series into the third quarter as well. Hasselbeck was the victim of a couple drops, but he completed 5 of 6 passes in driving the Titans 80 yards at the end of the first half.
Hasselbeck said he's never really had Britt or Johnson so far.
''So I don't know how to miss them. I just think we weren't real crisp. We didn't' play tonight like we practiced,'' Hasselbeck said.
Rookie Jamie Harper got his second straight start and scored his third TD this preseason on a 9-yard run to cap the drive.
It was Cutler's first game as a pro in the city where he was the Southeastern Conference player of the year in 2005 playing for Vanderbilt.
''Well, we got better again,'' Cutler said. ''We left some points out there, you hate to see that but our offensive line played better, the receivers played better and Matt ran the ball. So, we're getting there. We're not quite ready for the opener but we're getting there.''
Tennessee had a chance to turn safety Michael Griffin's pick of Cutler's tipped pass into points but had to settle for a 51-yard field-goal attempt that Rob Bironas pushed wide right.
The Bears came right back. Cutler drove them down the field over 12 plays with Forte scoring from 3 yards out for a 7-0 lead. Robbie Gould also kicked a 45-yard field goal for a 10-0 lead but clanked a 29-yarder off the left upright in the second quarter.
The Bears kept moving the ball easily against a Titans defense that had allowed only 20 points combined through the first two exhibitions. Tennessee has a new coordinator in Jerry Gray with a unit revamped to put more size on the field. Forte ripped through the Titans almost at will.
NOTES: Titans rookie P Chad Cunningham may have had the play of the night. His punt in the fourth quarter was blocked, and he picked it up off the bounce and ran for a first down. ... The Bears scratched LB Lance Briggs, WR Sam Hurd and DT Anthony Adams while waiving as injured rookie CB Mike Holmes before the game.