NASHVILLE, Tenn. —Titans coach Mike Munchak said Monday that Alterraun Verner will start at right cornerback and Rob Turner will start at center when Tennessee visits Pittsburgh Sunday in the season opener for both teams.
Titans coaches used the offseason to take a look at other players at both positions. Verner, who started every game at the spot in 2012, and Tommie Campbell were the leading candidates for the cornerback spot opposite Jason McCourty.
The Titans also played Verner at free safety during some of their offseason program, but didn't during training camp or the preseason. Munchak said he expects Verner and Campbell to help the team significantly in 2013.
"After watching the body of work from practice to OTAs and games, we just felt Vern (Alterraun Vener) was the right amount of most consistent," Munchak said. "We'll start with him obviously starting but obviously Tommie (Campbell) will still be part of what we're doing on defense,  still be part of special teams. He'll still play a big role."
Verner said he thought the competition with Campbell made each of them better.
"Competition, that's all it's going to do, is make you a better player because you have to be able to respond," Verner said. "You have to work on things and get better because if you're getting complacent or not getting better, then obviously the person behind you is working, and Tommie, I thought, did an excellent job and he's a hell of a player so it definitely made us both better."
The Titans want cornerbacks to be more physical with receivers at the line of scrimmage and five-yard zone beyond the line of scrimmage where contact is permitted. The goal will be to disrupt timing of opponents' passes and decrease throwing windows.
"We're bringing some knew concepts, knew ideas to the defense, so I feel like it's going to be a new role but an opportunity for me to make more plays on the ball in this type of system," Verner said. "I think we're going to get a lot more pressure on the quarterback, which should allow me, Jason and everybody on the back end to get our opportunities to make plays. I think that will definitely be the advantage of this year."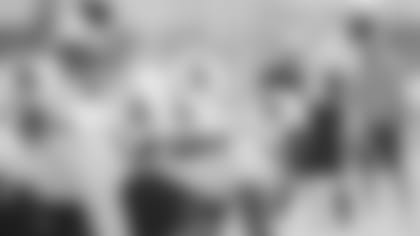 Turner, who is on the cusp of his sixth NFL season and first with the Titans, became the third new starter on the interior of the offensive line, joining left guard Andy Levitre, who was added during free agency, and right guard Chance Warmack, who was selected with the 10th overall pick of the NFL Draft.
Turner originally entered the league as an undrafted free agent in 2007 and was the "swing guy" ready to replace the starting center or guards and a utility player earlier in his career with the New York Jets. He started 16 games in St. Louis last season and won the job this year after competition with Fernando Velasco, veteran Chris Spencer and rookie Brian Schwenke.
"We like his demeanor to the game and his approach," Munchak said. "I think he'll help Jake (Locker) in the huddle as far as taking control. He's very confident in what he does. He handles the huddle well, handles the players well. He works well with Chance. He's a guy that's down by the pile. He's kind of like (David) Stewart in that way, that he has that edge to him. I say Stew (David Stewart) but also (former Titans center) Kevin Mawae with all the little tricks within the game that people don't notice until you really watch tape. He does the little extra stuff that just adds to his game."
Munchak said they liked the play that Velasco, Spencer and Schwenke delivered during training camp, but didn't have enough spots for all four players on the 53-man roster and made the difficult decision of waiving Velasco, who made 16 starts in 2012 (13 at center and three at guard), and had been with the Titans since 2008 when he was on Tennessee's practice squad.
"Fernando obviously grew up with us here with me as a line coach," Munchak said. "You know how we felt about him. It was just a matter of doing what was the best thing for the team, and when the time came, Chris did a nice job. Chris came in and got better since the time he's been here. He missed OTAs which I thought would hurt him more than it did. He came out here I thought when he played guard and got better over the six-week period. It was hard. It became a very difficult decision between those two. All of them could play in this league."