NASHVILLE, Tenn. -- The Tennessee Titans will begin the search process for a new team CEO/President after Tommy Smith retired earlier today. Smith served as the team's CEO/President over the last year and a half, roles he assumed after the passing of K.S. "Bud" Adams, Jr. in October of 2013.
Additionally, the team has installed Steve Underwood to serve as the team's interim President, until the team identifies a permanent replacement who will be based in Nashville. Underwood, who retired from the organization in 2011, will relocate to Nashville next week to begin his duties. He has decades of experience in a number of roles with the franchise, including Senior Executive Vice President/General Counsel at the time of his retirement.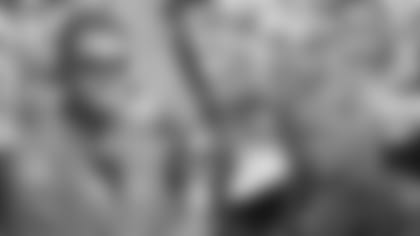 Steve Underwood (right) presents a game ball during a 2009 Titans game.
Statement from the Titans Organization:
"We want to thank Tommy for his dedication to the club and his efforts to improve the organization. Now looking forward, we are motivated to add a top-flight executive to lead the franchise. We believe that adding someone to the structure in Nashville will be beneficial. Lastly, we want to thank Steve Underwood for rejoining us during this interim period and know that he will integrate smoothly until we find the right person permanently for the job."
Statement from Steve Underwood:
"I am honored to return to Nashville to help the organization during this search period. I have a great deal of respect for the family and look forward to aiding the team during this time."
RECOMMENDED: