NASHVILLE, Tenn. –** Jurrell Casey and Wesley Woodyard, welcome to coach Mike Mularkey's world.
Be proud when things go right. Agonize when things don't go as planned. As coaches of a women's flag football team, the "Jersey Chasers," the Titans defensive teammates work up a sweat on Thursday nights, and they have a blast doing so.
Their pupils include their own wives, along with the wives or significant others of Titans players.
"Oh, they love it, and we do, too," Casey said. "They always ask: What should I do on this play? How should I play this better? You wouldn't think they would take it that seriously out there, but they are definitely taking it serious – they want to win.
"I enjoy it. I get to see my wife do the things I do on the field -- that is the best part of it. Watching her and the excitement she is having out there, it's great."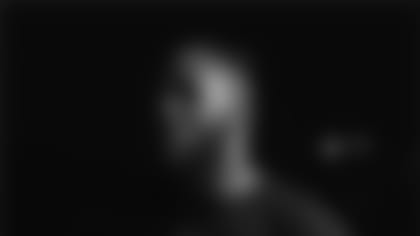 Casey's wife, Ryann Gray, caught a touchdown as the Jersey Chasers beat the Titans staff team to improve to 4-0 in their local recreational league last Thursday. Veronica Woodyard is also on the team made up of roughly 15 players. The names Spain, Kline, Conklin and Supernaw decorate the back of the jerseys, but the players aren't Quinton, Josh, Jack and Phillip.
Woodyard calls Marcus Mariota's girlfriend, Kiyomi, a "flag football savage."
"I have never coached in my life before," Woodyard said. "It is a lot of fun, but it is a little nerve-wracking, I admit. You expect everyone to know the game of football, but they don't know it like you. But we get to see our wives and significant others out there trying to be like us, and it is comedy every game."
Woodyard, a linebacker with the Titans, joined Casey, a two-time Pro Bowl defensive lineman, on the sideline this year. Woodyard handles the offense, while Casey coaches the defense. Six players can be on the field at a time, and the team has a six-woman offensive squad and a six-woman defensive unit, along with some reserves.
The team doesn't get a chance to practice much. On game days, they sometimes draw up plays in the dirt.
"They're just making plays on raw talent," Casey said. "We're using some of Dick LeBeau's ideas out there, but a lot of it is just playing hard and making plays."
The Titans players regularly show up to cheer on their wives. Mularkey stopped by to watch his players coach last week.
Let's just say Mularkey enjoyed the sideline as much as he did what was happening on the field.
"Jurrell and Wesley, I saw stress on them – you could see it in their faces," Mularkey said with a smile. "I saw some good adjustments in between series, but as the plays were going on I could see the emotions playing out. They were struggling. But really, they did great. I thought it was a lot of fun."
Woodyard, in his 10th NFL season, said coaching has been a blast.
On Thursday night, the team will try and improve to 5-0. Woodyard admits, it can be pretty stressful.
"Some of them listen, some don't, but that's OK -- they are always right, they are wives," Woodyard said with a smile. "You know what? This has made me want to play this game of football as long as I can.
"But the pay is good: Pure joy."