**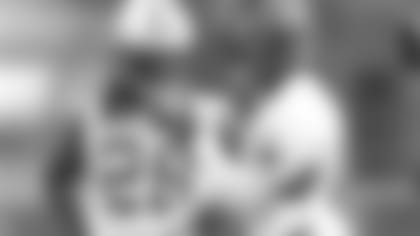 Titans running back Chris Johnson chats with Bengals wide receiver Chad Ochocinco during Thursday's practice in Fort Lauderdale.
FORT LAUDERDALE, Fla. –** Practice went a little shorter for the AFC South squad Thursday as players wrapped up in just over one hour.  Thursday's session was more detailed as players went against each other in various drills and began to take in the limited offense they'll run in Sunday's game.
At the beginning of practice, each player worked at their individual positions to work off any rust since the end of the season. Bengals wide receiver Chad Ochocinco was on the receiving end of several Vince Young passes, including a leaping reception he made in the back of the end zone to set the bar high for the day.
Kyle Vanden Bosch is a true NFL player and showed why he his is so respected around the league. The veteran defensive end practiced as if he was at training camp, going at the only speed he is accustomed to – full-throttle.
Vanden Bosch's intensity and determination are what he felt contributed to him being selected to his third career Pro Bowl.
"Because my numbers were down I didn't get the fan votes, and rightfully so," he said. "But players and coaches know that every week I play as hard as I can and I'm going to bring it and they have to prepare for me."
Vanden Bosch's practice routine was the same today as every practice in training camp and throughout the season. At each horn or whistle, he ran to the next drill to begin work while all of the other defensive linemen walked. It was easy to see that others soon picked up their pace while KVB was waiting for them to begin at the next station. That is one of the reasons why he is respected around the league and it means a lot to him to be here.
"This one's special because, like I said, it shows the level of respect that I have around the league," added Vanden Bosch.
Kevin Mawae, meanwhile, is cherishing the moment of being at another Pro Bowl. The eight-time Pro Bowl center became used to going to Hawaii, but is enjoying his time this week in Miami.
"Any time you come down to the Pro Bowl, whether it's Miami or Hawaii, it's an honor," said Mawae. "It's a privilege to be playing with some of the games best."
During the special teams period, Mawae and the other offensive linemen enjoyed their time in the end zone. Instead of standing around, a few linemen each took a turn at quarterback and wide receiver, while the other o-linemen played defense. They preferred a three-man zone coverage instead of playing man-to-man.
Mawae lined up wide with Browns tackle Joe Thomas giving him the route. As Mawae got off the line -- not quick I might add --Thomas found him between three other linemen for a touchdown. At least they celebrated like it was a touchdown. After each pass they all enjoyed a laugh together while understanding that they are indeed playing the correct position on the offensive line.
If you would have told Vince Young he was going to be making the Pro Bowl this year, I don't know that he would have believed it. VY is very appreciative to be selected to the Pro Bowl after leading the Titans to an 8-2 record as the starting quarterback.
"It's great and exciting," said Young. "Especially starting off 0-6 and to work hard to get back to where I am at today is a blessing, a true, true blessing."
After a media session, Young spent a few minutes with former Cowboys wide receiver Michael Irvin, who offered some advice to the fourth-year pro before appearing on the NFL Network.
Chris Johnson and Young ran some plays together on a few different occasions today. There was no sign of an option attack when they were in the backfield together, but VY seemed to be working on his pitch with Ravens running back Ray Rice and Jaguars running back Maurice Jones-Drew. It's yet to be seen if there will be a couple of option plays on Sunday or not.
Tomorrow morning the players will be taking team photos before heading to the practice field. Two practices down and two to go before Sunday night's Pro Bowl.
---
Dan Beckler was the 2009 season-long public relations intern for the Tennessee Titans. He will be filing daily Titans reports from Fort Lauderdale, leading up to the day of the Pro Bowl.