**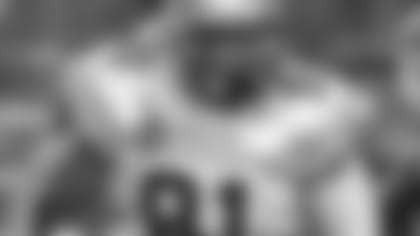 Georgia Tech defensive end Derrick Morgan becomes the newest Tennessee Titan.
NASHVILLE, Tenn. -** The first round of the NFL draft couldn't have turned out any better for the Tennessee Titans if coach Jeff Fisher had scripted it himself.
The Titans were looking for help at defensive end Thursday night and took Georgia Tech's Derrick Morgan, thought to be the top prospect at the position before he fell to Tennessee at No. 16.
"This was a good day,'' Fisher said with a small smile. "It turned out very well.''
Morgan's availability came as somewhat of a surprise. His work ethic, steadiness and ability to both rush the passer and stop the run made him the most complete player available at the position. But Philadelphia traded up to grab Michigan's Brandon Graham at No. 13 and the New York Giants took Jason Pierre-Paul of South Florida at No. 15.
The 6-foot-3, 266-pound Morgan led the Atlantic Coast Conference with 12.5 sacks last season and had 19.5 in the last two years for the Yellowjackets, finishing his career with 29.5 tackles for loss.
With no second-round pick and a primary goal of upgrading the defense, the Titans needed a sure impact player and feel like they got him.
General manager Mike Reinfeldt wouldn't share the team's defensive end rankings, but did hint that Morgan was at or near the top of the list.
"I think even internally in a lot of our mock drafts and what-if scenarios, this is a guy we thought would be gone when we picked,'' Reinfeldt said.
Morgan said he felt he was the tops in the class, but told reporters in a conference call from New York City that he was pleased with where he went.
"It happened for a reason,'' Morgan said. "I did feel like I was the best defensive end in the class, but Tennessee's a great situation for me. After looking at what they do on defense and how their ends get after the ball and the quarterback, it's a really ideal situation.''
Pass-rushing help was the obvious target for a Titans defense that wants to put more pressure on the quarterback this season. The Titans lost free agent defensive tackle Albert Haynesworth to Washington a year ago, leaving the Titans with 32 sacks in 2009, 12 fewer than the previous season.
While the Titans lost defensive end Kyle Vanden Bosch to Detroit and have no plans of bringing back Jevon Kearse, they did pick up some defensive help in free agency, signing linebacker Will Witherspoon, end Jason Babin and cornerback Tye Hill. But there will be pressure on Morgan to play right away.
"I think he's going to love our scheme,'' Fisher said. "We're going to let him do a little bit more. They used him as good as you could possibly use him in their defensive system. As you know, we put our ends outside and we go. That's one thing he can do.''
Morgan, for one, couldn't wait to get to Tennessee and prove the 15 teams that passed on him just how good he can be.
"It's a huge chip on my shoulder and the teams that didn't pick me are going to see that,'' Morgan said.
Fisher and Reinfeldt said the team received calls about the 16th pick and were worried they wouldn't get one of the three defensive ends they coveted.
There were reports the Titans were interested in trading for Haynesworth. Fisher continued to deny the team had interest in Haynesworth, though, and the pick of Morgan combined with the three-year, $17 million contract extension given to defensive tackle Tony Brown closes that door completely.
Defense likely will continue to be a theme for the Titans as they enter the second and third day of the draft. Though they traded away their second-round pick last year to New England so they could take tight end Jared Cook, the Titans still have eight picks left in what is considered the deepest class in years.
They need help at linebacker, cornerback and in the return game most, but Fisher said team officials would keep an open mind with so many options ahead of them.
"I think you look back over history we're going to address most of the positions,'' Fisher said.