FRANKLIN, Tenn. – A season-ending playoff loss, and a blown out knee.
Titans right tackle Jack Conklin couldn't think of a worse way to end a season.
But that's exactly the way the 2017 season ended for Conklin. Six months later, Conklin said he learned a lot from the experience.
"I think it was a big growing moment for me," Conklin said on Sunday. "Going through the whole process of having the surgery and everything, it really made me think about football. I never really had an injury in football that set me back at all, throughout my career, and to have it, it humbled me a little bit.
"It made me think: What do I need to do to make myself the best I can be? … I have been taking lifting a lot more seriously, running. And just the rehab I am doing.
"If I don't come back stronger than I've ever been, there is a problem."
Conklin made his comments during the Jack Conklin Football Camp at D1Sports. Roughly 130 kids showed up for the event, where Conklin threw passes, helped with drills, and also provided encouragement. He signed autographs and posed for pictures with kids at the end of the camp. His agent, Drew Rosenhaus, was on hand to help out as well.
"The biggest thing is: Listen to your parents, listen to your coaches and listen to your teachers," Conklin said of his message. "That is the biggest thing for kids. You have to be able to listen and take direction. Part of the fun of having a camp is to get kids out and running around. So many kids are stuck inside watching TV, playing video games, and it's good to get them out and running around."
Conklin said he had fun along the way.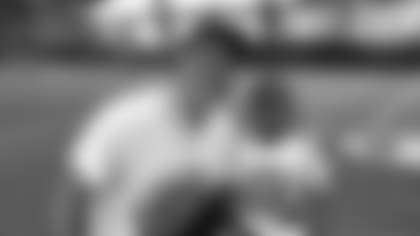 "These kids, they're pretty knowledgeable," he said with a smile. "They wanted to know what my Madden rating is? … There were quite a few kids who thought I was a quarterback, and I was very happy about that one. I was throwing some routes with a little ball that fits in my hand, and they were impressed. … I had a blast today."
Conklin, of course, was drafted in the first round of the 2016 NFL Draft to protect the quarterback – Marcus Mariota, to be more specific. And he's done that especially well in his first two NFL seasons, when he started 32 straight regular season games. He was named All-Pro following his rookie season.
But Conklin suffered a torn ACL in the team's playoff game at New England in January. He had surgery, and he's been rehabbing the injury since. Conklin didn't practice in OTAs or the team's minicamp.
Last month, Titans coach Mike Vrabel hinted at the possibility of Conklin beginning training camp on the team's Physically Unable to Perform list. The Titans are scheduled to practice for the first time in camp on July 26.
"I am still rehabbing, but things are going well, no setbacks," Conklin said. "It is hard having a new staff, not able to be out there running around. But I have a great team and the staff has done a great job of getting me (healthy). I am excited."
Conklin said he's doing his best to remain patient.
"You don't want to come back too early and hurt it again," he said. "You want to make sure you are full health and ready to go. If I come back too early, I am not only hurting myself, but I am hurting the team. If I can't play at the level I need to perform at, there's really no reason I should be out there playing. I think I need to earn my way back health-wise and practicing and that is something I am working toward and something I am excited to get back to."
Conklin said he's kept up by sitting in on meetings, and taking mental reps on the field.
He's spent countless hours in the weight room, and said he's stronger than ever.
He's lost weight – he's now 310 pounds after playing around 320 pounds previously – and that should help him be quicker and faster in a new offense.
"I want to start back up where I left off, and be even better," Conklin said. "With ACLs, 10 years ago, people would have been real worried. The way science has gone now, I think 65 guys tore their ACL last year, and it is a long process to recover, but it has become such an easy procedure that it is something people can come back from, and come back even better. I have a great staff around me … and I am really excited."