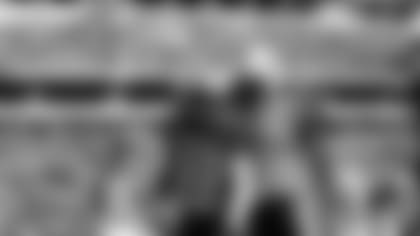 The Titans are hoping to get off to a fast start Sunday when they host Tampa Bay at LP Field.
NASHVILLE, Tenn. - The Tennessee Titans start games as if they just hit the snooze button on their alarm clocks.
They essentially have wasted the first quarter on offense so far this season. Roughly half of their 30 points scored in the first 15 minutes this season came in one win. They've scored zero points in the opening quarter in five games and managed only a field goal in three others. The Titans have scored one touchdown and two field goals on their opening possessions.
Receiver Nate Washington says the time has come to eliminate the slow starts if the Titans want to reach the postseason.
"It's mandatory,'' Washington said. "We can't come into these games with six games left with a slow start. ... I think right now it has no question. If we want to be the team we want to be, we have to have a faster start. We have to keep our defense off the field. We have to be a viable offense.''
Tight end Jared Cook says they've been a bit inconsistent in the first half.
"To get a spark and come out hot is kind of key,'' he said.
The Titans (5-5) are two games behind Houston in the AFC South race and tied with a pack a game out of the final wild-card berth despite being outscored 34-30 in the first quarter. They might get lucky on Sunday against Tampa Bay (4-6), a team that has started even slower than they have, scoring only 21 points in the first and being outscored 92-56 in the second.
Coach Mike Munchak said they have been working to start faster.
"You talk about it, you work at it,'' Munchak said. "It's like the first play of the game having a penalty and getting backed up and then a short punt. You can't dwell on it. I think we talk more about, not necessarily you want to start fast, but if you don't it doesn't mean the game is over by any means. It's a 60-minute game, a lot can happen.''
Tennessee won Oct. 2 when scoring off a Matt Hasselbeck touchdown pass in the opening minutes in Cleveland, and the Titans routed Carolina 30-3 on Nov. 13 after getting a punt return for a touchdown as part of a season-high 14 points in the first quarter.
The Titans start games with a planned approach.
Offensive coordinator Chris Palmer said Thursday they script out the first 10-15 plays, and he did not vary from that plan last week in a 23-17 loss to Atlanta. They started on offense pinned deep after a penalty on the kickoff return then Chris Johnson was stopped for a 3-yard loss. He picked up 6 on second down, but an incompletion on third down forced a punt.
"That's not the formula for having success on an early drive,'' Palmer said. "I think it's a week to week thing. Sometimes you come out and things are going well and you're executing and not creating penalties and not creating minus plays. When you do that, you normally have a chance to be successful.''
They started better on the second drive, getting near midfield before receiver Lavelle Hawkins missed a check from a run play to a pass, and Hasselbeck's pass was intercepted.
Running more than three plays at a time has been a challenge for Tennessee this season. The Titans have had 30 three-and-out drives, more than all but five teams in the NFL. They haven't helped themselves with a run game that remains the league's worst, averaging 77.3 yards. Tennessee also short-circuits many drives with penalties.
They also rank 29th in the NFL with an average time of possession of 27 minutes, 25 seconds. In the first quarter, they hold the ball 6:49, according to STATS LLC.
Washington said Palmer has been riding them all season long, refusing to let them slide.
"He's been at every guy on the offense. He's been making sure we all give it our best because we can be a good offense. We have to make sure we're not putting the pressure on ourselves but it's expectations. We have to come into these games with the mentality we're going to be the best,'' Washington said.
NOTES: Hasselbeck practiced fully Thursday and said he felt good after throwing a dozen passes in limited work Wednesday. He said he expects to be fine Sunday after receiving plenty of treatment on his right elbow and forearm after X-rays and an MRI Monday showed no damage. ... The Titans had a lengthy injury report Thursday with nine players. C Eugene Amano (hip) returned to practice along with LT Michael Roos (groin). But RT David Stewart (right calf) did not practice for a second straight day along with DT Karl Klug (knee), DE Derrick Morgan (ankle), LB Barrett Ruud (groin), LB Colin McCarthy (knee) and K Rob Bironas (back). Munchak said Bironas will kick Friday. They gave McCarthy the day off to rest after he practiced Wednesday.