**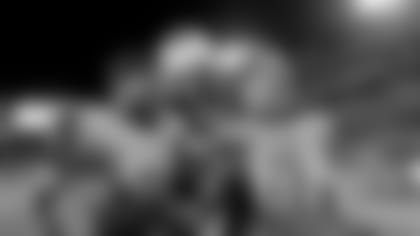 Riding a five-game winning streak, the Titans have recaptured the winning feeling they enjoyed most all of last season.
NASHVILLE, Tenn. -** A defender tips Vince Young's pass at the line, sending it into the air. Titans tight end Bo Scaife beats an opponent to the ball and runs upfield for a 19-yard catch that keeps Tennessee's stunning final drive alive.
Amazing? Yes. Historic? With each win, the Titans extend their NFL mark for consecutive victories after an 0-6 start. With five straight wins, they are halfway to Chris Johnson's prediction of finishing the regular season with 10 straight wins after Sunday's 20-17 win over Arizona.
Lucky? Some Titans are believers.
"Feels like something special is happening,'' defensive end Kyle Vanden Bosch said.
Young said they have to buy into that idea - plus he also thinks these Titans are getting some heavenly help from the late Steve McNair, Young's mentor and the franchise's all-time winningest quarterback.
"All the love to Steve McNair up top. I know he's watching and sending down love to us,'' Young said.
Coach Jeff Fisher credits a combination for this current streak that includes improved play and a healthy secondary, leading to stingier defense and confidence.
"We're getting the things we didn't get the first six weeks. We're getting bounces. We're getting deflections. We're making plays. We're making our own breaks to a certain extent. Then there are some other things that happen. When those things happen, it certainly makes it easier,'' Fisher said.
Catching a tipped ball is one thing. Those looking for omens can find some encouragement.
The 99-yard kickoff return for a touchdown Sunday was the first against Tennessee since 1999 - the season the Titans reached their lone Super Bowl. The 18-play drive for the winning score Sunday was the longest TD drive since a 2002 win at New York, a season the Titans started 1-4 and reached the AFC championship game.
This defense, shredded through the 0-6 start that culminated with a 59-0 rout in New England, is giving up 18.2 points per game during the current win streak. The Titans held Arizona to a field goal in the first half Sunday, the defense's best performance this season.
Johnson remains the NFL's leading rusher and is having a season that could wind up among the best ever. He has 1,396 yards - 276 ahead of the Rams' Steven Jackson. With his 85-yard TD run against Arizona, Johnson now has three touchdowns of 85 yards or longer this season. No other player in NFL history has that many in a career.
He already has 11 career 100-yard rushing games. He tied the NFL record Sunday held by Earl Campbell (1980) and Eric Dickerson (1984) with his sixth consecutive game of 125 yards rushing, and he has averaged at least 5.0 yards per carry in each game. That topped Jim Brown, who managed the feat in five straight games.
And that 99-yard drive was Young's fourth straight game-winning drive after the Titans had either been tied or trailed.
That win pulled Tennessee a game back in the loss column of the AFC's sixth playoff spot. But the Titans understand that 0-6 start left them with no margin for error.
"A lot of guys know in the back of their heads one loss can hurt our playoff chances,'' receiver Nate Washington said Monday. "Everyone knows that. I don't think anyone's paying attention. We're just playing football and letting fate be fate.
Linebacker Keith Bulluck said the Titans can't look at the big picture. Their only hope? Keep winning and pressure other teams.
"They know they've got the Tennessee Titans over their shoulder, so they have to win as well,'' Bulluck said. "At this point, we're 5-6 and on a five-game winning streak, but at the same time, we don't have anything to lose. That's the attitude we have. We have five, and now we're going for six.
The Titans will play three of their final four at home. Owner Bud Adams said in the locker room after this latest win he can see this team clinching a wild-card berth and repeating that 1999 team's feat of running through the playoffs to the Super Bowl they missed last season as the AFC's No. 1 seed.
"This team is determined to win, and they're going to win,'' Adams said.
Up next is the reality check: A visit to undefeated Indianapolis (11-0), already the AFC South champ.
"If that doesn't get their attention, nothing will,'' Fisher said.