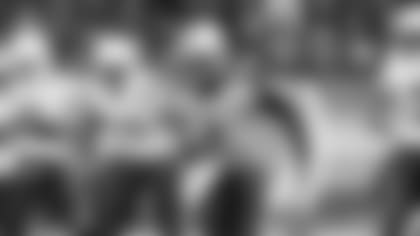 RB Chris Johnson gets his second crack at the Chargers Sunday at Qualcomm Stadium.
NASHVILLE, Tenn. --** The Tennessee Titans used an amazing fourth quarter to bounce back from a nine-point deficit last weekend and claim first place in the AFC South.

As is becoming their custom, the San Diego Chargers' latest frantic comeback attempt fell just short.

Two teams headed in opposite directions meet Sunday at Qualcomm Stadium, where the bumbling Chargers try to avoid a fourth straight loss against a Titans team seeking a fourth consecutive win -- and its first victory over San Diego in nearly two decades.

The notoriously slow-starting Chargers (2-5) have had their level of concern ratcheted up considerably the past two weeks. San Diego fell behind 17-0 before a late rally fell short in a 20-17 loss at St. Louis on Oct. 17. They then dug themselves another 17-point hole Sunday against New England, a deficit fueled by four first-half turnovers.

The Chargers scored two fourth-quarter touchdowns to cut into a 23-6 deficit, but Kris Brown's 50-yard field-goal attempt clanged off the right upright in the final minute to seal a 23-20 defeat.

"Until we take care of the football, there will be a lot of conversation about we're not very good, we're not very talented and we're not very well coached," coach Norv Turner said. "We start taking care of the football, I think we'll give ourselves a chance to win."

San Diego has an AFC-high 18 turnovers, and its defense hasn't forced one in the last three games. That has tempered the effect of an offense that leads the league with 422.7 yards per game, with Philip Rivers (NFL-high 2,344 yards) on pace to shatter Dan Marino's single-season passing record of 5,084.

The Chargers may not want him to break Marino's mark. San Diego has trailed by double digits in all five losses, forcing Rivers to throw on nearly every down.

"We're worried about beating Tennessee," Rivers said. "It's as simple as that. ... We're just trying to win a game and do the things necessary that give you the best chance to win a game."

Rivers and the Chargers face a Titans team that leads the league with 12 interceptions and has 11 takeaways during a three-game winning streak. Rivers also likely won't have one of his top targets, Malcom Floyd (hamstring), for a second straight week.

Tennessee (5-2), meanwhile, has both of its quarterbacks banged up. Vince Young missed most of a 30-3 win at Jacksonville on Oct. 18 with knee and ankle sprains, then sat out Sunday versus Philadelphia.

Kerry Collins was solid in relief against the Jaguars, but had only 62 yards passing in the first half against the Eagles as Tennessee trailed 13-7. The deficit reached nine early in the fourth quarter, but Collins got the offense going.

He threw for 163 of his 276 yards in the final 15 minutes, including two touchdown passes to Kenny Britt as the Titans scored the final 27 points in a 37-19 win.

Tennessee is the league's second-highest scoring team at 28.4 points per game despite being 24th in total offense at 302.1 yards a contest.

"We're just coming into our own now," fullback Ahmard Hall said. "Hopefully, we can keep it going week in and week out."

Young is listed as day-to-day, and coach Jeff Fisher indicated that he's coming along better than expected. However, the Titans' bye week follows the trip to San Diego, something Fisher said he'll consider when making his decision.

"Vince is most effective when he has his legs underneath him, not just as a runner, but as a passer," Fisher said. "To be able to throw with accuracy, it's all about your feet."

Collins is far from 100 percent himself. The 16-year veteran played with a torn tendon in the middle finger of his throwing hand sustained against Jacksonville, an injury that won't require surgery.

Another big game from Britt, who has caught a TD in five consecutive games, would help. The second-year wideout's 225 yards against the Eagles were the most by an NFL receiver this season, and he didn't even play until the second quarter due to Fisher's disciplinary action stemming from Britt's role in a bar fight Friday night.

With both quarterbacks banged up, the Titans will certainly look to Chris Johnson to carry a heavy load. Johnson was held to 66 yards on 24 carries Sunday, the first time he's rushed for less than 100 yards in a win.

He ran for 142 yards and a score Dec. 25 against the visiting Chargers, who intercepted Young twice and got two TD passes from Rivers in a 42-17 win.

That was the franchise's seventh straight loss to San Diego since the Houston Oilers won 27-0 in 1992.