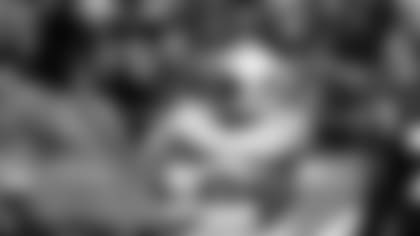 The Titans are hoping for a repeat performance on defense Sunday against the Atlanta Falcons.
NASHVILLE, Tenn. - The Tennessee Titans still are trying to find their way as a defense, and they know very well their challenge is to put together another stingy performance for a second straight week.
The Titans stymied Cam Newton, forcing his worst performance as a rookie, and held Carolina to its first game without a touchdown this season.
Next up is Matt Ryan and the Atlanta Falcons.
Titans coach Mike Munchak said Wednesday that's the NFL, where there's never any long stretches to enjoy playing well for long.
"Our defense no doubt played well against an offense that was playing really well at that time," Munchak said. "This week is a veteran group that everyone gave a great chance to win the NFC, and they are a little disappointed at how they are playing at 5-4 ... We need to win, they need to win, and defense is obviously going to be a big part of that."
The Titans (5-4) came up with a season-high five sacks by six players, forced two turnovers and allowed a season-low in points in the 30-3 win — even with three rookies starting and a fourth subbing in. Jurrell Casey, a third-round pick out of Southern California, has started every game, with Karl Klug, a fifth-round pick out of Iowa, rotating in at tackle every week. Akeem Ayers, the second-round pick from UCLA, also has started every game at linebacker.
Colin McCarthy, the fourth-rounder out of Miami, got his first NFL start at middle linebacker with veteran Barrett Ruud out due to a groin injury. McCarthy lined up everyone and had a team-high eight tackles with a hit on Newton.
"A lot of the rookies now are knowing what to do and know their jobs," defensive tackle Sen'Derrick Marks said.
The Titans held Carolina to 279 yards, well below what the NFL's fifth-best offense had been cranking out.
Safety Michael Griffin credited the rookies' strong play, along with having safety Chris Hope back. The 10-year veteran broke his left arm Oct. 2, and the Titans eased him back onto the field in Carolina, where he intercepted a tipped pass to keep the Panthers out of the end zone. Griffin said Hope's return allowed the Titans to put six defensive backs on the field and use more of their playbook in confusing Newton.
Atlanta coach Mike Smith said he noticed how many different looks the Titans showed Carolina, which makes more work for an offense preparing for Tennessee. Doing that with four rookies at times is even more impressive.
"It says a lot about that rookie class that there are some good football players, and it says a lot about coach (Jerry) Gray and his staff to be able to be that multiple with four young players," Smith said of the Titans' defensive coordinator.
But the Titans have been up and down this season. They ranked first in the NFL in fewest points allowed in early October, then gave up 79 points and 949 yards combined in consecutive losses to Pittsburgh and Houston. They know too well how inconsistent they've been.
Cornerback Jason McCourty said he thinks the performance in Carolina helped the defense's confidence, especially in how the hard work preparing and watching film turns into results on game day. A strong performance by the line is a big help, too, and the Titans know Ryan has been sacked 20 times through nine games.
"We tell those guys all the time they have a performance like that, five sacks and pressuring the quarterback, it makes our job easier," McCourty said. "We know it starts up front with them. When they have a good game, they make us look good."
NOTES: Ruud (groin) practiced Wednesday after sitting out last week's game. LB Gerald McRath (hamstring) did not practice along with DE Dave Ball (concussion). ... The Titans practiced indoors due to heavy rain that ended just before practice. Munchak said they will be outside Thursday.