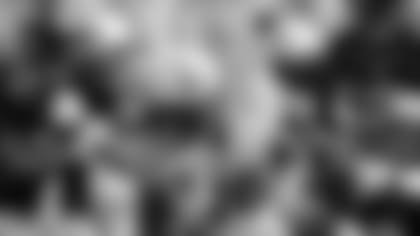 Chris Johnson and the Titans will look to get the run game on track Sunday at Cleveland.
NASHVILLE, Tenn. -Mike Munchak says Tennessee's running game isn't as bad as people think.
Stats don't lie. The Titans and the man nicknamed CJ2K can't run the ball.
Since Tennessee gave Chris Johnson his $53 million extension with $30 million guaranteed, the rushing offense has nearly ground to a halt. The Titans rank last in the NFL in yards rushing per game, averaging a measly 51.7 yards through three games. Munchak said Wednesday he can see the offense close to clicking and that one nice run could help the Titans click again.
"When you have CJ on your team and the people we have, we're going to be finding ways to run the ball,'' Munchak said. "Teams know that. We'd be crazy not to. We've just got to keep doing what we're doing and not get worried about it, and things will start working our way.''
Running the ball rarely has been a problem for Tennessee whether it was Eddie George, Chris Brown, Travis Henry, LenDale White or Johnson at running back.
The past three seasons, Johnson led NFL running backs with 4,598 yards rushing. He became only the sixth man in NFL history to run for at least 2,000 yards in 2009 when he finished with 2,006 yards, and he followed that up with 1,364 yards with defenses focused on stopping him first.
It's been ugly enough at times that fans have booed Johnson early and often.
Johnson had 24 yards on nine carries in the opening loss at Jacksonville, 24 for 53 yards against Baltimore and a mere 13 carries for 21 yards last week in a 17-14 win over Denver. That's 98 yards rushing on 46 carries and a 2.1-yard average for a back who has a 91-yard run to his credit back in 2009.
The running back, who signed his extension Sept. 2, said it's not a lack of confidence or holes but a combination.
"It may be one time I hesitate. It may be one time somebody misses a block. We've just got to get on the same page. I've been running behind this line for three years so I have confidence in them, and I'm sure they have confidence in me,'' Johnson said. "It's just a thing we have to get on the same page and keep working.''
Johnson said he finally feels in football shape going into Sunday's game at Cleveland (2-1). He's now able to run sprints at the end of practice that he couldn't early after his return, and his longest play last week came on a 34-yard reception where he lined up outside at receiver.
"These past three games we literally didn't have no rushing game or nothing like that,'' Johnson said. "It's going to be work to do until we go out there and prove we can do it.''
Quarterback Matt Hasselbeck has been surprised at the struggles in the run game after the Titans had a bunch of success in the preseason while Johnson was holding out. He also remembers watching Johnson run all over the Seahawks in the past.
"So obviously he can do it,'' Hasselbeck said. "He's the guy that's in the Pro Bowl every year, and we've got the same guys up front. They're doing a heck of a job. I think it's early, and the stats will shake out later. People will say, 'He missed training camp,' and 'Oh, it's a new coaching staff. I'm not sure exactly. I'm new myself. I think by the end of the year everything will shake out, and we'll be OK.''
The Titans' preseason success came with Johnson staying away in his contract holdout. Since he's returned, his backups have had their problems as well. Tennessee's longest rush is a 21-yard scramble by punter Brett Kern against Denver.
Cleveland coach Pat Shurmur is worried Johnson is about to get going because he's seen how the running back can change games with one carry. He also credited the defenses Tennessee has played with bottling up Johnson and the Titans.
"I know what skill and ability he possesses,'' Shurmur said. "I'm seeing solid run schemes, I'm seeing an outstanding running back, and I'm seeing a team that throws the ball well, so there is going to be a point when he gets his yards, we just hope it's not this week.''
Johnson said once they all get back on the same page the Titans will be back to their usual rushing success and isn't frustrated just yet.
"I could see if we was 0-3 it'd be worse,'' Johnson said. "But we're sitting here 2-1 and the running game's not where it's supposed to be and we're 2-1. So just imagine once the running game gets going, it can be better things.''
NOTES: S Chris Hope (shoulder) practiced fully for the first time Wednesday since hurting his shoulder Sept. 11 at Jacksonville. LB Gerald McRath (left knee) did not practice.