**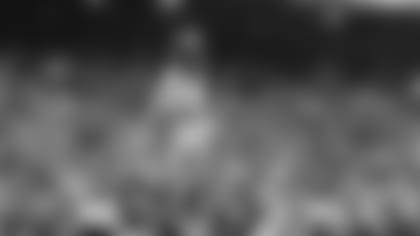 Wide receiver Justin Gage was injured on this spectacular 33-yard catch Sunday in San Francisco.
NASHVILLE, Tenn. -** Three days after a highlight-reel leaping catch, Tennessee receiver Justin Gage still aches from head to toe.
The pain started as the adrenaline wore off following Sunday's 34-27 win against the 49ers. The Titans have run a battery of tests, including X-rays and CAT scans. Gage, who missed practice Wednesday, hasn't received the results yet.
"I just don't want to do anything that's going to make anything worse and try to be as healthy as possible come Friday and Saturday," Gage said after gingerly stepping into his pants.
Gage had a season-high 97 yards receiving on four receptions Sunday, highlighted by his leaping grab between Dre Bly and Dashon Goldson to complete a 33-yard catch. The 6-foot-4 Gage leapt so high his knees were about even with the defensive backs' shoulders when he grabbed the ball, then came down hard on his left side.
"I've never fallen off a ladder. I can't really compare it to any catches. I can't say I've caught a ball in that position, maybe rebound a basketball or a dunk. (I) never fell from it. It's something I'm not used to," Gage said.
Coach Jeff Fisher said Gage's lower back is very sore. Gage said he hopes to play Sunday when the Titans (2-6) host the Buffalo Bills (3-5), and Fisher said he doesn't expect the receiver to be out.
Gage's catch keyed the go-ahead touchdown drive for the Titans after the replay erased an 81-yard touchdown run by Chris Johnson. Gage came down at the San Francisco 11, and the Titans scored four plays later. His play has been replayed on TV repeatedly since then.
"Definitely it was worth it," Gage said.
Gage was one of five Titans who did not practice Wednesday. Cornerback Cortland Finnegan (hamstring) was given a day off for rest. Right tackle David Stewart, whose 53-game start streak was snapped last week, also sat out, along with running backs LenDale White (illness) and Javon Ringer (back).
Cornerback Nick Harper took part in his first full practice since breaking his right forearm Oct. 11. But linebacker David Thornton (hip) was limited.