**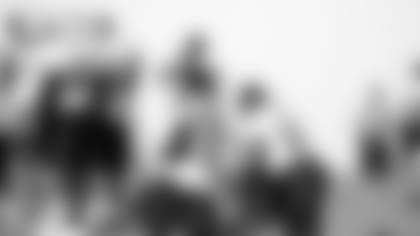 Titans rookies are already eager to learn all they can from the veteran Pro Bowler Moss.
NASHVILLE, Tenn. --** Marc Mariani knew the importance of stopping wide receiver Randy Moss long before NFL defenses did.
It was 1996. Mariani was 9 years old in Havre, Mont., and a big fan of the Montana Grizzlies, the team for whom he eventually played. Mariani watched on television as Montana attempted to defend its NCAA Division I-AA football title. Marshall defeated Montana 49-29 with help from Moss.
It was a memory that lasted for Mariani, a Titans rookie receiver who became teammates with the 13-year NFL veteran this week. Tennessee claimed Moss off waivers on Nov. 3.
"My first time ever watching Randy Moss was when he whipped Montana's butt in the '96 national championship when he played for Marshall," Mariani, now 23, recalled Wednesday. "My dad was actually at the game. I was watching it on TV. I remember like it was yesterday.
"(My dad) came back and was like, 'This dude is for real.' I was young at the time," Mariani continued. "Then he went through his senior year and moved up to the MAC, so he was out of our conference."
Moss caught 25 receiving touchdowns in 1997, breaking the NCAA Division I single-season record of 23 and finished fourth in the running for the Heisman Trophy. Moss was selected 21st in the 1998 NFL Draft by Minnesota and set a rookie record of 17 touchdown receptions that season.
Titans rookie receiver Damian Williams was 10 in 1998 when he watched Moss make an immediate impact in the NFL.
"I remember his rookie season, Thanksgiving or somewhere around then," Williams recalled. "He caught a little screen and went like 70 (yards) to the house. No breaks, no cuts, nothing. Later in the game he caught a bomb, and I just remember thinking, 'This guy's a rookie. That dude is real.' "
Moss caught three passes — all touchdowns — for 163 yards in that 1998 Thanksgiving game at Dallas, capping a week in which he also caught eight passes for 153 yards and a touchdown against Green Bay.
Moss has 948 career receptions (ninth in NFL history) for 14,778 yards (fifth in NFL history) and 153 receiving touchdowns (second all-time).
When Titans players noticed an increased media presence at Tennessee's practice — the first media availability since Moss has joined the team — Titans safety Robert Johnson donned Moss's jersey and attached gloves to his facemask and trotted by as photographers snapped pictures and videographers filmed. Johnson made it about two-thirds of the way to teammates who were already stretching on the practice field when the other players began laughing and blew his cover. 
"It was a good imitation," Titans coach Jeff Fisher said. "He just had the wrong color gloves."
Moss emerged from the Titans' building with his reclaimed jersey and his red gloves attached to his facemask and drew many pairs of journalists' eyes.
Moss met with Fisher Monday and practiced with his new teammates Tuesday in a session that was closed to the media. The walk-through allowed Moss to begin learning Titans terminology and plays and his new teammates. It also allowed rookies like Mariani, Williams and Johnson to realize a player they've grew up watching is a teammate who will be able to teach them things.
"You see him for the first time and you're like, 'There he is.' Then you're like, 'He's going to be a huge factor in helping us win.' It's going to be a cool experience to play with him," Mariani said. "You can learn so much from a guy with that kind of talent and ability. It's going to be fun because he has a presence about him. It'll be good and hopefully it translates into some wins for us and he helps the team in a lot of different ways. He's one of the best and he's proved it over and over again."
Williams said of Moss: "He's a future Hall of Famer. If you don't ask him questions, I'm an idiot for that. I'll definitely give him a little time to get comfortable and get settled in with the plays.
"Once he settles in, I'm definitely going to pick his brain," Williams added. "You don't get 150 touchdowns out of nowhere. I definitely want to know the little things — how he got separation, other than the speed. How does he take care of his body? To play that long at this position is very rare."
Johnson said he was a little older when memories of Moss's career stood out. Johnson was a teenager in Los Angeles, and Moss and Titans reserve quarterback Kerry Collins were teammates on the Oakland Raiders in 2005.
"I never thought in my life that I would do anything that has Randy Moss included with me," Johnson said. "Seeing him at practice brings back memories."
Johnson, a fifth-round pick this past April, said he went through a star-struck spell when he joined the Titans and saw Collins, 37, a 16-year NFL veteran.
"I told Kerry Collins when I first saw him, 'You're a big idol for me.' Seeing (Moss and Collins) here, I get to talk to them, it's a wonderful experience."