**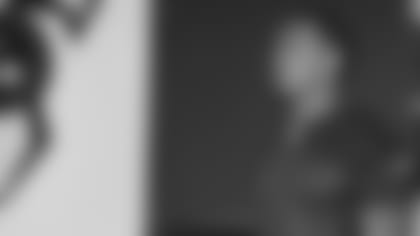 Top draft pick Derrick Morgan poses for his rookie head shot Thursday at Baptist Sports Park.
NASHVILLE, Tenn. –** There was a sense of excitement, anxiety and a bit of the unknown as Titans rookies reported to Baptist Sports Park Thursday afternoon for the start of rookie orientation, a two-day crash course in Titans Football 101. 
For Myron Rolle, a Rhodes Scholar who has decided to make football his top priority, it's the opportunity he's been waiting for after putting the game he loved aside for 13 months while studying at Oxford.
"I really couldn't sleep last night because I was so excited. The emotions were going crazy," said the former Florida State safety whose appearance at the Senior Bowl marked his long awaited return to football. "Now I get to go on the field with the team that I know I'll be playing for and hopefully help this franchise win some football games and be productive. I'm just thrilled at this opportunity."
Each member of Tennessee's rookie class – 24 players in all, including nine draft picks – toured the team's training facility in MetroCenter, met with their respective position coaches, got fitted for helmets and shoulder pads, underwent physicals and took care of other administrative requirements.
They'll reconvene Friday morning for a two-day orientation that includes team policies and procedures, a light workout, installing basic plays in the classroom and practicing together for the first time as professional football players.
Top draft pick Derrick Morgan, a defensive end out of Georgia Tech, can't wait to get started.
"Not having gone through spring ball, I kind miss football right now, so I just want to get back in the swing of things, see how the Titans conduct practice and things like that," said Morgan, who flew from Atlanta along with rookie teammate Rennie Curran. "It's been a while, so I'm ready to get out there, get started and get back on the football field."
Morgan has had nearly a week to absorb the idea of being drafted by the Titans. It's a situation he feels he can thrive in.
"There's definitely a lot of opportunity here, so I'm really excited," Morgan said. "I just want to get acclimated as soon as I can."
For running back LeGarrette Blount, one of 15 undrafted free agents signed this week, the process begins his long journey to show Titans coaches he belongs in the National Football League. On Thursday, he was anxious for things to begin.
"It's kind of like the first day of school where you don't have anything to do. The next day is when you have to get to work." Blount said. "I think this will be a perfect fit for me. With them trading LenDale White, it opens a big opportunity for me here as a big back that can come in and contribute to the team right away. If I do the things I know I can do, I know Coach Fisher won't have a problem playing me."
At 6-feet, 240 pounds, Blount said he brings plenty to the table.
"I bring the short yardage game, ground and pound, but I can break long runs," he said. "I'm not Chris Johnson where I can break a 99-yard touchdown run, but his 99-yard run would probably be like a 70-yard run for me. I can bust big yards. I can get the tough yards on 4th-and-1, the 3rd-and-2's, goal line situations when we need to punch it in for a touchdown -- that's what I bring to the table."
The dreams and aspirations of all 24 rookies are officially under way. By Thursday evening, some still found it hard to believe they were about to begin their career in the NFL.
"It's unreal to be coming to Nashville to play for a professional team," said Curran, who played linebacker just a few hours away at Georgia. "It's something I've always dreamed about, waited for and worked hard for. It's finally here, so I'm ready to step up to the challenge."
Curran already has goals in mind.
"I want to show my new teammates that I'm somebody that's dependable, earn their respect, earn the coaches' trust and show them that I'm a guy who means business and wants to come in here and compete to start," he said. "I don't want to just settle for special teams. I want to be a leader and contributor to this team. Even though I'm a rookie, I want to come in and make a statement, make myself known on this team and also do things in the community."