NASHVILLE – Yulee High School's football team is headed to its first regional playoff game since 2016, and tonight, they'll arrive in style, thanks to a famous alumnus – Titans running back Derrick Henry.
When the players get off the bus following the hour-long trip from Yulee, Fla., to Baker County, for their Region 2-2S contest, the Hornets will be decked out in brand-new Nike sweatsuits – the latest gift from Henry to his former school.
All the players and coaches – 100 in all – received the black sweatsuits with the embroidered Yulee logo on them earlier this season. It's been a source of pride for the players, who look up to the program's biggest star, from afar.
"We wear them to all of our away games," said Yulee safety Landon Hale. "To be honest, we wear them everywhere because they are so cool, so clean. And, because we know where they came from – that means a lot.
"I know I appreciate everything (Derrick) has done for our program. We all do. He is constantly in the area, giving back to us. It's inspiring to tell you the truth. And, it's pretty awesome to know it's coming from him."
The sweatsuits, a donation from Henry through his partnership with Nike, are just the latest example of Henry proving he hasn't forgotten where he came from.
Henry ran for a national high school rushing record 12,124 yards at Yulee High, including 4,261 yards as a senior in 2012.
At Yulee High, Henry's No.2 jersey hangs in the gym, and there's a giant mural of Henry on the wall inside the school, and another by the football field.
Henry's Gatorade Player of the Year banner also hangs in the gym at the school.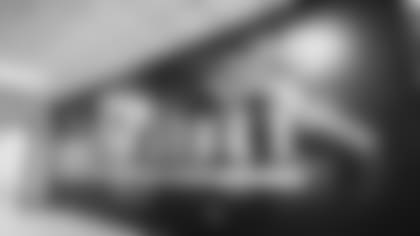 "All of it is a constant reminder he came from here," Yulee head coach Kyle Dougherty said if Henry, who attracted coaches Nick Saban, Steve Spurrier, Jimbo Fisher and Mark Richt to the school, among many others, before he opted to play in college at the University of Alabama, where he won the Heisman Trophy.
Since, Henry has emerged as one of the NFL's biggest stars with the Titans.
"Derrick is a beloved figure in our community," Dougherty continued. "Everybody in our community has met him, or watched him play. And everyone is so proud of him.
"And these kids, you might think the stories of him here get old, but they don't. He's a guy who was able to play football here, and make it out from Yulee. And our kids love that he loves us, and he hooks us up with gear."
Dougherty estimated the value of the sweatsuits at "over $10,000."
In the past, Dougherty said Henry has also provided t-shirts and shorts to football players at the school.
On another occasion, Dougherty said Henry gave part of a Pro Bowl bonus to help supply weights in the school's weight room, and some of that gift also went to recondition helmets. In all, that gift was also around $10,000, Dougherty said.
Henry has also given to the middle school's football program in the past, Dougherty said.
"I'm grateful I was able to help out the kids because Yulee is my home and that was my school, too," Henry said. "It's a blessing to be a blessing, and I want them to know that I care."
Dougherty said because the school gets zero money to run the program from the county or state, everything is self-raised.
The generosity of Henry has been a big relief for the football team's budget, he said, and allowed the program to use other funds raised on facilities.
"The kids love the swag," Dougherty said of the sweatsuits, "but knowing it came from somebody who has made it out of this place and done something so big in football is inspiring to all of them.
"This whole community is so proud of Derrick, and it's great to know he's so proud of where he came from."