RARE WIN AT OAKLAND: The Titans earned their second win at O.co Coliseum and their first since Dec. 22, 2001. The franchise is now 5-16 all-time on the road against the Raiders. 
PLUS-TWO IN TURNOVERS:The Titans recorded an interception (Zach Brown) in the second quarter and added a fumble recovery (Jurrell Casey**) on the final play of the game.  They did not commit a turnover themselves.  It was the first time since Sept. 29 against the New York Jets they had a positive turnover ratio.  In games this season in which they are plus-one or better, they are 4-1. 
TITANS OVER 400 YARDS: The Titans netted 426 yards at Oakland, reaching the 400-yard total for the second time this season (Sept. 22 against San Diego). 
THIRD-DOWN SUCCESS CONTINUES: The Titans offense continued its month-long run of success on third down.  Beginning with the team's win at St. Louis on Nov. 3, the Titans have converted 33 of their 59 third-down attempts, or 55.9 percent.  In each of the four games in that span, the Titans have converted at least 54 percent on third down.  It is the first time since the beginning of the 1991 campaign that the team has had even three consecutive games with a conversion rate of at least 54 percent on third down. Meanwhile, the Titans defense only allowed the Raiders to convert 30 percent on third down, marking the ninth time in 11 games this season the defense held its opponent below 40 percent.
TIME OF POSSESSION WIN: The Titans possessed the ball at Oakland for a total of 35:48.  It was their highest time of possession of the season and their highest number since a 35:52 mark against the Baltimore Ravens on Sept. 18, 2011.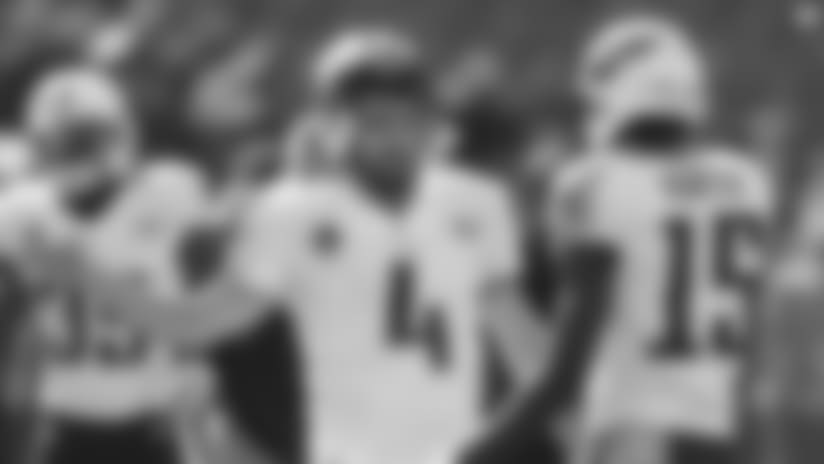 ](http://www.titansonline.com/media-center/photo-gallery/Week-12-Tennessee-Titans-at-Oakland-Raiders/889ece0c-8db6-462f-a5ca-221222332b5e)
Ryan Fitzpatrick connected with Justin Hunter six times for 109 yards in Tennessee's 23-19 win at Oakland. Click here for the slideshow.
FITZPATRICK PULLS IT OUT: On his 31st birthday, quarterback Ryan Fitzpatrick completed 30 of 42 passes for 320 yards, two touchdowns, no interceptions and a 109.2 passer rating, earning his first win as a starter in Tennessee.  It was his 13th career game with a passer rating of 100 or better and his eighth career game reaching 300 passing yards.  He completed a 54-yard touchdown pass to Justin Hunter in the third quarter, and with 10 seconds remaining in the game, he delivered a 10-yard, game-winning scoring strike to Kendall Wright.  The score capped a 14-play, 80-yard series the Titans began with 6:10 on the clock in the fourth quarter, trailing by three points.  He added 26 rushing yards on five attempts.
WRIGHT EXCEEDS ROOKIE CATCH TOTAL:  Kendall Wright recorded his first career 100-yard receiving game. He tied for the team lead with six receptions for 103 yards and the game-winning touchdown, a 10-yard catch with 10 seconds remaining in the game.  On the final play of the first quarter, he converted a third-and-10 with a 31-yard reception.  It marked Wright's third-longest catch of the season. He now has caught 65 passes this season, surpassing his 2012 rookie total of 64 catches. 
HUNTER'S FIRST 100-YARD GAME:  Justin Hunter tied for the team lead with six receptions for a game-high 109 yards, earning his first career 100-yard game. Early in the third quarter, on a third-and-two play, he caught a pass from Ryan Fitzpatrick, evaded two defenders, and then raced to the end zone for a 54-yard touchdown.  It was the second-round pick's longest catch in 13 receptions as a rookie and his third reception for a touchdown.  Hunter became the first Titans rookie to record a 100-yard receiving game since Kenny Britt in 2009.
PAIR OF 100-YARD RECEIVERS AND A 300-YARD PASSER: With Kendall Wright (103 yards) and Justin Hunter (109 yards) reaching the 100-yard receiving mark, the Titans recorded their first game with a pair of 100-yard receivers since Dec. 19, 2004 against the Raiders, when Derrick Mason and Drew Bennett accomplished the feat.  With Ryan Fitzpatrick reaching the 300-yard passing plateau, it was also the first time since facing the Raiders in 2004 that the team had two 100-yard receivers and a 300-yard passer in the same game. Billy Volek was the quarterback on that day nine years ago.
FOURTH-QUARTER DRIVE LONGEST OF SEASON: The Titans ended the game with two consecutive long scoring drives.  The first of those, a 16-play, 75-yard march for a field goal that took seven minutes and 49 seconds off the clock, was their longest scoring drive of the season in terms of number of plays and time expended.
BROWN NOTCHES INTERCEPTION: In the second quarter, Zach Brown recorded his first interception of the season, picking off a Matt McGloin pass.  The play gave the second-year linebacker four career interceptions.
THREE FIELD GOALS BY BIRONAS: Rob Bironas made all three of his field goal attempts against the Raiders, connecting from 33, 22 and 23 yards, as well as both extra point attempts.  It marked his second game of 2013 (Sept. 8 at Pittsburgh) and his 33rd career game with three or more field goals.  With six field goal attempts by the Raiders, the nine total field goal attempts tied for the second-most ever in a Titans/Oilers game.
SCORING DRIVES AT THE START OF EACH HALF: For the second time in 2013, the Titans scored on their opening drives of the first and second halves. They opened the game with a 59-yard drive for a field goal (33 yards by Rob Bironas), giving them their fifth game in 2013 with a score on their first series.  Previously, the Titans opened games at Houston (Sept. 15), against the New York Jets (Sept. 29), at St. Louis (Nov. 3) and against Indianapolis (Nov. 10) with touchdown drives.  To begin the second half against the Raiders, the Titans went on a four-play, 80-yard march that included a 54-yard touchdown pass from Ryan Fitzpatrick to Justin Hunter.  They previously began each half with a scoring drive at St. Louis on Nov. 3.
OFFENSIVE LINE STARTS INTACT: Rookie center Brian Schwenke was back in the lineup at Oakland after missing a game with an ankle injury.  With his return, it was only the second time this season—the other being Oct. 20 vs. San Francisco—that the Titans' starting five offensive linemen of Schwenke, left tackle Michael Roos, left guard Andy Levitre, right guard Chance Warmack and right tackle David Stewart started together.  
TITANS INACTIVES: The Titans' seven inactive players were quarterback John Skelton, wide receiver Damian Williams, defensive back Micah Pellerin, linebacker Zac Diles, center/guard Kevin Matthews, tackle Byron Stingily and defensive tackle Mike Martin.