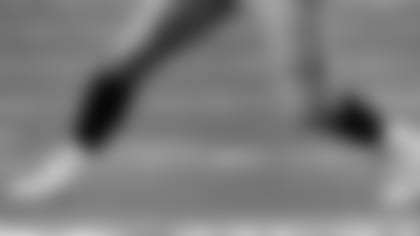 Matt Hasselbeck makes his regular season Titans debut Sunday against the Jaguars.
NASHVILLE, Tenn. - Matt Hasselbeck now can look around the huddle and see both three-time Pro Bowl running back Chris Johnson and top receiver Kenny Britt. It's a combination that the new Titans quarterback says makes his job easier.
With Jacksonville's move to dump David Garrard on Tuesday and promote Luke McCown to starter, the Titans now have an edge in experience at quarterback going into Sunday's opener.
And though Hasselbeck has only practiced with the team since Aug. 4, he has impressed his new teammates enough that they voted him their offensive captain. Coach Mike Munchak calls that a testament to how quickly Hasselbeck made an impression.
Left tackle Michael Roos said Thursday they trust Hasselbeck 100 percent to make any change at the line and run the offense.
"He's been around. Every now and then, he might accidentally start calling a play that used to be for the Seahawks. He catches himself and calls the play the right way. He knows if he sees something, he knows how to get us out of it if it's a problem and into something that'll work,'' Roos said.
Johnson has been around Hasselbeck only since Saturday, and he says the quarterback can make sure he knows everything needed before leaving the huddle. Johnson sees the quarterback going into his 13th NFL season as a good leader for a team trying to rebound from a 6-10 record last season.
"I feel like he's a person who can step in and get us to the playoffs,'' Johnson said.
That could be a lot of pressure on a quarterback, which Hasselbeck is downplaying pointing out he's just one of the new players in new places this season.
"My hope is we can be winning games as we're learning, as we're getting better as we're working through things that my hope is we can be winning games throughout that process,'' Hasselbeck said.
Hasselbeck led the Seahawks to an NFC West title in 2010 when he threw for 3,000 yards for the seventh time in his career. He goes into Sunday's opener just 421 yards passing shy of 30,000 for his career. Offensive coordinator Chris Palmer thinks Hasselbeck has a good handle on the offense with terminology the biggest remaining challenge as the quarterback works to become comfortable enough that he's playing without thinking, and Palmer said he's doing a very nice job.
To ease the learning curve with only a few days with Johnson, Hasselbeck said they have to work to be crisp and spend extra time talking and watching film together. Mistakes aren't all bad either since coaches have something to correct.
Acclimating to Johnson's speed hasn't been a problem because Hasselbeck said the running back is pretty controlled behind the line of scrimmage with handoffs.
"His path is sometimes a little bit wider than the path we've been taking,'' Hasselbeck said. "He's got his eyes downfield, and I'm just looking for that pocket ... This whole time we've been watching film of him so we've been doing that. We're pretty prepared.''
The biggest challenge might have been in the passing game because the Titans have worked to add more screen passes to the offense. Titans coach Mike Munchak said that should be the easiest part for Hasselbeck and Johnson.
"The screen is you have to have a knack for finding the open alley or the open window for the quarterback to deliver the ball so I think Matt does a great job with that,'' Munchak said. "I think Matt will help him be good at that and the same thing with the check downs where Chris can be big time at dumping the ball off. I think Matt does a great job of finding the running back so I think he will make him look good by finding where he is at.''
NOTES: DE Jason Jones (left knee) ran on a side field Thursday and said he's feeling pretty good. He said the decision on whether he plays Sunday will be up to Munchak. RB Javon Ringer (back) missed a second straight practice and could be questionable for the Jaguars. The Titans already will have to make a roster move to reach 53 Friday when the exemption for Johnson is lifted, so Munchak said they likely would lean against adding an extra running back if Ringer can't play. WR Lavelle Hawkins did not practice to rest a foot injured against New Orleans a week ago. He is expected back Friday. ... Hasselbeck received a pair of shoes decked out for Sept. 11 including the words "NEVER FORGET'' on the back on the shoes. He said he isn't sure if he'll try to wear them Sunday because of a likely fine, though wearing them in pregame warm-ups is a possibility.