**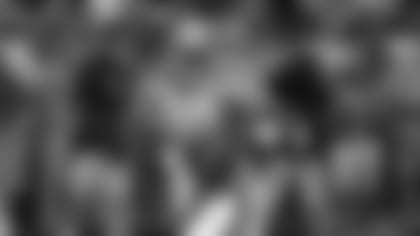 After throwing a touchdown pass in the preseason opener, Vince Young makes his 2009 home debut Saturday at LP Field.
NASHVILLE, Tenn. -** Vince Young isn't worried about how Tennessee fans react to him Saturday night. He insists he won't be listening to any boos, or cheers, that come his way.
That might indicate just how far the Titans quarterback has come over the past year since the 2008 season opener. That night fans booed him over a second interception, he was slow to rejoin his teammates on the field and followed with a knee injury that cost him his job as Tennessee's starter.
When he steps onto LP Field on Saturday night in a preseason game against Tampa Bay and new Buccaneers coach Raheem Morris, it'll be Young's first snaps on the field since that meltdown that now has him backing up veteran Kerry Collins and holding off Patrick Ramsey for that job.
"I'm not really feeding into that no more,'' Young said of outside criticism. "That's over with. That's done. That wasn't a whole stadium booing me, only a couple in the stadium booing me. I can't really focus on that. I've got to play football. That's all that matters.
"I have a whole organization looking up to me to take care of my responsibilities. That's my job, and that's what I want to do. I can't feed into all that other stuff.''
If Young can do that, he still might be the future quarterback of the franchise that took him with the No. 3 overall pick in the 2006 draft. Going into his fourth NFL season, the time is now for him to prove that he understands what the Titans want him to do.
Young is affordable for the Titans this season with a salary of $2.16 million and a salary cap hit of $4.63 million. But he is due a $4.25 million roster bonus in 2010 with a $7.5 million base salary that will cost $14.21 million against the cap - too much for a mere backup quarterback.
If the Titans decide he isn't their future, Young could be released before this season and his salary would be off their cap after 2009.
Titans tight end Bo Scaife, who played with Young in college at the University of Texas, thinks the quarterback has grown up mentally.
"He's always been one of the best athletes on the field. He's got his mental game straight, and that's what's going to carry him to the next level,'' Scaife said.
It's been a tumultuous year with the Titans turning the team over to Collins, pushing Young into the backup role. Young's psyche has been dissected. He has tried to share his side repeatedly through national TV and magazine interviews and also fended off his own words that he might want to be traded if he can't regain his starting job.
Young said he's been busy growing up and that people forget he's a young man. One big lesson learned over the past year? Don't watch TV and read what critics think of his game when the season ends.
He said he has talked with offensive coordinator Mike Heimerdinger about ignoring criticism and booing to become both a better quarterback and a person.
"I used to put a lot of stuff on my shoulders back in the day. But now that's one of the things I've been talking about. Throw an interception, you've got to put it down and get ready for the next series. You've got to put that in the past especially as a quarterback, get ready for the next series and the next play and in life period. You've got to get ready for the next day,'' Young said.
The challenge now is proving that in games.
He has looked sharp at times during the first two weeks of training camp, including his footwork in the pocket. But his preseason debut was mixed with a nice touch on a short touchdown pass and blame for an interception when a receiver ran the wrong route.
Titans coach Jeff Fisher, who brought Collins back as his starter and slotted Young as the backup, will play Young for about a half against the Bucs.
"He's looking forward to getting back on the field, I'm sure,'' Fisher said.
Young only played one other time in 2008, starting a meaningless regular season finale at Indianapolis. In the Hall of Fame game, the 2006 Offensive Rookie of the Year struggled with the backups and was 5 of 10 for 39 yards with one carry for a yard.
That might be why the Titans let him run the option a couple days later in camp, and he got cheers another day when he broke through the line and sprinted upfield. Fans coming to camp only have cheered Young, and that's the reception fullback Ahmard Hall expects Saturday night.
"For the most part, everyone wants to see him out there and have a rebirth and do well,'' Hall said. "Hopefully, he can out there and execute the plays when called upon and have a good showing.''