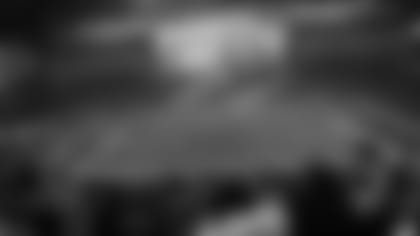 A 60-yard long, high-definition video screen hangs about 90 feet above the field at the new Cowboys stadium.
ARLINGTON, Texas --** The kick is up -- and into the video screen.

Tennessee Titans rookie punter A.J. Trapasso's boot in the third quarter of the opening game at the new Cowboys Stadium hit one of the 60-yard long high-definition video screens that hang about 90 feet above the field.

Trapasso pointed up at the board when the ball dropped straight down. Officials were slow to realize what happened until Titans coach Jeff Fisher threw his red challenge flag to get their attention.

By rule, the ball was dead and fourth down was replayed. Trapasso's ensuing kick skimmed just to the side of the board without touching it.

Trapasso and veteran Titans punter Craig Hentrich both hit the screen during pregame warmups, but Cowboys owner Jerry Jones says there are no plans to raise to the massive screens any higher.