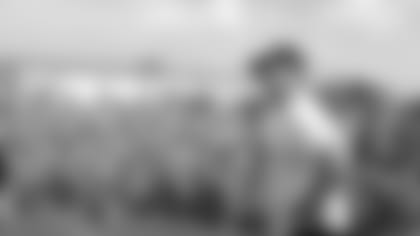 Titans head coach Mike Munchak addresses 250 soldiers from Fort Campbell on Thursday.
NASHVILLE, Tenn. — Staff Sgt. Jermaine Louis might be rethinking his loyalty to the Carolina Panthers after the Tennessee Titans gave 250 Screaming Eagles an invitation for an up close and personal look during training camp.
His buddy pointed out the Panthers never invited him for a visit like the Titans.
"It's a good chance because ... I'm close" to switching, Louis said.
The Titans have made several trips to Fort Campbell on the Kentucky-Tennessee border where the 101st Airborne is based since this franchise relocated to Tennessee. They paid them back Thursday partnering with the USO Mobile to bring soldiers to Nashville to watch the Titans work.
Coach Mike Munchak welcomed the soldiers and got a few "Ooo-ahs" when he mentioned he was a Pennsylvania native. The soldiers got field access and watched practice up close with snacks and drinks before a thunderstorm forced everyone to the indoor practice field.
Pfc. James Sewell from Phoenix City, Ala., said he was very shocked the Titans brought so many soldiers at one time.
"It brings out actually kind of a tear to a degree. It's a big morale boost," Sewell said.
Many of the soldiers recently have returned from tours in Afghanistan or Korea. Both Sewell and Louis were among the soldiers recovering from injuries. Louis hoped to meet Matt Hasselbeck since Chris Johnson isn't in camp, due to his contract holdout.
"You actually get to touch them, and the energy is so unreal," Louis said. "And it's very, very good for morale."
Fullback Ahmard Hall, who served in the Marines before walking on at Texas, presented Spec. Christopher Post a football at the end of practice. Post from the Michigan National Guard returned in late June after being injured in Iraq and uses a walker as he recovers.
Then Titans and soldiers scattered for autographs. Hasselbeck, kicker Rob Bironas and Hall were among the Titans who stuck around the longest signing hats, footballs and taking photos with soldiers. Hall said it was a very special day to pay respects to the soldiers.
"We play this game playing a kid's game for a king's ransom," Hall said.
"It definitely shouldn't be taken for granted. That shows these guys something up front. These guys coming in, some of the guys are wounded, wounded from combat. It's a reality check to these guys to let them know how serious things (are) and how good they really have it."
The Titans also gave a pair of tickets to each soldier for their Aug. 27 exhibition game with Chicago. Pfc. Leche Lawrence recently returned from a tour in Korea, and the native of Gary, Ind., has been a Colts' fan. But she enjoyed getting to see the players so close.
"I'm really excited about my first football game. I've never been," Lawerence said.
The USO Mobile is visiting 21 different NFL cities during training camp. Munchak said he wishes the Titans would do such visits more often.
"It's great for everyone. For the players, I think for the soldiers," Munchak said.
"We can't even fathom the sacrifices they make for their country, their families make ... It makes you appreciate ... how blessed we are and grateful for the people like them that are defending us."
NOTES: WR Kenny Britt (sore right hamstring) did not practice due to soreness. RB Javon Ringer (hip) did not practice for a fourth straight day. LB Barrett Ruud (right shoulder) missed a third straight practice. WR Lavelle Hawkins, who had been excused for personal reasons the past two days, returned mid-practice.